"I was mortified": Mom left red-faced after daughter brings sex toy to school
Internet - It's best to keep sex toys in a safe place – especially if you have kids!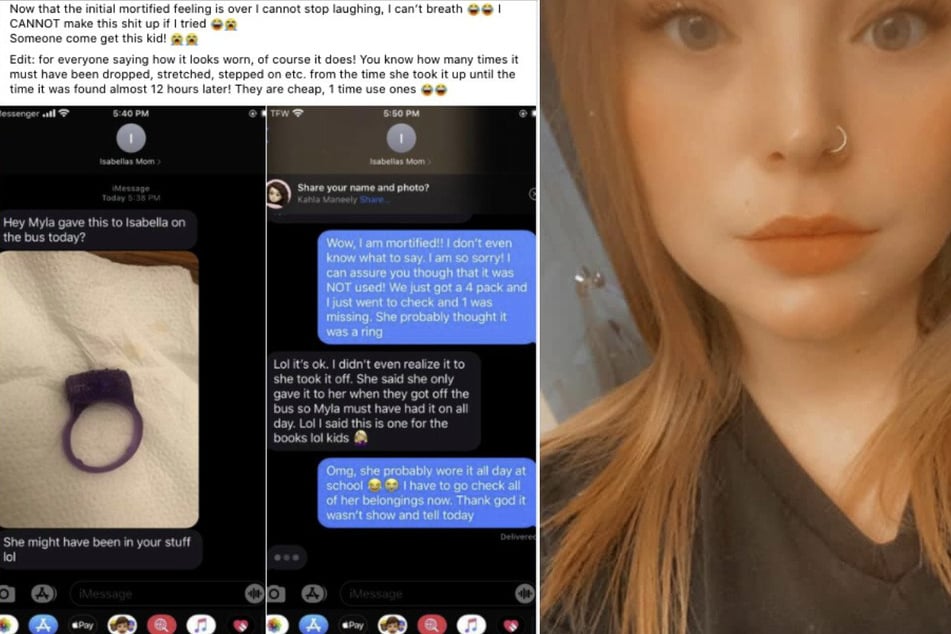 "Keep out of reach of children" is an important warning.
Kahla Maneely certainly learned her lesson the hard way after a hilarious – and embarrassing – incident.
Kahla's five-year-old daughter Myla Eisenhower mistook her vibrator ring for a regular toy and took it to school!
As if that wasn't bad enough, Myla then gave the toy to a friend on the bus, who happily wore it home and presented it to her stunned parents.
The fellow student's mom was shocked, and immediately contacted Kahla.
"She might have been in your stuff," the mom texted Kahla, according to texts obtained by the Daily Star.
The embarrassed mom assured that the vibrator had not been used, and that she and her boyfriend Brady had received the toy in a pack.
Eventually, the two moms laughed about the situation and their kids' mix-up.
"This is one for the books," the fellow mom wrote.
Kahla gave her daughter a time-out for the sneaky behavior, as Myla at first lied about snooping in her dad's beside drawer. The five-year-old eventually explained that she was curious about the toy, as it was "very stretchy."
"I've never been that embarrassed in my whole life," Kahla said.
The young mother shared her misfortune on Facebook afterwards, and received an outpouring of responses ranging from laughter to sympathy.
Many parents detailed similar situations, with one woman commenting: ""My son came out when he was two waving my dildo around like a sword."
Now they know to keep their sexy objects under lock and key!
Cover photo: Collage: Screenshot/Facebook/Kahla Maneely