Video of 100-year-old man having the best day of his life at Disneyland makes millions tear up
Anaheim, California - A heartwarming TikTok video of a 100-year-old war veteran enjoying Disneyland has got millions sobbing tears of joy.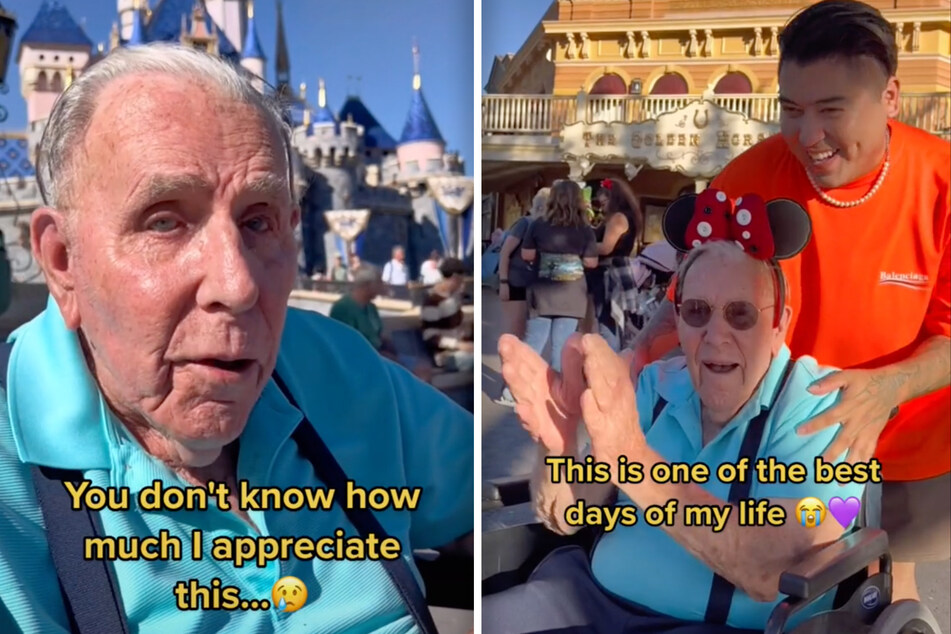 In the TikTok video, the influencer Isaiah Garza, who's known for filming his random acts of kindness, walks up to an elderly man and asks a simple proposition: "I just wanted to see if you'd be willing to go to Disneyland with me."
The man walker is clearly taken aback and sweetly asks, "You really want to take me?"
The rest of the video show highlights of a day on which two strangers become BBFs through a Disneyland adventure. They go on rides, have ice cream, shake Goofy's hand, and generally look like they're having a blast.
In the captions, Isaiah wrote that his new elderly buddy is a 100-year-old war veteran, who hasn't been on a ride in half a century.
When asked how it felt to be at Disneyland, the giddy grandpa replies: "This is one of the best days of my life! I feel like I'm dreaming. I thought my life was already over, but I'll remember today for a long time."
Holding back the tears, he adds, "You don't know how much I appreciate this."
Michael Bublé gushes over video: "Everything about it is great!"
On TikTok alone, the video racked up over 16 million views in just a couple of days.
Isaiah Garza regularly makes these kinds of videos and his content is celebrated online, but this is surely his biggest hit to date.
Even Canadian singer Michael Bublé commented on the clip, "Everything about this is awesome!"
Lots of commenters, noted that the old guy's tears made them bawl: "'He started to cry' meanwhile I'm sobbing."
"Fantastic! What a great memory for him, and for you too," another user gushed.
Isaiah said he and his new pal really bonded during their Disneyland adventure and also teased that there might be more content with the sweet old guy coming soon.
Cover photo: collage: screenshots/ tiktok.com/isaiahgarza