Cat and dog make adorable friends, but one detail has everyone laughing
Christchurch, New Zealand - Best friends "furrever": canine Casper and kitten Romeo make an adorable duo. But one crucial difference between the two has users in stitches.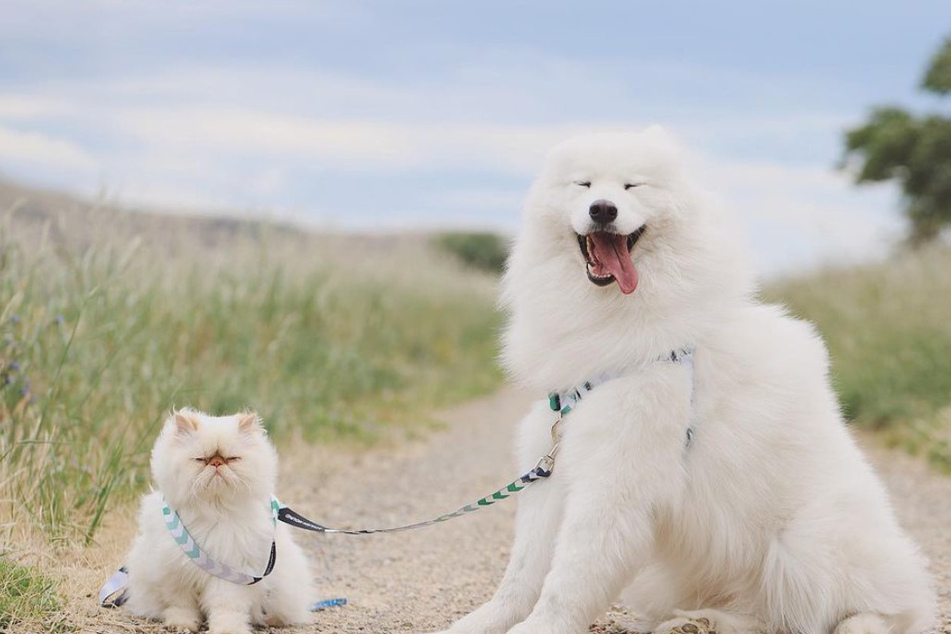 Over 38,500 users fell in love with animal friends on Instagram, and they can't get over one hilarious detail: while dog Casper sports a cheerful smile on every single picture, feline Romeo is a grumpy cat.
He simply can't hide his annoyed expression. But that doesn't bother his friend, Casper, who keeps grinning like a Cheshire cat.
The unlikely duo of the grumpy cat and the cheerful canine, has people laughing all over the internet.
Meanwhile, the two are real homies who don't let anyone come between them. Except perhaps their owner Rinsa Li, who lives with her "boys" in Christchurch, New Zealand.
The 29-year-old woman loves to frequently post footage of her beloved pets' fun moments together. And the fans are here for it.
"I always wanted to get a cat but I was unsure how Casper would react to it; when my best friend got a cat I took Casper to meet him and it turned out he was very gentle and sweet so we decided to look for our dream cat," Rinsa told the Daily Mail.
Cheerful dog and grumpy cat become friends for life
The odd couple immediately hit it off, defying the odds.
"Now, the pair can't be apart from each other. When I first brought Romeo home, we separated them for almost a week but Casper was very curious," Rinsa said.
Although Romeo was a bit hesitant trusting Casper at first, the dog proved to be a good friend to him from the beginning.
Romeo has not only won over Casper's heart but also mesmerized his owner.
"Romeo looks grumpy but he is the sweetest cat I have ever met; he allows everyone to hold him and gives great cuddles," Rinsa said.
Meanwhile, Casper and Romeo prove that two very different characters can in fact become lifelong friends.
Cover photo: Instagram/Screenshots/casperandromeo