Healthcare workers stuck in a snowstorm vaccinate stranded drivers
Grants Pass, Oregon - What would you say if someone knocked on your car window and asked point-blank if wanted to get a shot in your arm?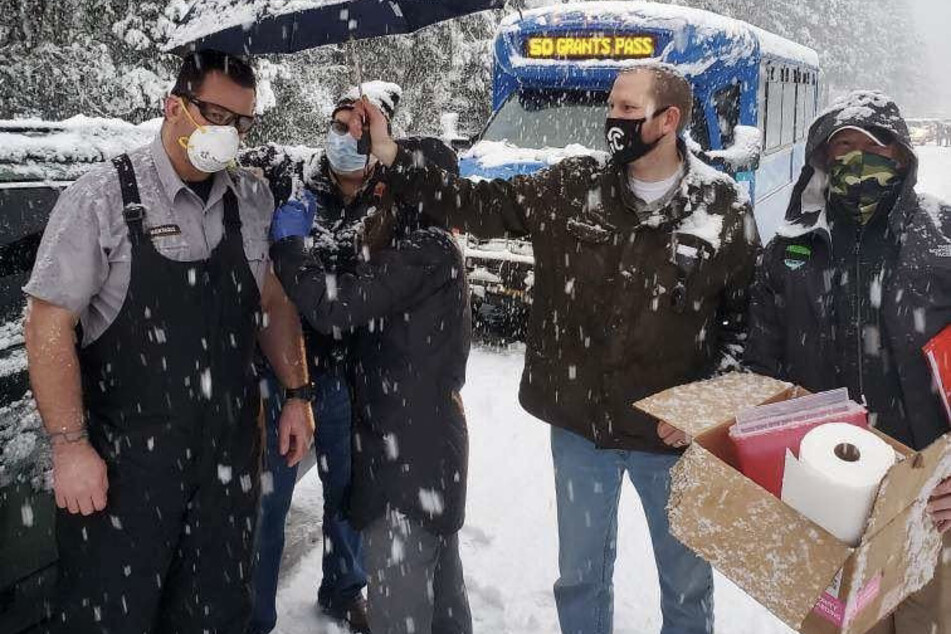 Several drivers in Oregon were faced with this dilemma after being stranded on the side of a highway, thanks to a massive snowstorm that caused a truck-trailer to jackknife, blocking the entire road.

Josephine County Public Health workers were headed to Grants Pass, Oregon to distribute the remaining Covid-19 vaccine doses they had from the vaccination site they left in Cave Junction.

The drive would normally take 45 minutes, not long enough for the vaccines to spoil. But when they ran onto the jackknifed truck, they knew the vaccines would be worthless by the time they got back on the road.
With the limited amount of vaccine doses available across the United States, Michael Webber, the public health director in Josephine County, told the New York Times that the decision to try and use the vaccines once they were stranded was an obvious one, saying "our number one rule right now is nothing gets wasted."
Leaving No Vaccines Behind
Webber and his team of healthcare professionals that were with him began tapping on the windows of stranded cars nearby, asking each of them if they wanted to get the vaccine while they waited
It's no surprise that that question took many drivers aback. It's not every day you get stranded on the side of a road in a snowstorm, and it's definitely not common to be asked if you want a shot in the arm while you wait it out.
Many laughed when asked, but turned down their offer, but six individuals opted into getting the vaccine.
One man was so happy to get it, that he took his shirt off and jumped out of the car with excitement.
Cover photo: screenshot/Facebook/Josephine County Public Health