"Yardi Gras": New Orleans turns houses into floats to make up for canceled parade
New Orleans, Louisiana - No parade? No problem! New Orleans locals found their own beautiful way of keeping the spirit of Mardi Gras alive despite the raging pandemic.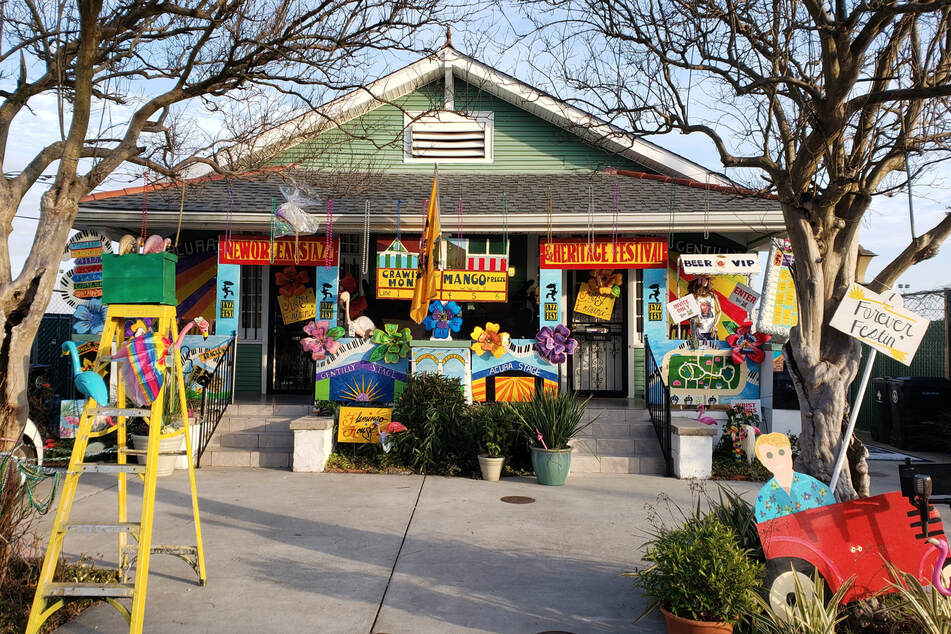 Mayor LaToya Cantrell's announcement that Mardi Gras parades were canceled came as a shock to New Orleans residents last November.
But the locals didn't let the pandemic rain on their parade and came up with a coronavirus-safe plan to celebrate anyways.
In the weeks leading up to the carnival celebration, residents have been decorating their homes like the flamboyant floats that otherwise would be a crucial part of the parades over the Mardi Gras season.
The uniquely themed house floats that now fill New Orleans' streets with good spirits, initially started out as a "silly" joke.
"We're doing this. Turn your house into a float and throw all the beads from your attic at your neighbors walking by," local Megan Joy Boudreaux tweeted back in November.
But her joke didn't seem like a bad idea to her, and after giving some thought to it, she created a Facebook group called the Krewe of House Floats. Boudreaux expected a small number of friends and neighbors to join, but as word spread around, the numbers soon exploded.
By Carnival season's official starting date, January 6, the group had racked up more than 12,000 members. According to The Associated Press, about 3,000 out-of-town New Orleanians, including a few living in places as far away as England and Australia, announced they will decorate their houses as colorfully as possible.
"I didn't think I was starting a Mardi Gras krewe. Here I am," Boudreaux told AP. "I've got myself a second full-time job."
Houses should be decorated at least two weeks before Fat Tuesday, which is February 16 this year, so they can be displayed on an online map.
"I know a lot of folks are sad and disappointed that Mardi Gras cannot be normal this year, but I am hoping that Krewe of House Floats can be a way for folks to channel their creative energy, make something positive out of a bad situation, and have something to look forward to in 2021," Boudreaux wrote on the Krewe of House Floats website.
The city is already exploding with creativity, showing off houses, front-yards, and balconies in vibrant colors and joyful designs – all in the spirit of Mardi Gras.
Cover photo: The New Orleans Jazz & Heritage Foundation/Screenshot/Twitter