Heidi Grey teases her Instagram fans with a teeny-tiny top!
Los Angeles, California - This modern-day Barbie's hot pink crop top came out to play!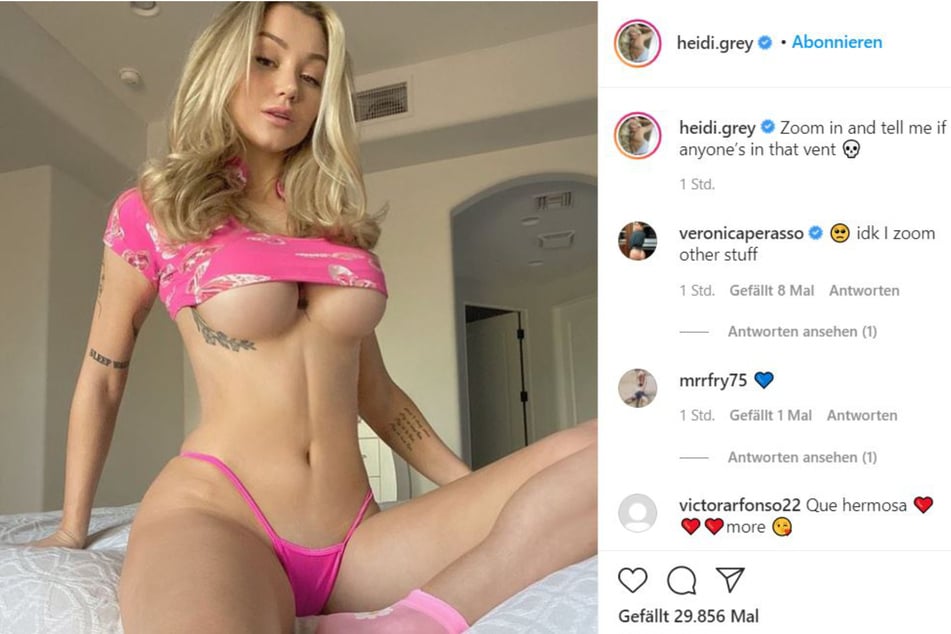 Instagram model Heidi Grey showed so much underboob that she almost bared it all in a new post on Sunday evening.
On her Instagram account, the 22-year-old pulled her shirt all the way up – just enough to cover her chest and avoid the Instagram censors.
Her long blonde locks, tiny hot pink top, matching thong bottom, and pink flowered socks reminded some viewers of Barbie.
The daring photo gained 30,000 likes within the first hour after it was posted, and has gone on to amass thousands of comments.
"You are too hot!" said one user. "You look absolutely gorgeous in pink," commented another.
"Zoom in and tell me if anyone's in that vent," the model captioned the photo, alluding to a dark shadow looming above her. It's a sly suggestion meant to bring more attention to her buxom bosom – as if her followers needed any more encouragement!
"Wish it was me in that vent," said one fan.
Her three million followers have been getting a few cheeky peeks over the last week. In her previous posts, Heidi Grey treated them to even more cleavage cut-outs and barely-there bottoms.
Cover photo: Instagram/Screenshots/heidi.grey