Actor stages naked and bloody protest at the French Oscars
Paris, France - A bold actor pulled a freak stunt and protested naked and bloody at a French awards show to draw attention to concerns over the government's response to Covid-19.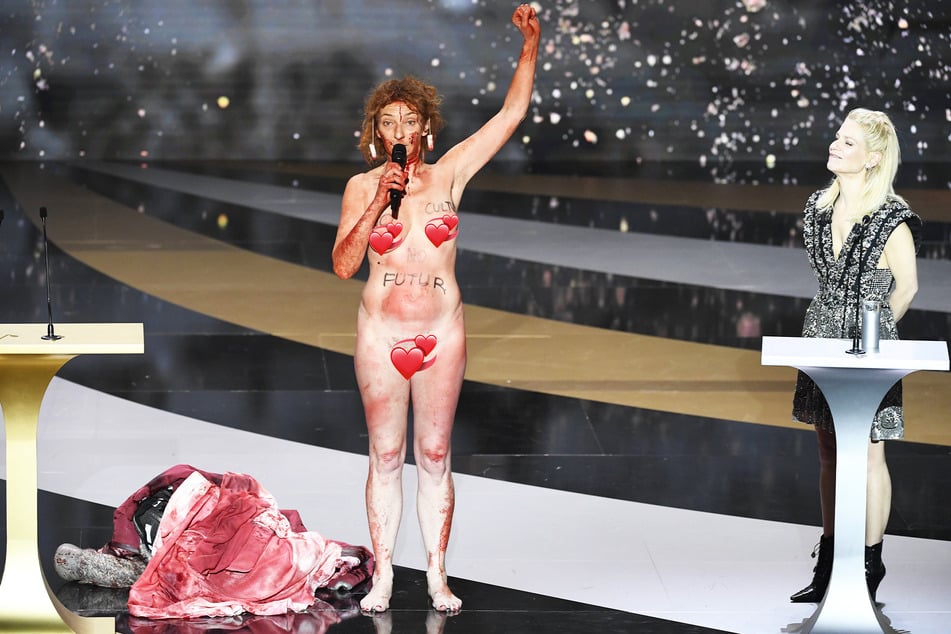 Corinne Masiero (57) donned a donkey costume before stripping down to a blood-stained dress and then baring it all onstage at France's equivalent of the Oscars.

The French actor and comedian presented the award for Best Costumes at the 46th annual César film awards on Friday and used her own shocking costume changes to send a firm message.
"No culture, no future" was written across the front of her naked torso.
She demanded that the government do more to support culture and the arts, which are suffering in the wake of the Covid-19 pandemic.
"Give us back art, Jean," she wrote on her back, reportedly appealing to French Prime Minister Jean Castex.
She wore red-painted tampons as earrings and said that her bloodstained dress was meant to invoke "Carrie at the Devil's Ball".
Industry professionals have spoken out against France's disappointing response to the pandemic and its closure of cultural venues while other businesses remain open. Many César attendees specifically noted in their speeches that cinemas had been shuttered for months.
Masiero's antics gained applause from the visibly shocked audience.
She continued to present the award for Best Costumes completely nude.
The César Awards honors the best films of the year in 25 categories. This year's socially distanced event only had nominees in attendance.

Cover photo: IMAGO/Starface/Bertrand Guay