Spanish model draws all eyes on her with revealing Instagram post
Spain - Extra hot curves! The Spanish model Eva Padlock does not let up! She just keeps wowing fans on Instagram with one sexy post after another.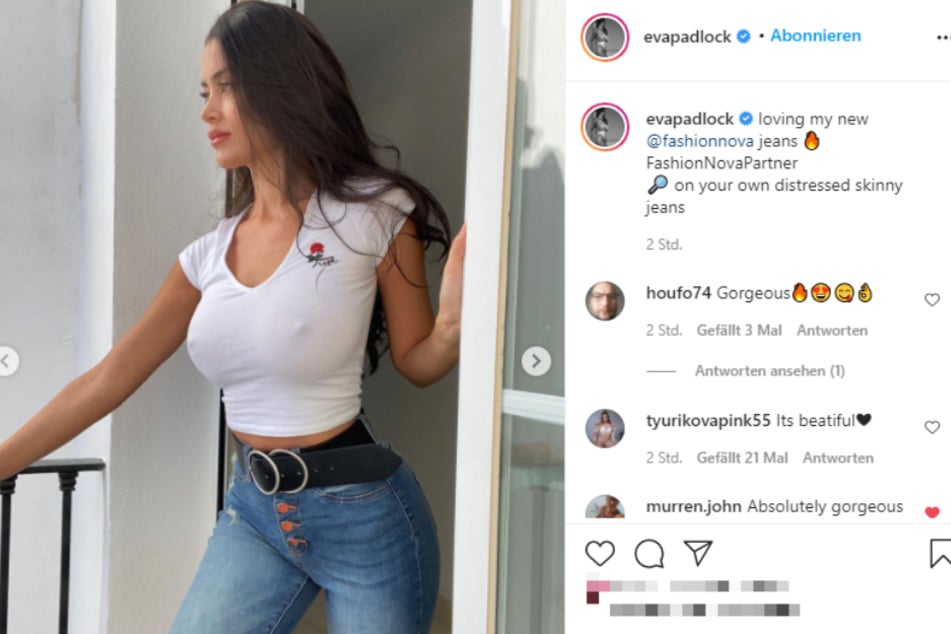 Eva tried to stir up some interest for her business partner with her latest Instagram post, in which she wrote, "loving my new @fashionnova jeans."
But her fans are probably more interested in the racy model's natural curves than in her new pants.
With her most recent snapshots, the 36-year-old proved yet again that she is an absolute bombshell.
The tight white t-shirt that she paired with her new jeans leaves little to the imagination when it comes to her voluptuous breasts. And her long straight locks frame her figure beautifully.
Her followers are blown over by this latest post and many of them wrote comments expressing how gorgeous they find the model. Some simply wrote "beautiful," "gorgeous," or "wow." Others managed to blurt out whole sentences of praise for the Spanish beauty: "Wow absolutely stunning."
Eva already has 1.7 million followers and her huge fanbase is growing with every sizzling update.
The gorgeous influencer seems eager to please her followers with photos, so it probably won't be too long before she posts something tantalizing again. Whether it will be a simple jeans and t-shirt combo again or something raunchier like her leather outfits, Eva's fans can hardly wait.

Cover photo: Instagram Screenshot @evapadlock