Who's this hot model showing her sexy backside?
Santorini, Greece - Stylish and sexy: Lucia Lachkovic Javorcekova once again shows why she has over 1.7 millions followers with her latest Instagram post.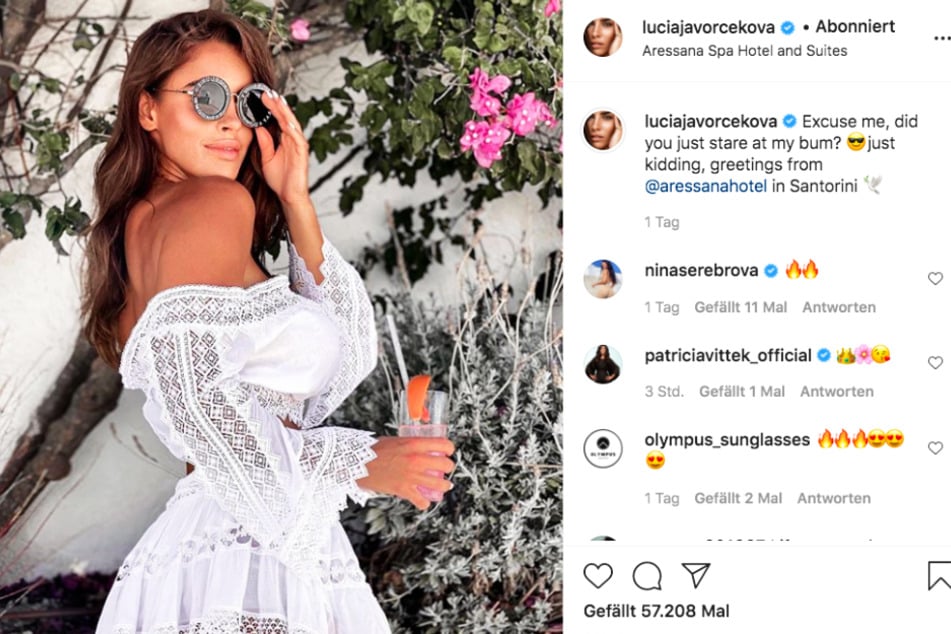 In one of the hot photos, the Slovakian beauty (29) appears wearing stylish round sunglasses and a white summer dress, but she apparently didn't bother with underwear. Her fans get to see part of her remarkably toned and tanned backside!
No wonder that the former professional cyclist received almost 60,000 Likes for this. The brunette beauty regularly inspires her fans with similar shots.
A few hours later, she appears in a snapshot sitting on a white wall under a bright blue sky, wearing only a thong.
She's covering most of her large bosom with her arms, but her subscribers still get to see much of her toned body.
It is important to the model that the settings are equally stylish and professional, which makes her stand out from the mass of sexy influencers.
Lucia Lachkovic Javorcekova places great importance on stylish content with a good sprinkle of spice
Lucia Lachkovic Javorcekova shows her luscious bottom
Lucia Lachkovic Javorcekova has no problem with the naked truth
Lucia Lachkovic Javorcekova regularly draws attention to her sexy body
Lucia Lachkovic Javorcekova gives her fans a fantastic view
Lucia Lachkovic Javorcekova also lets her followers in her private life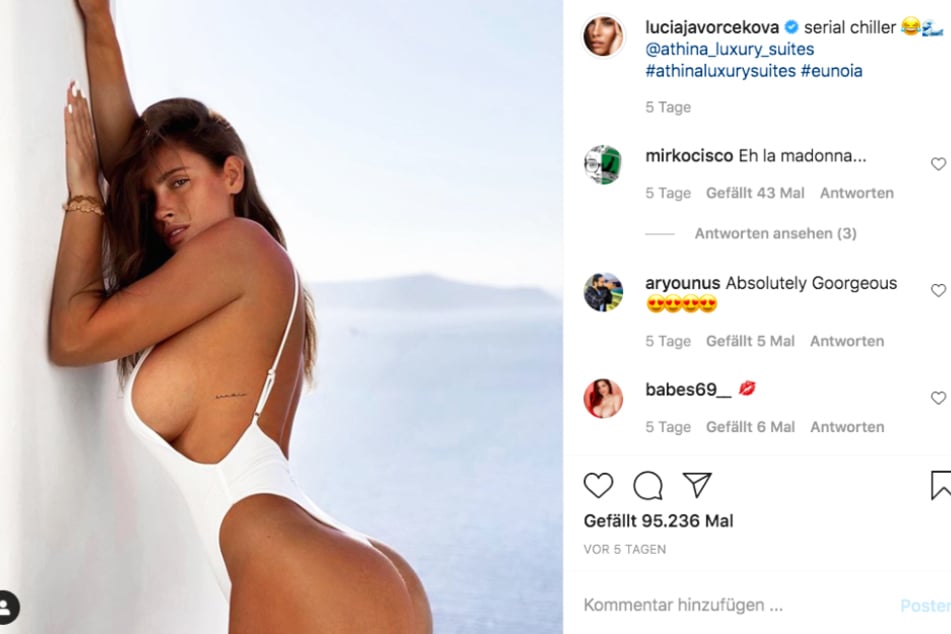 Influencers like Violet Summers  put most of the emphasis on showing as much of themselves and their body as possible, pushing the limits of social media.

The more experienced Lachkovic doesn't go that far.  She already has a daughter, who followers can see in her stories over and over again. She seems to be everything to her.
After a difficult relationship, she also seems to have found happiness and often includes her muscle-bound boyfriend, who has a strikingly bald head.
But of course, everyone's dream woman is center stage on her account. She has since started to earn money as a model, but also works as a DJ, so she loves music. According to her profile, she also likes art, fashion, beauty, travelling, sports and cars, for which she is always advertising.
In general, the Slovakian shares almost daily videos of her workouts lets users into her luxurious life, especially when she is on vacation and the view is as beautiful as in Santorini, Greece.
Cover photo: Instagram/Screenshot/luciajavorcekova