Trend wars: Gen Z, millennials and the TikTok battle over what's "cheugy"
For a good few years now, Gen Z has taken the mantle from millennials when it comes to declaring and judging trends. And when it comes to styles that just don't cut the mustard with the younger generation, one word has been popping up again and again online: "cheugy".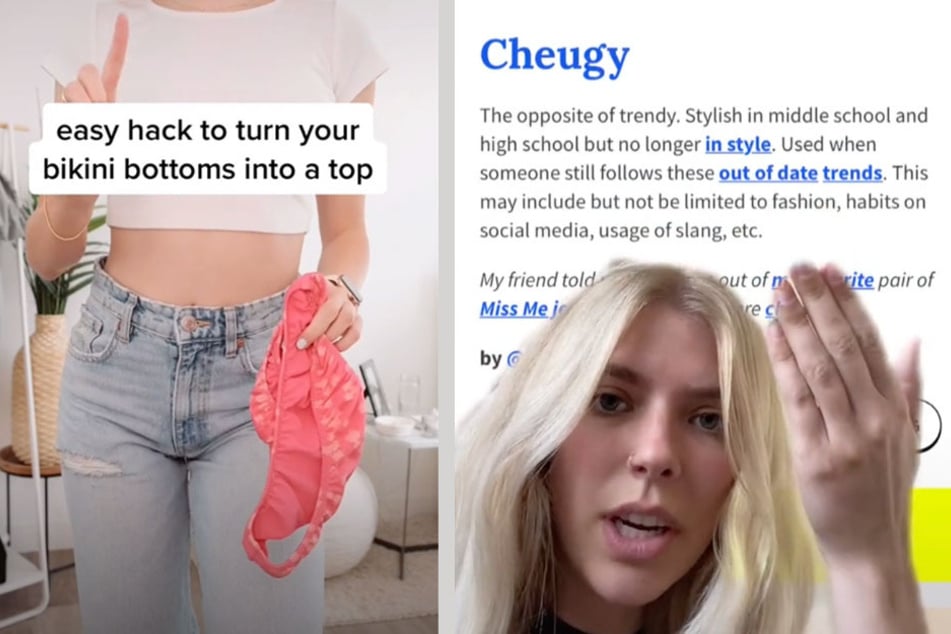 A new battle seems to have been born during quarantine, as millennials and Gen X started invading TikTok, a platform once primarily used by Gen Z.
The influx of "older" users prompted a series of videos sarcastically asking over 25s they were "OK," in a low-key attempt to push them out.
In a stitch video replying to the question saying, one millennial replies, "Well, that's a question based off of perspective. I mean, I'm not ok, but I'm alright," before listing the challenges of young adulthood, including a stressful career and crushing student loan debts.
Meanwhile, TikTok has long become an established home for users of all ages. But Gen Z-ers found another way to claim dominance: they started calling their elders out on their fashion and style, word choices, and emoji usage.
And that's how the word "cheugy" was born. It refers to things that are outdated and no longer trendy, according to a Gen-Z TikToker by the name of Hal, who posted a video explainer and demanded that people "expand their vocabulary."
Trends such as T-shirts or hats with words or slogans on them, Herbal Essence and Lululemon shopping bags, even phrases like "girl boss energy" have been declared cheugy.
The strange part of it all is this: If trends that were stylish for millennials in middle and high school are no longer on-trend, why does Gen-Z keep bringing them back?
Getting cheugy with it
Crocs are a prime example. The company itself was founded in 2002, when millennials were in elementary, middle, and high school.

The rubber shoes with plastic, decorative pins were a big hit for a year or two, then slowly began to phase out as skater shoes like Etnies and Vans began to take over the game.
Now, Gen Z has pledged allegiance to the shoes, which predictably led to stars like Nicki Minaj, Justin Bieber, and Post Malone to design their own pairs and sell them for astronomical prices.
So some trends that were popular in millennials' school-age days are now cheugy, while others turn into wildly popular recycled trends for Gen Z-ers, who just love resurrecting pop culture from the 1990s and early 2000s.
There seems to be a fine line between who can wear what, and who is cheugy for doing so – even if they're rocking the exact same styles.
Recyled trends turn basic into fashion
Of course Gen-Z has created some styles of their own, like rocking fanny packs across the chest or neck, and "life-hacking" clothing items and turning them into something else.
If you never thought a pair of bikini bottoms could ever be used for anything else, Gen-Z is here to prove you wrong. A TikTok video posted by Hannah Warling shows innovation at its finest, as bikinis become a stylish top.
The video has garnered over 934,000 views, with comments questioning how this hack would work for anyone with a larger chest, and why you would ever wear it in the first place.
One comment said, "That's where I draw the line", while another jokingly wondered whether this hack was gender-neutral, asking, "Can we gents use [it] like this?"
Does repurposing basic items mean you're on-trend in 2021? Maybe.

Can a 29-year-old rock a skort, chunky sneakers, and bathing suit bottoms as a top and still avoid the dreaded cheugy verdict? That depends on who you're asking.
Cover photo: Collage: Screenshot/TikTok/hannahwarling/webkinzwhore143