Horror-obsessed man gives everything to become real-life vampire
Minas Gerais, Brazil - One Brazilian man has spent $1,000 getting his tongue tattooed black, fangs implanted in his gums, and other body modifications to replicate a vampire. And his journey has only just begun!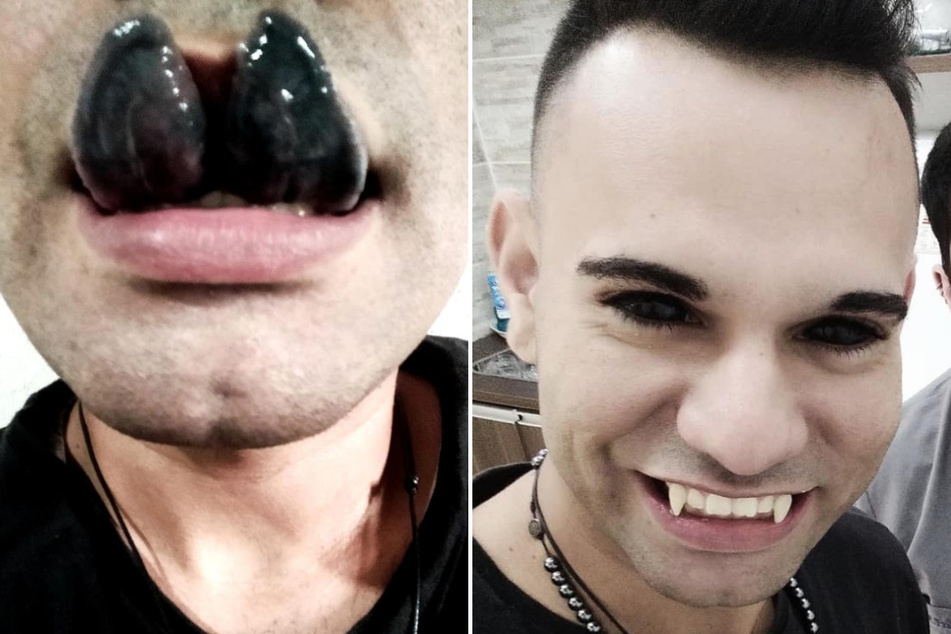 Since his younger years, Jason Luiz da Silva has wanted to change up his looks. And it's safe to say he's already achieved that!

He began transforming his body when he was 18 years old by getting his eyes tattooed completely black.
That kind of inkwork come with a risk of permanent blindness, but Silva's desire to become like the characters in horror films and demon-themed TV shows outweighed the risks.

At the age of 25, Silva still has his eyesight along with a variety of new body modifications. He's had his tongue split, fang-like teeth implanted into his mouth, and his tongue tattooed black to replicate a vampire.
Silva told UNILAD that his tongue tattoo, which took an hour, was the most painful modification he's done to date.

Silva continues his body transformation
The changes he's made come with no regret for Silva. "It brings me happiness knowing that I've been able to make this change and look how I've always wanted to look," he said.
Though his looks often draw the wrong kind of attention, Silva brushes off the disapproving stares and eye rolls easily because it's something he's used to.

In high school, Silva was always looked at strangely, with people calling him a "freak show" and a "demon."
Next, Silva plans to have his ears transformed to look more elf-like and has plenty of other stops planned on his personal journey.
Cover photo: Collage: screenshot/Instagram/jasonluiz9