Groom bursts into tears at wedding and inspires millions on TikTok
Williamstown, New Jersey - "Every girl's dream!" A super-sweet TikTok video showing a groom overcome with emotion recently went viral.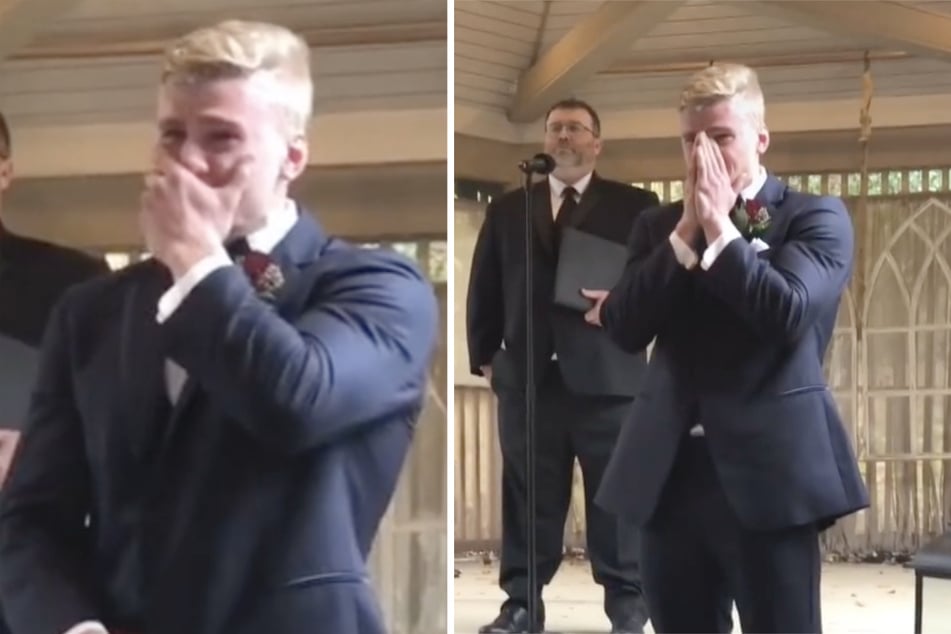 Joe LaCerra is a bodybuilder who runs his own gym, so he's a pretty tough guy. But at his wedding ceremony, he showed that even the hardest exterior can hide a soft interior.
In the video recorded by amateur filmmaker Shannon Dunn, the blonde muscleman wears a chic wedding suit and waits at the altar for his future bride. While romantic music plays in the background, his father and best man taps him on the shoulder and Joe's emotions seem to overwhelm him.
He clearly struggles against the tears, first grabbing his face with one hand and then with the other. He finally breaks into tears, even though his bride is not standing next to him yet.
The intense reaction is so heartwarming and sweet that Shannon Dunn decided to publish the short clip on TikTok as a groom-reaction video. She wrote: "The reaction every girl dreams of on her wedding day."
It's not only Shannon who is thrilled by Joe's tears of love; so is the rest of the internet: the clip was viewed 9.5 million times on TikTok in less than three days and has received more than 2.3 million likes.
Weeping groom is now a "TikTok celebrity"
The groom also shared the clip on his own Instagram page, joking: "I'm apparently a TikTok celebrity now."
Fortunately, the rest of the wedding featured fewer tears and much more joy and dancing. Both Joe and Shannon released more wedding videos of the happy couple laughing, kissing, and dancing.
Under the first video, many women commented that they want to keep redoing their wedding entrances until their husbands also cry like Joe. So, men, stand by your feelings!
Cover photo: tiktok.com/@shannondunn37