Sexy or scary? Viking Barbie pulls off both with her Halloween costume
Los Angeles, California - Halloween is just around the corner and as usual, it's time for costumes that combine sexy and scaring. And no one does that better than the voluptuous influencer Viking Barbie.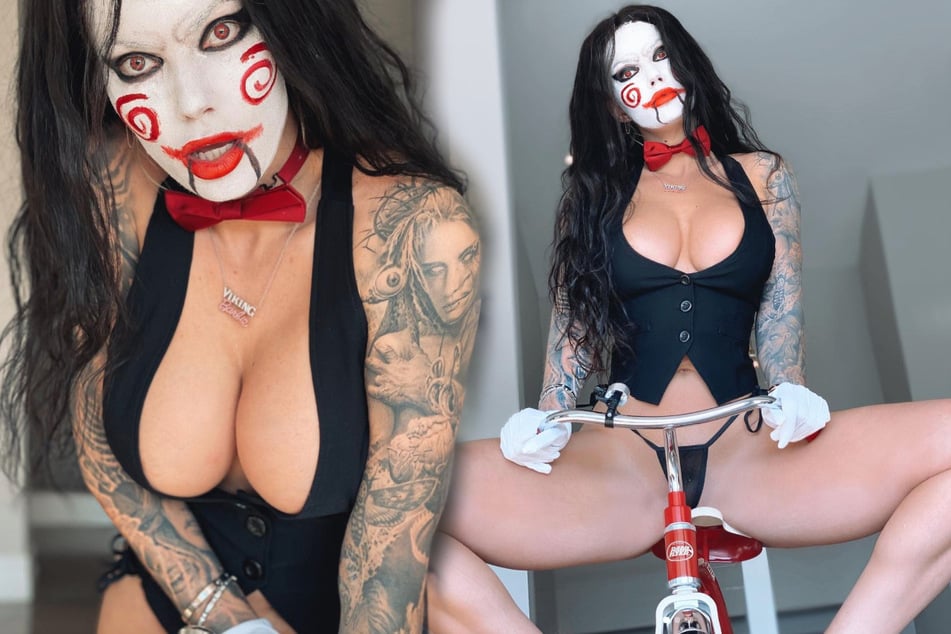 Especially with coronavirus pandemic raging on, Halloween is a great chance to bring some color and joy into people's lives.
Many are already showcasing outfits that are supposed to quicken the pulse this Halloween.
Among them is Kayleigh Swenson, who is known on Instagram under her stage name Viking Barbie.
The 35-year-old published her own typically revealing costume on social media. In the video and accompanying photos, she mixes chilling face-painting with a sizzling hot top and her signature teasingly tiny panties. 
It's all based on the Billy the Puppet, the famous villain from the Saw movie franchise. Viking Barbie does a great job reproducing the character's terrifying face and even includes the trademark trycle from the films.
Viking Barbie inspires mixed feeling in her followers
In her post, she also asks her 7.7 million fans what their biggest fear is.
The Instagram star wrote that she herself is extremely claustrophobic and is terrified of the idea of being buried alive.
The confusing effects of Viking Barbie's gorgeous body packaged in a frightening disguise were expressed perfectly by her friend, model Heidi Grey: "I'm scared and turned on at the same time."
For those more interested in the second sentiment expressed by Grey, Viking Barbie has another costume – one more focused on highlighting her stunning looks. She also posted a picture of her dresses up as a fairy, with a hat that evokes Angelina Jolie's role in Disney's Maleficent.
With only a few days left until Halloween, Viking Barbie is certainly in a festive mood.
Cover photo: instagram.com/viking.barbie