After a busy few days, Jennifer Lopez is ready to celebrate Thanksgiving
New York City, New York - From her stellar performance at the 2020 American Music Awards to her appearance at the unveiling of the Saks Fifth Avenue window display, Jennifer Lopez is on the move and looks good doing it. But the busy star is also ready for Thanksgiving.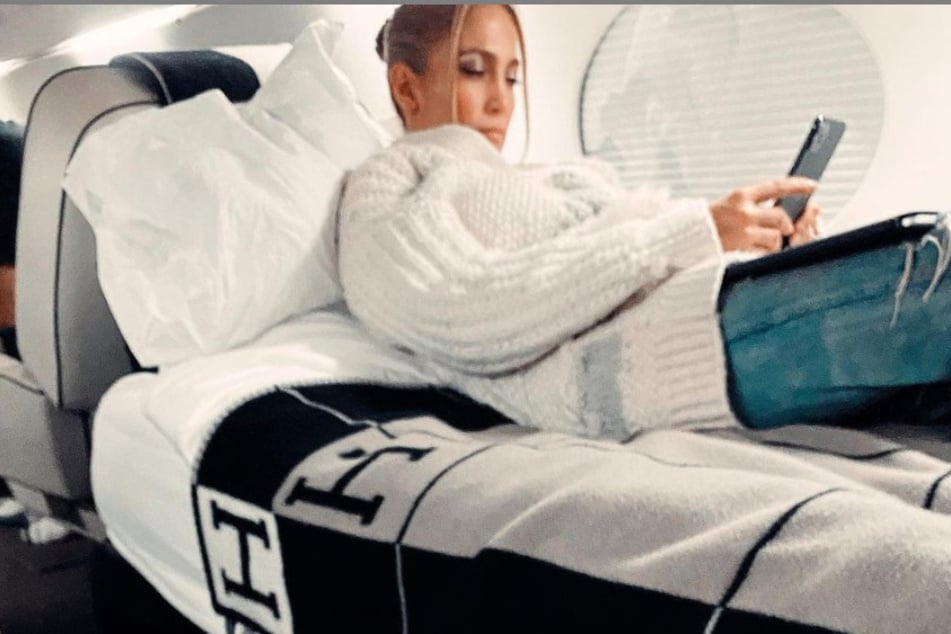 On Sunday, Jennifer Lopez rocked viewers of the 2020 American Music Awards in Los Angeles. She wore a stunning, black, see-through bodysuit that showed off her curves. As the Daily Mail reported, she sported a "wet" hair look similar to Kim Kardashian's, probably because the two celebrities share a hair stylist.
Less than 24 hours later, J. Lo was in New York City in front of the Saks Fifth Avenue window display for the unveiling of the company's "Saks Lights Up Fifth Avenue" show.
This time, the pop star covered her famous curves in a dashing ankle-length, double-breasted purple coat and posed with her fiancé Alex Rodriguez.
J. Lo shows off her curves in a black bodysuit
J. Lo gets cozy with a sweater and jeans on the plane
J.Lo's man is really getting into the holiday spirit, according to People. He said that being at the unveiling of the window display was special: "Saks is iconic like the Yankees, like the Statue of Liberty, and seeing the Saks Fifth Avenue window display – you're a part of it, and there's no better time to be in the greatest city in the world than this time of year."
The couple appeared with Saks Fifth Avenue President and CEO Marc Metrick. This year, the company is planning to stream multiple events online and keep in-person meetings socially distanced because of the coronavirus pandemic. This explains why the couple were wearing face masks to complete their glamorous look.
On the way to New York, baseball legend Rodriguez took a candid shot of his love scrolling through her phone on their private plane and posted it on Instagram. He wrote, "Lady is definitely ready for Thanksgiving." J. Lo looks cute in her laid-back travel sweater and jeans. The post already has 100,000 likes.
Rodriguez added, "We have so much to be grateful for and are excited to be heading home to spend time with family."
Cover photo: screenshot/ Alex Rodriguez/ www.instagram.com/p/CH9D5tanYZ3/