Flashy Brooklyn bishop robbed of jewelry worth over $1 million during live stream
New York, New York - During a livestreamed event, Brooklyn Bishop Lamor Miller-Whitehead was victim of a heist that took jewelry worth over $1 million.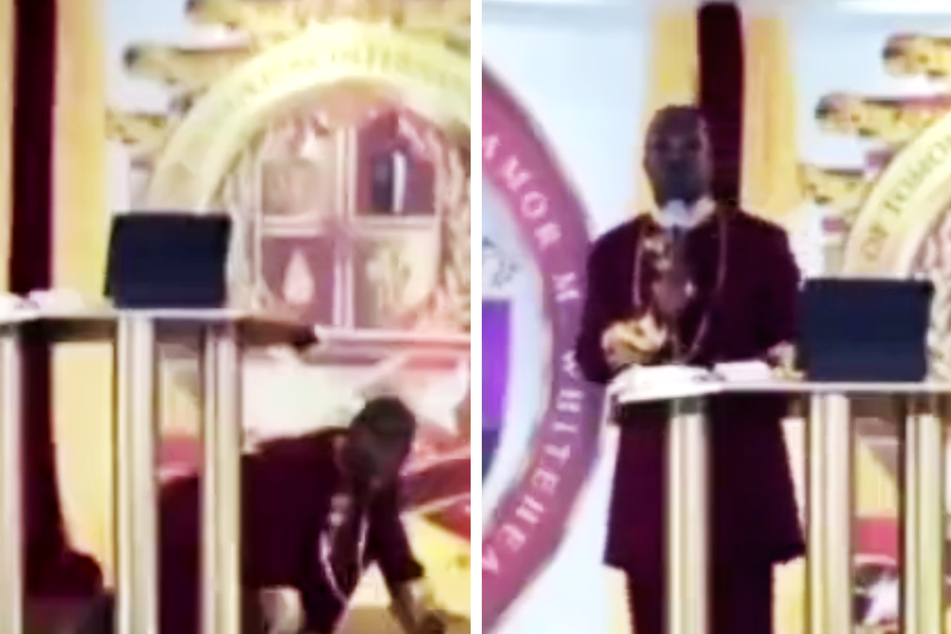 Video of the incident shows Whitehead delivering his sermon at the Leaders of Tomorrow International Ministries in Canarsie on Sunday when he and his wife are robbed at gunpoint by three men.
As the crooks burst in, Whitehead repeatedly says "alright" and drops to the floor. The robbers can be seen patting the Bishop down for his goods.
The deputy commissioner for public information told NPR that the thieves "removed more than $1 million worth of jewelry from the victims."

"When I [saw] them come into the sanctuary with their guns, I told everybody, 'Get down,'" Whitehead said in an Instagram post where he recounted the events. "I didn't know if they wanted to shoot the church up, or if they were just coming for a robbery."
Whitehead claims one robber pointed a gun at his eight-month-old daughter's face, and that he chased the suspects afterward, watching them take off in a white Mercedes-Benz with the tags KMX5464.
Bishop Lamar Miller-Whitehead has made quite a name for himself over the years by flaunting his wealth, often donning expensive jewelry and driving around in a a Rolls-Royce. He also spent five years in prison for identity theft and grand larceny.
"It's not about me being flashy," he insisted in an Instagram video. "It's about me purchasing what I want to purchase. It's my prerogative to purchase what I want to purchase. If I worked hard for it, I can purchase what I want to purchase."
Fortunately, no one was harmed in the incident, and hopefully the video and license tags will eventually lead to an arrest.
Cover photo: Screenshot: Twitter / @afro_mambo