Meet the man taking on racism with a surfboard in the New York Rockaways
New York, New York - Lou Harris is changing people's lives by teaching surfing, though he stumbled across the sport by chance.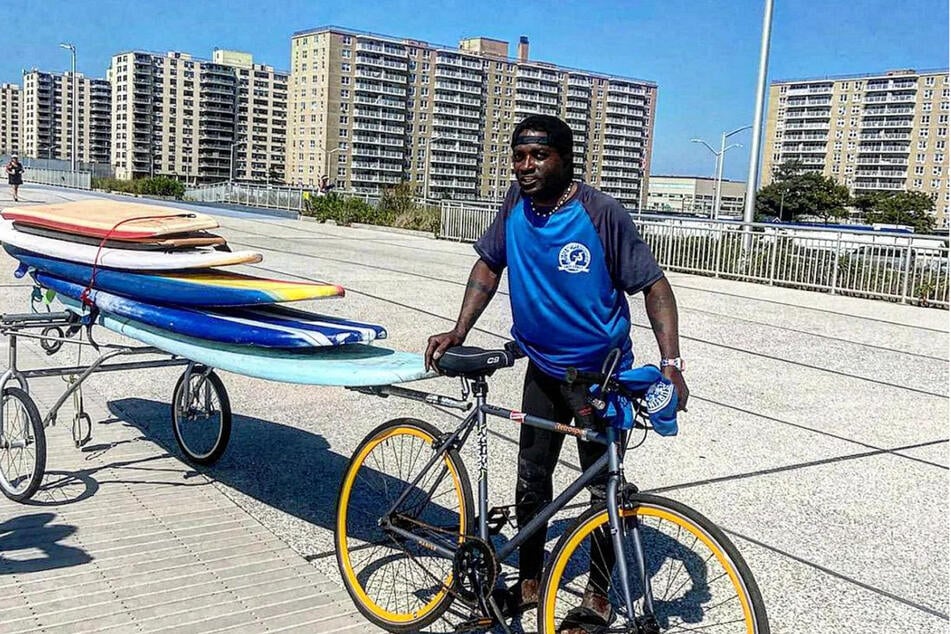 He came out here – that is, to the Rockaways, a peninsula at the southern edge of the New York City borough of Queens on Long Island – when he was 33, after he had just stopped skateboarding. "And I didn't know what I was going to do because I was getting old," Harris says.

"Then, when I came out here, I saw people surfing, and I was like, that's what I want to do," he says.
Harris started out by buying a used surfboard then sat on the beach with a beer, day after day, week after week, watching the surfers and taking notes until he felt like he understood how the sport worked.
His girlfriend at the time was jealous, he says, as whenever she took a day off, he was busy practicing surfing.
Now 50, Harris moved to the Rockaways some time ago. "I just liked it so much I didn't even want to take the train ride back."
The Rockaways, badly damaged by Hurricane Sandy in 2012, are among New York's poorer neighborhoods, lined with high-rise apartment blocks and simpler wooden homes.
However, the area is gradually being gentrified as more and more people are attracted to its long sandy beaches. That's led to a profusion of upscale hotels, hip beach shacks selling fish tacos and iced lattes, and brightly colored bicycles along the boardwalk.
It takes around an hour to reach the Rockaways from Manhattan, riding the A line. The closer you get, the more people you see carrying surfboards as the Rockaways are the only place in New York where surfing is allowed.
It's widely believed that Duke Kahanamoku, the Hawaiian who invented modern surfing, was the first to ride the waves here, having stopped by on a trip to Queens in 1912.
Lou Harris strives to make surfing more inclusive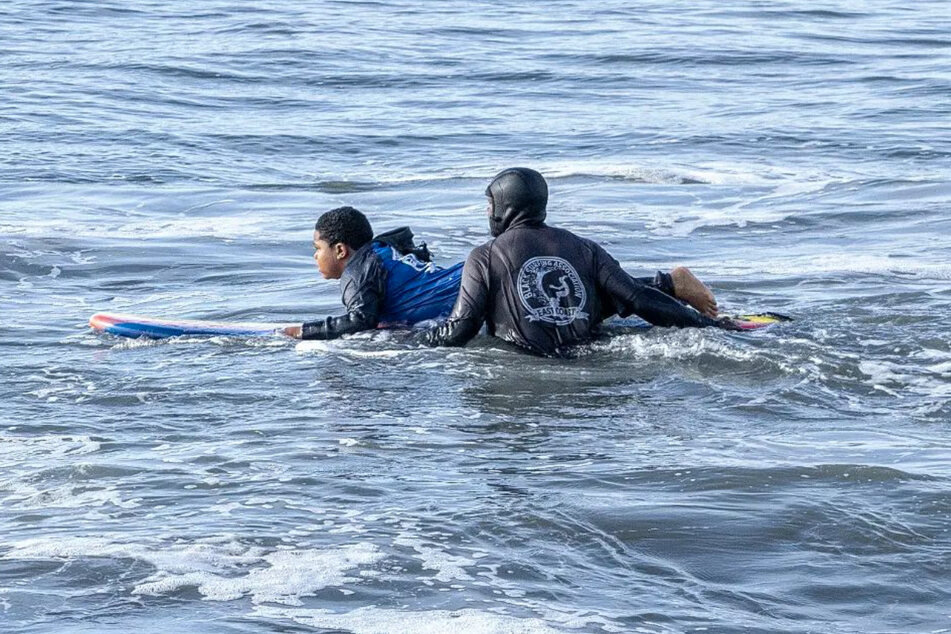 Harris loves the area, even though the waves aren't very large and occasionally, in winter, you see snow on the beach. As he puts it, it is the only place you can surf for a couple of hours and then go see a Broadway show.
"It's very eclectic. It's like a melting pot of everybody," he says.
However, Harris noticed he rarely saw Black people surfing. Heading home after a day riding the waves, holding his surfboard under his arm, people often shouted at him, "Black people don't surf." Often they were young Black teenagers.
At first, he felt annoyed, Harris says, though soon, that got him thinking.
He talked about it with his mother, who said, "Why are you mad?"
"Think about it. They don't have the same opportunities that you had," she told him.
Harris grew up in affluent circumstances, learned to swim as a young child, and later had his own pool at home.
Swimming lessons are often prohibitively expensive in the US, however, and millions of children often don't learn, with ethnic minorities disproportionately affected.
One day, Harris read about a 13-year-old boy who set a mattress on fire in Coney Island, a beach district in Brooklyn, killing a police officer. The boy said he was driven by boredom.
That made up his mind, says Harris. He decided to teach children to swim, providing lessons for youngsters in the Rockaways, free of charge. "I want to keep the kids busy," he says.
Lou Harris establishes the Black Surfing Association East Coast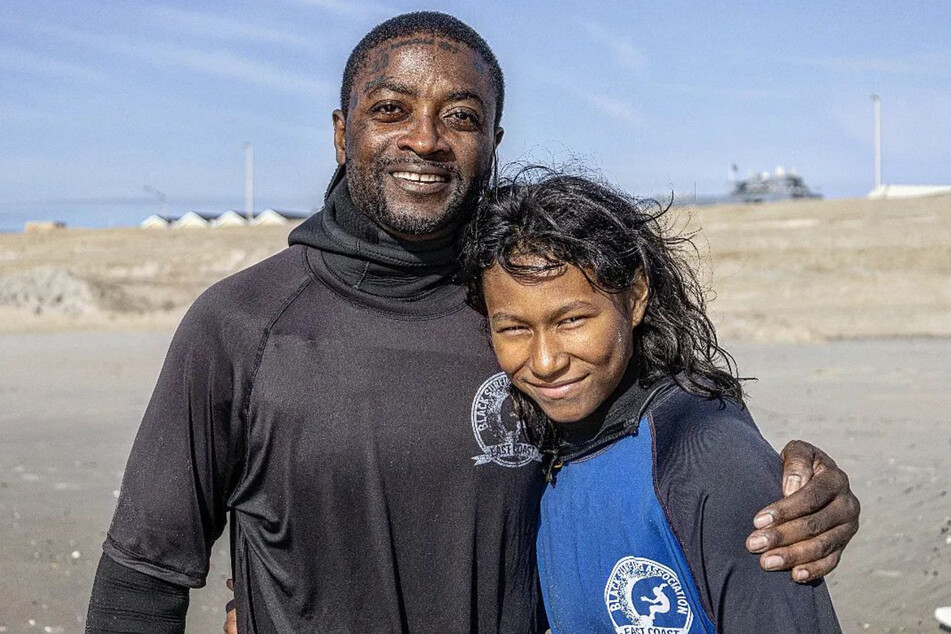 At around the same time, Harris learned about an association for Black surfers on the West Coast and established his own offshoot, the Black Surfing Association East Coast.
Since then, Harris says he has taught more than 200 children from all over New York and beyond how to surf and has provided many with surfboards, equipment, and food free of charge over the past 15 years.
And he has helped them in other ways too.
"I taught homework and life skills things. And I tell these kids, don't waste your parents' money. Go there and get your education. Don't go there drinking. I told them, when you want to drink and get drunk and have a good time, do that. When you graduate, when you get your diploma, then you drink."
For a while, Harris also worked as a doorman part-time on Manhattan's wealthy Upper East Side, but thanks to donations and media coverage, he can fully focus on teaching surfing now.
His work is widely recognized, with the New York Times saying Harris has "reinvented surfing," while Vice magazine wrote he has "made the waves of New York more inclusive."
Harris himself sees the difference out on the water, where there are significantly more Black surfers.
When protests against racism and police brutality broke out across the country after the murder of George Floyd, members of his surf club headed out onto the water in solidarity in a "paddle out."
Nowadays, despite knee problems, Harris is still in the water almost every day giving lessons, often accompanied by his wife and daughter.
Over the past summer, repeated shark sightings led to temporary beach closures, and made young people nervous. Not Harris, though.
The sharks live far away, though this is their habitat too, he says, unworried.
Once in the water, he forgets about everything else anyway. "You're trying to catch waves. It's very therapeutic."
Cover photo: Collage: Screenshots/Facebook/Black Surfing Association (EC)