NYPD arrests curfew protesters and gets slammed for use of "excessive force" in Washington Square Park
New York, New York – Washington Square Park saw protests against new curfew rules, clashes with police in full riot gear, nearly two dozen arrests, and a weekend of turmoil that ended in a full-out dance party.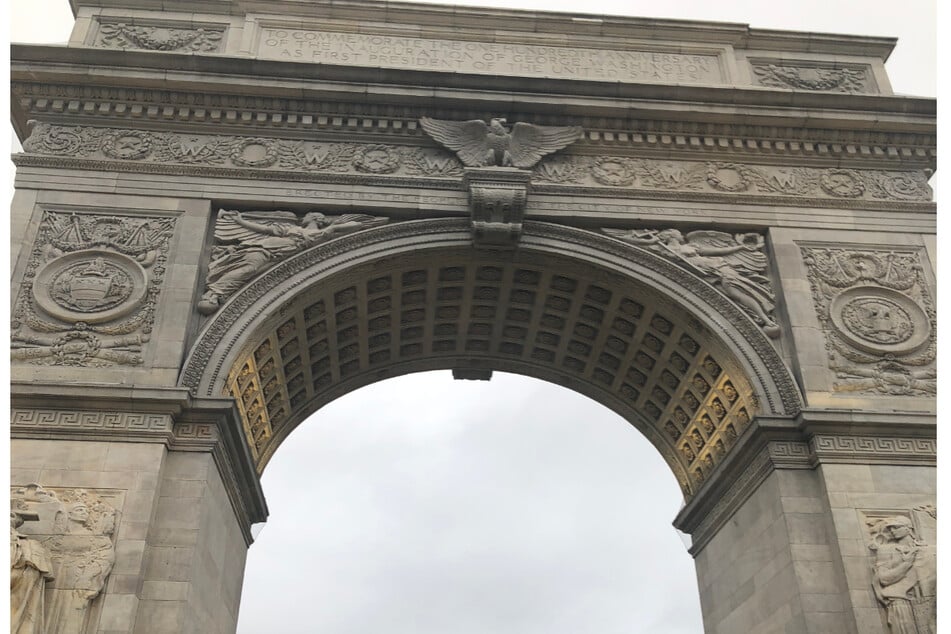 New York City locals know that for a night of open-air debauchery, Washington Square Park in Greenwich Village is the place to be – where culture and mischief-making collide.
The towering and instantly recognizable marble Washington Arch was erected to commemorate 100-years post-Washington's presidency, and has been the site of photo ops, marriage proposals, film sets, and the perfect natural acoustics for musicians beneath to serenade passersby.
The arch's top is inscribed with a quote from the nation's first president: "The event is in the hand of God" – perhaps fitting, in the eyes of some, for this weekend's action.
It became the gateway to a dark scene when protesters violently clashed with law enforcement over new curfew laws in place to curb the park's after-dark mayhem.
Twenty-two people were arrested and charged with disorderly conduct on Saturday night. Five officers were also injured in the fray of what has been called "terrorizing," "aggressive," and a use of "excessive force" by both witnesses and public officials.
Disgruntled neighbors say the park's late night hang-outs have become increasingly unsafe, forcing many residents on the park's border to be afraid to venture out after dark. Complaints of noise, fireworks, drug-dealing, motor-revving, loud music, skateboarding, litter, and large crowds into the wee hours caused the New York Police Department (NYPD) to take action.
The department announced new rules shutting the park at 10 PM on Friday, Saturday, and Sunday nights beginning May 28, two hours earlier than its normal midnight closing time. The curfew was set for at least the next three weekends – and perhaps indefinitely.
Locals said the rainy holiday weekend before kept many nighttime partiers out of the park on the first scheduled weekend of the early closure. Then on Friday, parkgoers left peacefully by 10 PM.
On Saturday, however, a rowdy crowd fought back, in what has become the worst curfew clash at the park yet.
Almost two dozen arrested and more injured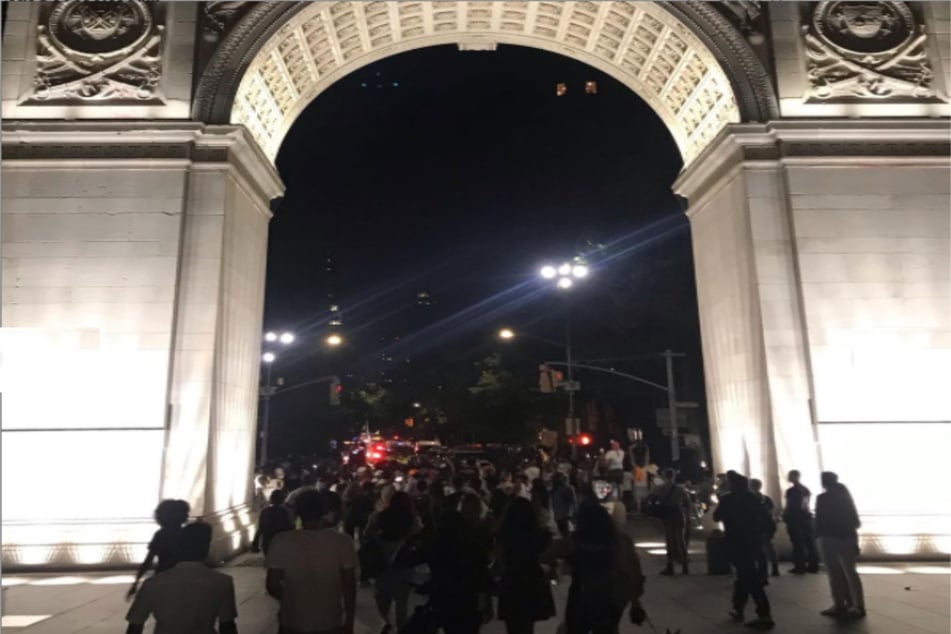 Both protesters and officers seemed ready for a face-off.
"Police had 50+ vehicles there lined up the streets prepared to force people out of the park," NYU graduate Matthew Damante tweeted.
Social media videos and reporters on the scene documented the chaos, which showed officers using pepper spray, batons, and bicycles to push protesters into barricades.
"The manpower they had on hand for a 'noise complaint' was 100% unreasonable," Damante added. "The intention to use excessive force was palpable."
In some clips, protesters can be seen swinging at officers, while others show members of the NYPD creating human barriers and chasing people down streets leading away from the park.
There appeared to be physical altercations from both sides, before apprehended protesters were led away in handcuffs.
Police call the curfew pushback "unacceptable"
Washington Square is one of the largest outdoor gathering spaces in the city, situated just outside of New York University's campuses.
It is not new to hosting political activists and rebels: The Washington Arch was scrubbed of spray paint and restored using anti-graffiti coating in the 80s because of reoccurring vandalism issues.
But recently, the nighttime gatherings have grown larger and intensified quickly during the pandemic, with bars and indoor venues closed and the homeless population increasing.
Police insisted that the repeated antagonistic opposition from gathers refusing to leave the park at night has made increased police presence in the area necessary.
NYPD said that they have clashed with parkgoers on at least five previous instances throughout April and May, when they asked citizens to respect the curfew, but were met with bottle-throwing and physical pushback. Others partiers have peacefully left at closing time, only to return a few hours later in the night to create more noise and problems.
"The past weekends WSP has turned into an all night DJ dance party with open narcotic use and drinking," tweeted the official account of the NYPD Patrol Borough Manhattan South on Monday. "This is unacceptable."
Yet, the enforcement feels arbitrary to many New Yorkers, who noted that just last week, there have been gatherings in the park on weekday nights until midnight, without a single officer in sight.
Social media campaigns are rumored to have mobilized protesters to the scene on Saturday night to prove a point about the mixed-messaging. And police were standing by, ready and waiting.
Mayoral candidates condem the NYPD's behavior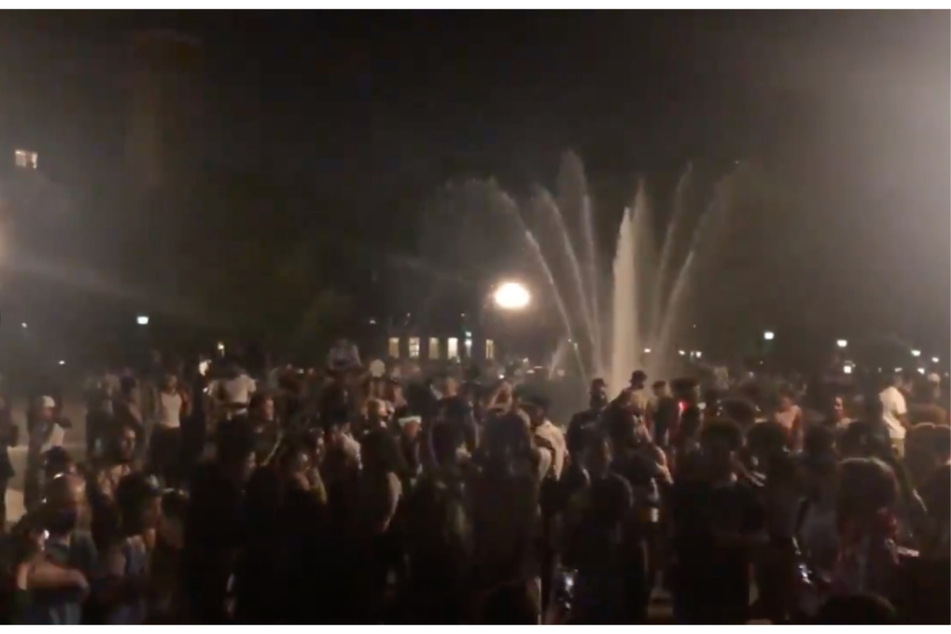 Candidates in New York City's race for mayor condemned the NYPD and used the opportunity to gain political traction. It is the largest criticism of the city's police force by politicians in recent memory.
Statements by multiple democratic contenders showed police reform is at the forefront of New Yorkers' minds as Democratic primary Election Day approaches on June 22.
"Washington Square Park has always been a place to gather and enjoy summer nights. Sending officers in riot gear and militarizing a public park should never be the answer," front-runner Andrew Yang tweeted after the events.
On Sunday night, revelers again converged on Washington Square in anticipation of another police meet-up, but a giant dance party erupted instead.
This time, police did not shut things down at 10 PM.
Instead, the 90-degree pre-summer heat and the park's center fountain drenched merrymakers dancing in the dark to merengue music and the Cha Cha Slide. It was a celebration for protesters who seem to have scored a big win, for now.
There is no word yet on whether the curfew will be enforced next weekend.
Cover photo: Lena Grotticelli