Quick-thinking firefighter saves his infant son from drowning!
Hemet, California - A Southern California firefighter saved his one-year-old son from drowning in the family pool. The Hemet Firefighters Association shared the footage as a reminder that accidental drownings can happen to anyone.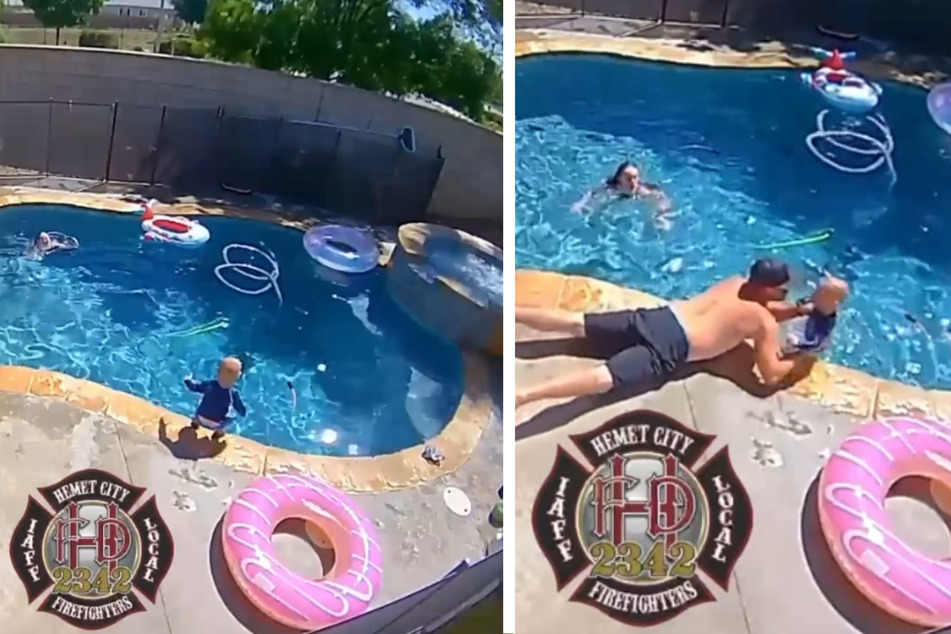 First responder Zachary Petite is being hailed as a hero on social media and by his department.
The firefighter engineer and paramedic reacted with lightning speed when his son almost drowned.
A 40-second video posted by his department shows the one-year-old boy playing around the pool and getting in even though he is too young to swim.
As Fox News reports, Zachary immediately sprinted to the pool edge, swooped in, and pulled his child from the water.
The Hemet Firefighters Association shared the harrowing moment in a Facebook reel and wrote: "This video is a sobering reminder that a child drowning can happen to anyone at any time in a matter of seconds."
"Even though both parents took all proper precautions including a gate around the pool and an appropriate PFD [Personal Flotation Device], the boy still managed to get in the water."
The department told Fox News: "Zack and [his wife] Jessica's proactive approach to pool safety is the reason their son survived."
Pool can be dangerous
"I look over and I can't find him and I ended [up] seeing him sinking to the bottom of the pool," Zachary explained. "So that's when I went over there, scooped him out and got him out of the pool."
Per the CDC, drowning is the leading cause of death for children between the ages of one and four.
"For parents out there, if you got a pool, make sure it has a gate, a child safety lock, door alarms," the firefighter suggested.
Cover photo: Collage: screenshots/Facebook/Hemet Fire Fighters Association, Local 2342