New York to roll out at-home and subway Covid-19 testing as Omicron worries mount
New York, New York - Stand clear of the nasal swabs, please.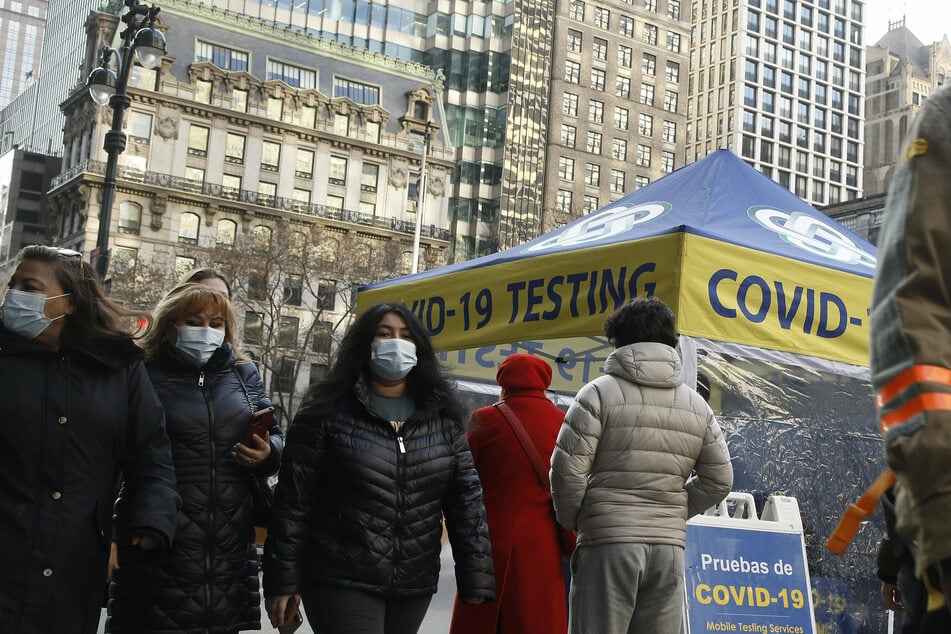 New Yorkers will soon be able to get tested for Covid-19 at subway stations or in the sanctity of their own homes free of charge, Governor Kathy Hochul announced Wednesday, as state and city officials scrambled to ramp up testing amid an explosion of new infections ahead of the holiday weekend.
The subway testing program will roll out Monday at the Times Square-42nd Street station, from 8 AM to 2 PM, and at the Grand Central Terminal station, from 3 PM to 8 PM, Hochul said. Pop-up testing sites will launch at five additional subway stations later next week. Appointments are not required.
"These new walk-in testing opportunities at our MTA subway stations will provide greater testing access and support our efforts to keep ourselves and our loved ones safe during this winter surge," Hochul said.
In another bid to beef up availability, Hochul said her administration has purchased 37 million at-home coronavirus tests, which New Yorkers will be able to order to their homes for free via a web portal that the state will launch in the coming days.
About 5 million at-home tests will become available for delivery by New Year's Eve, Hochul said. The remainder will be distributed early next month.
The at-home tests touted by Hochul come on top of whatever allocation New York will receive from a pot of 500 million at-home tests that President Joe Biden's administration will ship out for free across the country starting next month.
"That is critically important," Hochul said during a press briefing in Buffalo. "We don't want people having to stand in long lines."
Demand for tests surging as Omicron spreads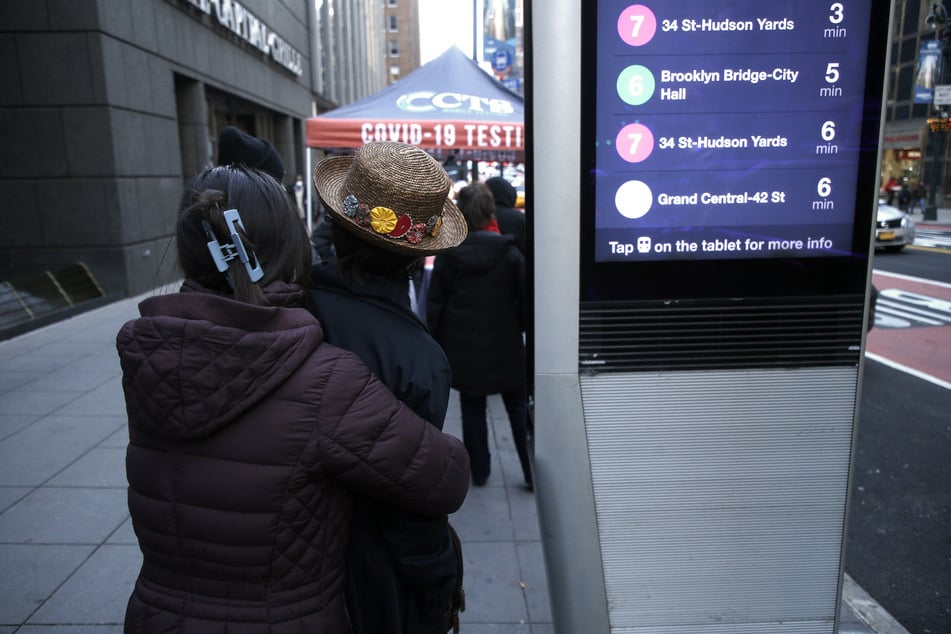 Over at City Hall, Mayor Bill de Blasio announced he's opening seven new testing sites in the five boroughs, adding to the 112 his administration was already operating.
But that's still not enough, said US Senate Majority Leader Chuck Schumer, who sent a letter to Federal Emergency Management Agency Administrator Deanne Criswell on Wednesday asking her agency to deploy 100 mobile testing units to the city.
"Today, they said they're sending six," Schumer said of the feds. "That ain't close to enough given the magnitude of the crisis and what we need."
A FEMA spokeswoman did not return a request for comment, though Hochul said Biden told her in a phone call Tuesday that the federal government is gearing up to launch mass testing sites in the city.
The all-hands-on-deck testing push comes amid mounting frustration over New Yorkers having to spend upward of five hours in long lines in the mid-December cold in order to get a test.
Demand for testing has soared as the extremely contagious Omicron variant of Covid-19 is causing an unnerving resurgence in infections, including among fully vaccinated individuals.
Statewide, 28,924 New Yorkers tested positive for Covid-19 Tuesday, breaking a previous single-day infection record set just two days ago, according to Health Department data.
"This virus is going vertical. It's going straight up," Hochul said. "Another day we're breaking a record. Not a record that we're happy about."
Isolation period under review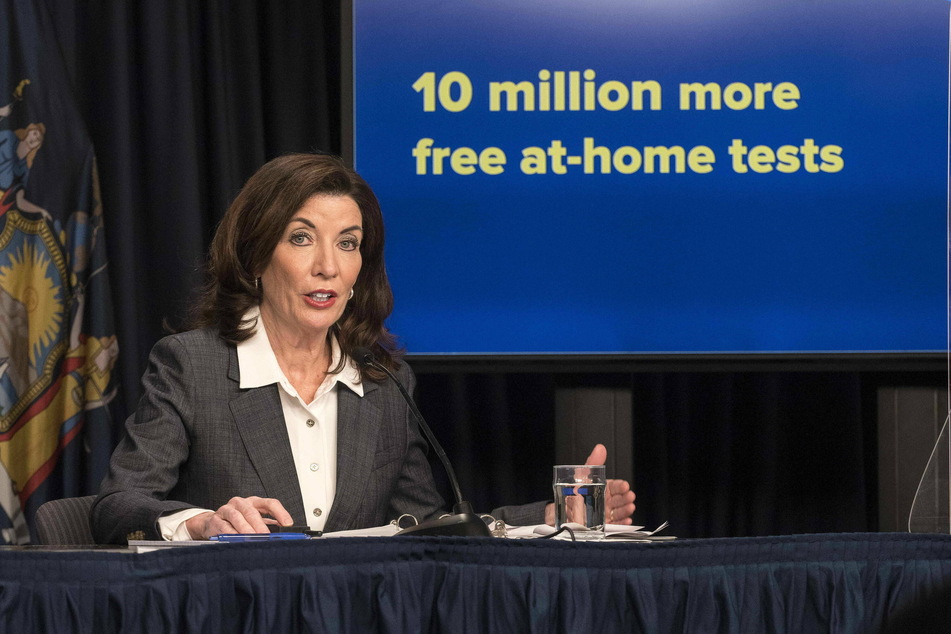 Giving some solace, the dramatic infection spike has not resulted in a major uptick in hospitalizations or deaths – a distinction that public health experts credit to New York's high vaccination rate, with 90.9% of all adult city residents having gotten at least one shot, according to Health Department data.
Before Hochul's announcement, de Blasio said at-home testing could prove a pivotal for the city.
"The big X-factor for us will be the home test kits. If we get those in really big numbers, really soon that's going to relieve a huge amount of pressure on the test sites," de Blasio said. "But we're still not 100% sure how much we're going to get and when."
Despite that uncertainty, the head of the city's Test & Trace Corps, Ted Long, estimated that the influx of home test kits could increase the city's overall daily testing capacity to at least 200,000 tests per day. Currently, the city's daily testing capacity is at just under 170,000.
With Omicron surging, positive test results and close contacts have led to New Yorkers having to isolate in large numbers once again. The isolation period proscribed by city health officials has been 10 days, but Health Commissioner Dr. Dave Chokshi said Wednesday that may be modified.
"We are following the science carefully here and speaking with scientists around the world to figure out if it may be possible, at least for certain groups, to shorten the duration of that isolation period," he said.
If approved, such a modification would likely allay the worries of Mitchall Katz, CEO of the city's Health and Hospitals network. He noted Wednesday that what he's most concerned about when it comes to the easily transmissible Omicron variant is that the number of nurses and doctors who contract it could lead to potentially severe staffing shortages.
"Cases: huge increase. ICU: tiny increase," he said of Omicron's impact so far. "A lot of the preparation I'm working on is not because I'm worried about a deluge of sick patients. What I'm worried about is a large number of my own staff exposed to omicron, and therefore on 10-day isolations. That's already been happening."
Cover photo: IMAGO / NurPhoto