Heidi Grey's top is bursting at the seams in her latest photoshoot!
Los Angles, California - Wow, that's another sexy outfit from Heidi Grey! After celebrating her birthday the sexy Instagram model is back posing in tops that do little to cover her curvy top.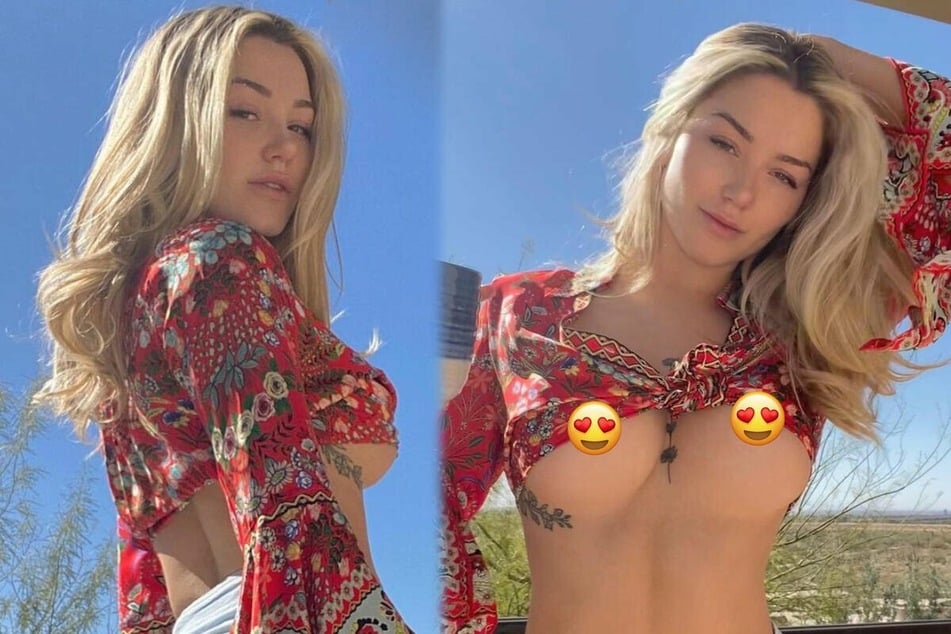 Showing side boob is sexy, but under boob shots are simply sensational!
Once again, Heidi's beautiful bust is bursting out of her top in her Instagram posts. In her latest photos, she's wearing a red floral blouse, tied up in a knot at the neckline.
Her top is so short that her nipples threaten to escape their confines as soon as the model makes any kind of movement.
In the post description Heidi tells her fans to "Swipe for a smile and surprise." But this three-picture post has got a lot more to offer!
In the third photo of the series, the seductive blonde doesn't just show off what just might break free from her blouse. She also lifts her billowy skirt and shows off her shapely buttocks in pink panties.
Her fans are loving the new content. She got more than 100,000 likes from her 2.9 million subscribers!
Heidi Grey just turned 23!
Heidi's bosom friend Violet Summers (21), who also posts pictures of herself in revealing outfits, praised this latest post: "I love that top on you!"
At the end of February, Heidi had more than just her fans complements to celebrate. The Instagram model also turned 23 years old!

She of course celebrated her birthday by showing off bits of her birthday suit while eating some icing off a cake.
Who knows what kind of steamy surprises Heidi will tease her fans with in her next posts! But whatever it is as long as Heidi is in the picture it sure to please her fans.
Cover photo: instagram.com/heidi.grey