Jax starts a body-inclusive flash mob outside of Victoria's Secret
Los Angeles, California - TikToker turned Atlantic Records music artist Jax is showing her new song Victoria's Secret some mad flash mob love, but the store's manager apparently wasn't having it.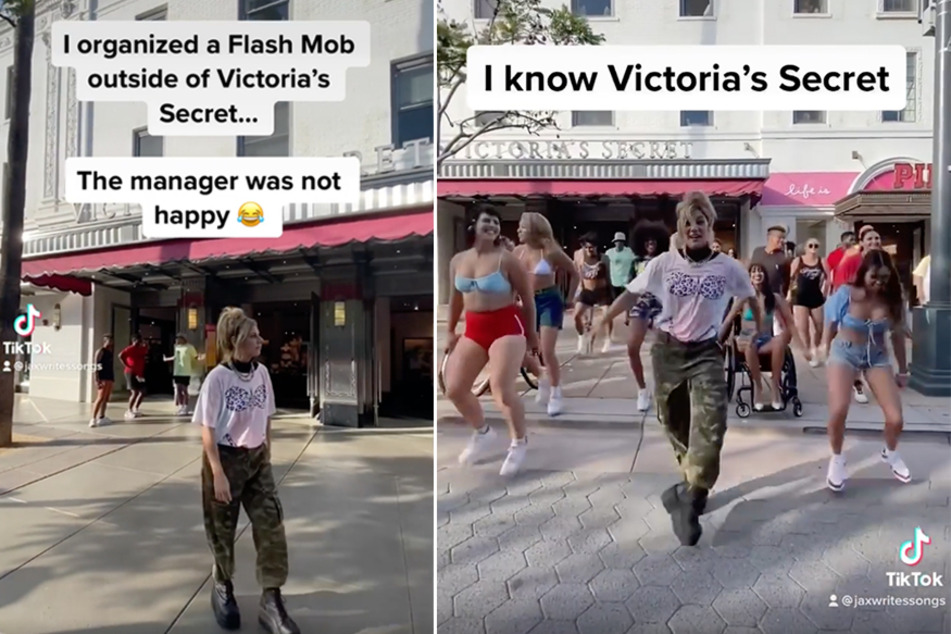 If you haven't heard Jax's new anthem of body positivity that calls out Victoria's Secret for its often toxic presence in the world of commercialism, it's – as Lizzo says – about damn time to hop on the hype train.
The former American Idol contestant who placed third on the singing show released her latest single, aptly titled Victoria's Secret, on July 6.
But her latest TikTok video shows the songstress facing the store that fueled her body issues head on, with a growing flash mob there to back her up one dance move at a time.
In the vid, Jax is first seen strutting down the sidewalk of an outdoor shopping center until she approaches Victoria's Secret while her song of the same name plays in the background: "I stopped eating, what a bummer / Can't have carbs in hot girl summer / If I could go back and tell myself when I was younger, I'd say / I know Victoria's secret / And girl, you wouldn't believe / She's an old man who lives in Ohio / Making money off of girls like me."
Jax's lyrics call out a few of the toxic thoughts the lingerie brand planted in her head growing up – something many women of all ages can relate to.
But not everyone was gung ho about the singer's flashy display at one of the chain's storefronts.
Jax sticks it to Victoria's Secret in a new TikTok
As the song progresses, more people join in on Jax's flash mob, dancing along as she mouths the words to her lyrically eye-opening single.
But according to the video's on-screen text, not everyone who bared witness to her creative ploy was on board.
"I organized a flash mob outside of Victoria's Secret," she wrote. "The manager was not happy."
Though some of the store's employees might not have vibed with Jax's inspiring display of body inclusivity, we have no choice but to stan.
Cover photo: Collage: Screenshot/TikTok/jaxwritessongs