Machine Gun Kelly becomes his own Bloody Valentine at post-show party
New York, New York – When you're living the rock star life as Machine Gun Kelly unabashedly does, there's no telling when the urge to smash a champagne glass against your face will strike.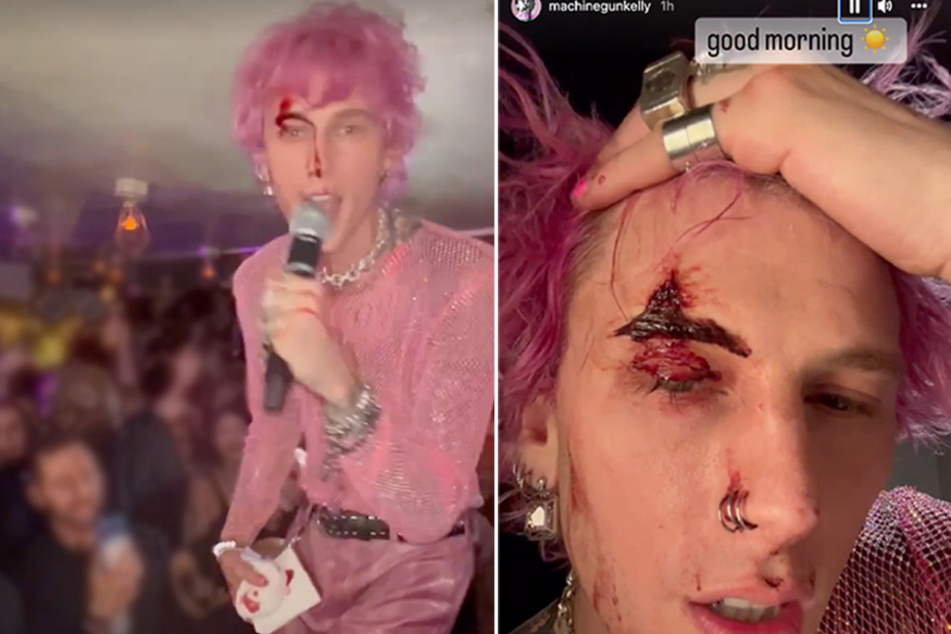 What better way to celebrate a sold-out show at Madison Square Garden than by showing up at an after party and making yourself bleed in front of fans?
That seems to be what MGK had in mind following his concert on Tuesday night. Though every fiber of our beings is screaming "but why?" At this point, it's best to not put words into the mouth or mind of Kells.
Actions speak louder than silly words anyway, right? Right.
After playing a show at MSG for his Mainstream Sellout tour, the 32-year-old brought the party to Catch, where he was handed a microphone to sing some of his bangers.
In a video posted on Kelly's Instagram story, the rapper-turned-rock star says, "I don't give a f**k, bro. I don't give a s**t," before smashing a glass champagne flute against his forehead.
Apparently he did so with serious strength, as blood instantly began gushing out of his head. He clearly didn't mind becoming his own Bloody Valentine, and proceeded to sing My Ex's Best Friend while ignoring the numerous napkins onlookers were waving his way.
On Wednesday, Kells took to Instagram to reflect on the night's events: "Oh s**t," he said while checking out his gnarly wound from the night before. "Gross."
And that's on living the rock star life!
Cover photo: Collage: Screenshot/Instagram/machinegunkelly