Machine Gun Kelly's tour bus vandalized with giant penis: "You f**king idiot!"
Omaha, Nebraska - Rapper turned rock star Machine Gun Kelly had his bus vandalized during a recent stop on his tour.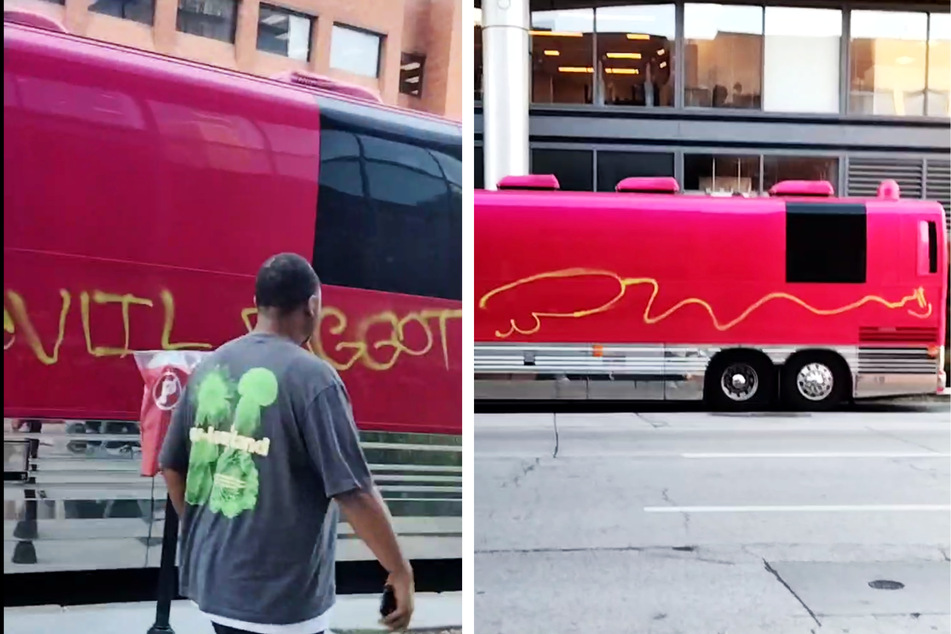 Officers responded to a report of vandalism of a bus on Thursday morning in Omaha ahead of MGK's concert in the city that night, according to the Omaha World-Herald.
In a video shared to Facebook, a red bus appears to have graffiti on it of an ejaculating penis on one side, and a homophobic slur,"RAP DEVIL F*****T," on the other.
MGK and his crew reportedly brought four vehicles to the stop - a yellow, blue, green, and red bus.
In an Instagram Story taken after the incident, the rocker shared that the vile act was washed away before he even got a chance to see it, calling the perpetrator a "f**king idiot" and saying the red bus was the "wrong bus."
"You could have been at home cuddling with your partner or doing something, and instead you were like 'Goddamnit, I just wish he would go up to his hotel room so I can spray paint this d**k,'" the star said.
"They washed it off before I even saw it! Aren't you sad? I'm still in bed. I didn't even get to enjoy it. You just ... you suck," he concluded.
The Emo Girl singer also went on to address the vandal during his set that night at the CHI Health Center, joking that the red bus actually belonged to his cat, and that his "d**k is way bigger" than the one drawn on the bus.
Machine Gun Kelly is currently on his Mainstream Sellout tour until October 12.
Cover photo: Collage: Screenshot / Facebook / Leona Drake