NBA YoungBoy gets Halloween-inspired face tattoos that have the web buzzing
All In rapper NBA YoungBoy has made waves on social media after getting a load of new ink, leaving fans divided over the Halloween-inspired facial tattoos.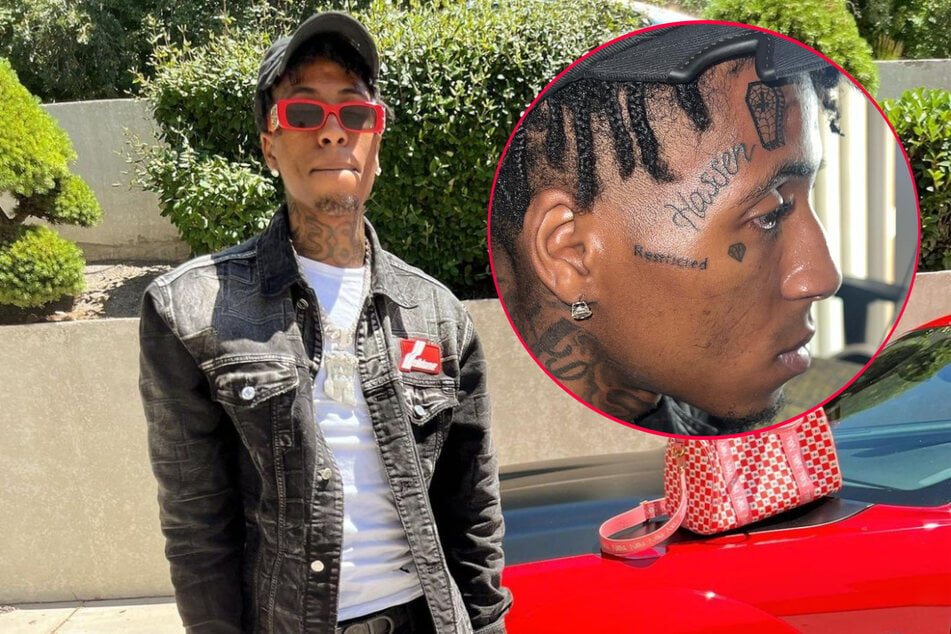 Kendrell DeSean Gauldren, a rapper from Louisiana who goes by YoungBoy Never Broke Again or NBA YoungBoy, shocked fans on Instagram with a post showing off his new Halloween-inspired facial tattoos.
Captioned "Better keep it real," the post featured eight photos, including a number of pics featuring his fancy car and glamorous jewelry.
The final three pictures debuted his new ink, giving fans a look into NBA YoungBoy's somewhat morbid tattoo taste.
What are NBA YoungBoy's new Halloween-inspired tattoos?
NBA YoungBoy has shown off a bunch of fresh ink, one of which features what looks like a coffin covered in spider webs. The coffin is adorned with an upside down crucifix.
Another tattoo, shown behind his ear, was a little more cliché – the universal symbol for piracy, the skull-and-crossbones. All of his spooky tats are black and white, adding to the macabre vibe.
His new facial tattoos are not the first that he has had done either. On his temple, the word "Hassen" is printed on his skin. Slightly below it is the word "Restricted," which sits next to a small diamond under his eye.
The web's abuzz about NBA YoungBoy's new Halloween-inspired tattoos
Fans and foes of NBA YoungBoy have been very vocal about his latest round of tats, some showing him love and praising him for the new ink, and others criticizing the decision.
"Damn this is sad," one particularly aggrieved commenter posted. "Terrible satanic tattoos painted nails and we all know you were skinny jeans young boy do not follow the trends."
Some angry commenters even told the rapper to "repent."
Others, though, jumped to his defense, citing "the pain he's gotten me through" and how he has changed their lives. One took a swing at rude and negative commenters, saying, "Never in my life seen SO MANY OBSESSED ADULTS worrying about somebody they SWEAR they don't like."
"A block button exists if you don't like what you see. You would think somebody is holding y'all at g*npoint, forcing y'all to be here."
Cover photo: Collage: Screenshot/Instagram/@NBA_YoungBoy