Kentucky man uses flamethrower to melt snow in his driveway
Ashland, Kentucky - A Kentucky man found an interesting way to break the ice...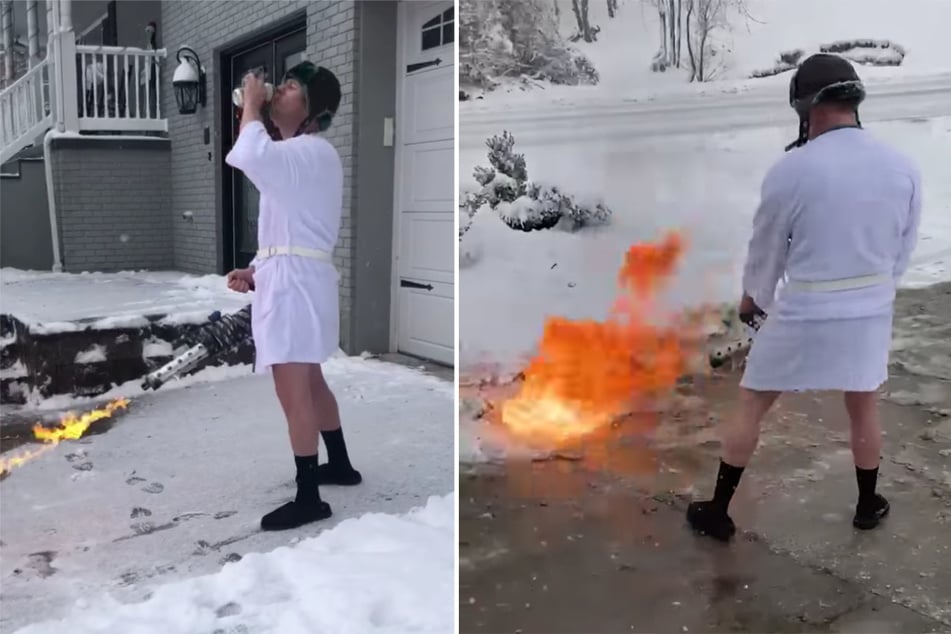 Dressed up as the character cousin Eddie from the holiday classic National Lampoon's Christmas Vacation, Timothy Browning decided the best way to clear the snow from his driveway was to break out the old flamethrower.
In two videos he shared on his Facebook page, Browning is seen wearing a white bathrobe, slippers, and a wool hat – the perfect Eddie costume – while chugging his beer and taking puffs from a cigar.
But it all gets even better when Browning starts blasting the layers of ice with his flamethrower, making short work of the job.
"That's how you clear the driveway," his wife Beth says from behind the camera.
Watch the hilarious scenes here:
Will Smith reposts the hilarious flame thrower footage
"Browning snow services. God bless Merica!" the Ashland local captioned the video, which he posted on Christmas Day.

If Browning's goal was to heat things up on social media, he certainly accomplished that. The clip even grabbed the attention of none other than Will Smith! The Hollywood icon shared a video that seems to have been recorded from a neighbor's house on his own Instagram account.
"I grew up in Philly. There were plenty of days I wished I had a flame thrower," Smith wrote.
Browning's video has since passed 10 million clicks.
Cover photo: facebook.com/timothy.browning.142