Gel Lady drama: Who is Ashley Elliott, and why is TikTok worried about her?
You may not have heard of her, but she's kind of a big deal on beauty TikTok. Having amassed millions of followers, however, TikTok beauty influencer Ashley Elliott's fanbase is now much more concerned with her personal life than her content.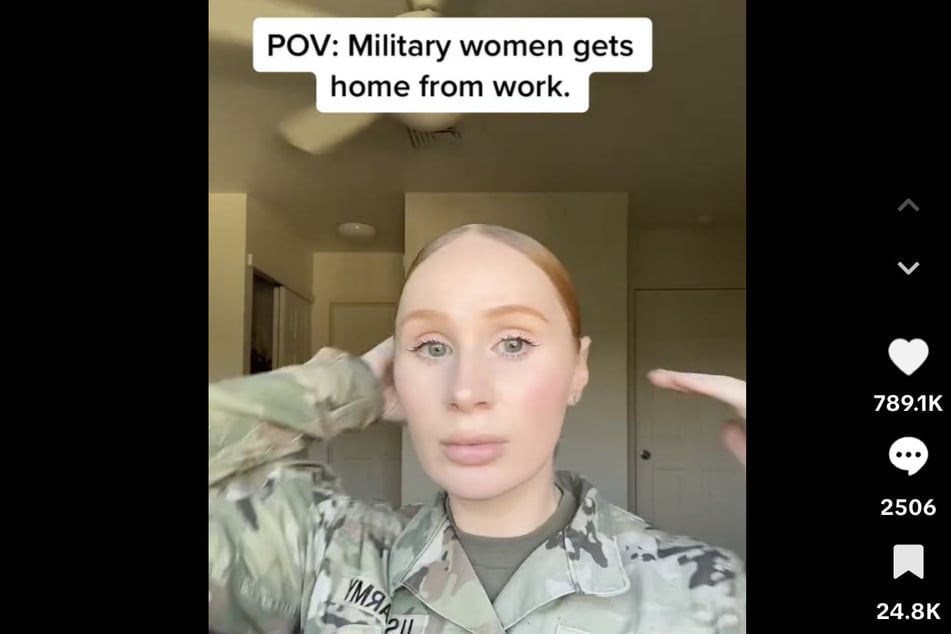 Stars and celebs have always struggled with keeping their personal lives private, and now the uber-popular Ashley Elliott – aka TikTok's "Gel Lady" (@ash.e.e) – is learning that unfortunate lesson firsthand.
With a whopping 14.5 million followers and another 2 million subs on YouTube, sergeant Ashley Elliott, who works as an information technology specialist in the US Army, is best known online for sharing tips and tutorials on hair and makeup.
It's there that Elliott shows her eager followers how military ladies go about doing their hair. Apparently, it involves literal handfuls of hair gel to slick back those strands to absolute perfection.
The influencer became so popular that she was even able to launch her own viral brand of hair gel aimed at her audience called Combat Gel.
When Elliott wasn't posting about makeup or hair, however, she could be seen in frequent couple's content with her husband, who became both well-known to and beloved by Elliott's fans.
That's when the trouble started.
What's going on with TikTok beauty influencer Ashley Elliott's husband?
Elliott's fans are now in an uproar after the influencer vagueposted about marriage on August 24 via TikTok, noting that she would "hypothetically" have some fear about marrying a man who says he wants her to stop working so he can take care of her.
She said she feared her husband would then abandon her for a younger woman down the line, leaving her without any means of providing for herself or her children.
Naturally, many started suspecting that this oddly specific scenario was actually playing out in Ashley Elliott's personal life.
While she posted a follow-up in hopes of squashing the rumors, eagle-eyed followers noticed a few recent coincidences having to do with Elliott's marriage that support the idea of something fishy going on.
Why are fans concerned about Ashley Elliott's marriage status?
In a move that echoes the recent Ariana Grande scandal, fans have noticed that Elliott is no longer wearing her wedding ring in social media posts. Even more jarring, all videos featuring her husband have been completely scrubbed from Elliott's socials.
The influencer posted again by way of explanation for the videos being deleted: "I've always loved being on social media and he did not," she said, noting that her husband "doesn't want to be recognized every single time he goes out in public."

This might explain the posts featuring her husband being removed, but what about the ring? "As far as the ring… that's just something that I want to keep private right now," Elliott said in the video.
Gel Lady drama gets messy as Monique enters the chat
The situation has gotten a whole lot messier, as fans linked Gel Lady's husband to another TikToker named Monique.
Speculation about a possible affair got so intense that she had to release a statement, saying: "First, I want to make it very clear — we did not meet up in person. Second of all, even though there was communication, I think there was a reason. I don't feel like this man is heard and now I feel like he's being slightly bashed on the Internet. And she might not be wrong for this, she might have a whole different image of what's going on."
Monique has posted several more times about the beef, telling fans that she thinks Elliott has been subtly shading her through social media posts.
Ashley Elliott fires back amid growing fan pressure
On Wednesday, Elliott re-entered the public conversation around the controversy to express her frustration at Monique's posts.
"I had every intention of keeping the details of my marriage private," Elliott said. "Yes, I did hint to you guys that I wasn't okay and my marriage wasn't ok… [but] I have never in my life bullied or targeted somebody on social media. I did not make one post about [Monique]."
"You guys are telling me that I let an app ruin my marriage. I wanted to keep this information private [and] work this out in my marriage, but somebody wanted their fifteen minutes of fame and they got it," Elliott said.
In the video, Elliott claims that she had previously reached out to Monique privately to apologize for the backlash she was getting from Elliott's fans, but that Monique kept making a series of public posts about Elliott supposedly bullying and harassing her.
Still, the Gel Lady ended her most recent video by saying, "None of this is [Monique's] fault… and I wanted so badly to keep so much of this information private but I wasn't given that opportunity… that's the life I chose, I guess."

Fans are rallying around Elliott, flooding her comment section with messages of support as the drama just keeps rolling on.
Cover photo: Collage: Screenshot/TikTok/@ash.e.e