Random supermarket customer gets a huge surprise from a Playboy model
Las Vegas, Nevada - Playboy model Amanda Nicole Martin gave a "complete stranger" an almighty shock as she flashed him in the middle of a supermarket!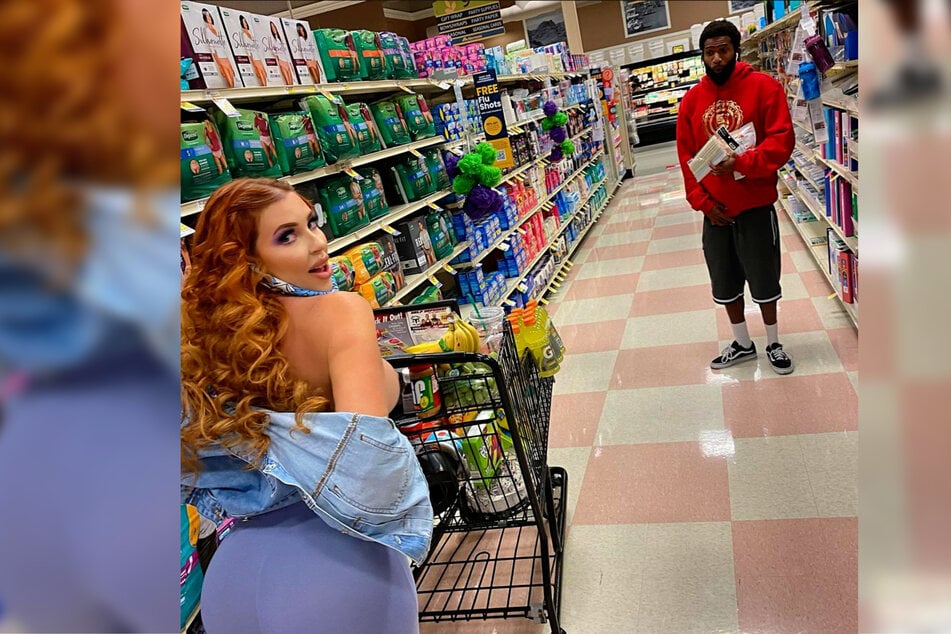 The 25-year-old currently lives in Las Vegas, where she earns a living as a showgirl. In addition, she is also making a name for herself as the_amanda_nicole on Instagram.
She already has over 4.9 million enthusiastic followers – and the fiery adult model regularly comes up with new ideas to keep them entertained.
Whether it's pictures of her naked body in full-body paint, her sexy curves in glittering dresses or in thin thongs, Amanda Nicole Martin is always up for heating up the atmosphere!
And she proved this yet again in with her latest post, in which she really outdoes herself. While out shopping in a supermarket, she decided to show her bare breasts to an unsuspecting costumer.
In the clip, she asks the man behind the camera if she should flash this completely random stranger. The answer is a shocked "You wouldn't!"

Does she make herself liable to prosecution with this video?
Oh yes she would! The busty redheaded approaches a man in a red hoodie, who is quietly minding his own business, and opens up her jacket, before jumping up and down to make sure she's got his attention.
The man is first stunned into complete silence and then lets out a disbelieving "Damn!", staring at Amanda Nicole Martin as she walks away from him.
But is it even legal to expose yourself to a stranger in public like this?

Absolutely not! In Nevada this is actually prohibited by law.

But no worries! In the caption of her post, Amanda tags a friend and thanks him "for being a good sport". It seems like the random shopper was not quite random after all.
But whether the whole scenario was acted out or not, her followers don't seem to care in the slightest. They love every single second of the clip.
"Lucky guy" one user wrote. "Bet that guy is thinking he walked in the heaven isle," another commented.
Cover photo: Instagram/Screenshot/the_amanda_nicole