Tattooed stripper with the fattest lady bits may have had one too many surgeries
Toronto, Canada – A stripper by the name of Mary Magdalene has spent over $11,000 enhancing her body parts to be the "fattest" in the world – but it's come at an even greater price.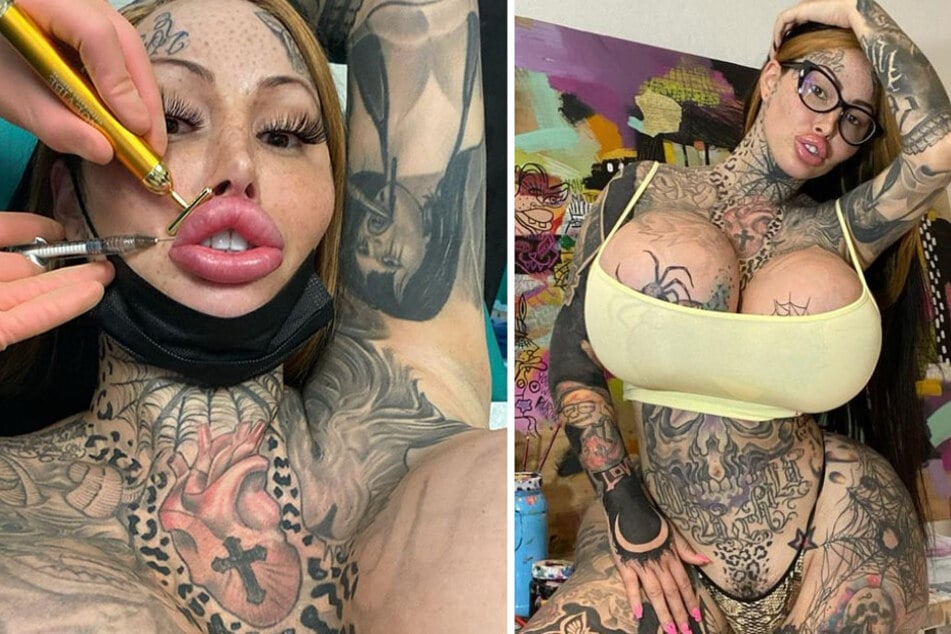 Having sugar daddies to fund plastic surgery fun can be a trick or a treat.
For Instagram model and stripper Magdalene, it's been a bit of both.

Claiming the title of "world's fattest vagina" was one of her proudest moments. But in the process of enlarging other body parts, namely her lips, the Toronto native has lost the ability to do some everyday things – like whistle and use straws.
These are minor inconveniences to Magdalene, who refuses to slow her roll when it comes to having the biggest body parts in the world.
Lip enhancement issues were the least of the heavily tattooed stripper's concerns after having to go under the knife again to reduce the part she's most proud of: her enlarged vagina.
The initial surgery consisted of doctors removing fat from different areas of her body and injecting it into her lady bits.
There were no complications with the first surgery and recovery went smoothly – until the 24-year-old noticed one side of her lady bits wouldn't stop growing,
It forced her back under the knife for her worst nightmare – a vaginal reduction.
Too much or never enough?
Despite the immense discomfort and shortcomings created by her beauty obsession, Magdalene is planning yet another trip down plastic surgery lane for her fourth boob job.
Over the last four years, she's also had three Brazilian butt lifts, cheek fat removal, and hip fillers, in additional to her vaginal enlargement procedure.
Due to the many closures caused by the Covid-19 pandemic, the Canadian has turned to virtual stripping full time – doing strip-teases, appeasing those with foot fetishes, and sometimes simply offering a shoulder to emotionally lean on through her OnlyFans account.

Despite the judgement she receives, Magdalene is loving every minute of it – and she's not the only one.
The influencer with the world's fattest assets told UNILAD, "I often have people stop me on the street begging for my number and desperate to give me money."

She continued, "The wives and girlfriends try and distract their boyfriends and husbands when I walk by because they are jealous, they will stare at my sexy body and get turned on."
Despite her constant body transformations, Magdalene wants to empower people to feel beautiful in whatever skin they choose to be in – plastic or not.
Cover photo: Collage: Instagram/Screenshot/xomarym (2)