Who is this amazing curvy blonde taking Instagram by storm?
Santiago, Chile - Daniella Chávez dazzled her rapidly growing Instagram following with an ultra-hot shot of her impressive curves.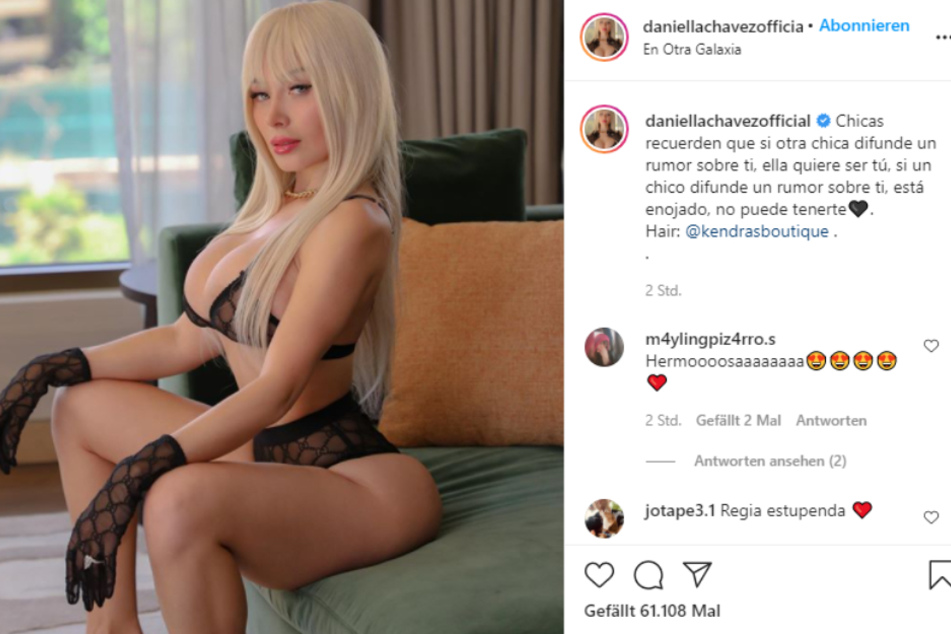 The election? The coronavirus? It's all secondary to Daniella Chávez's phenomenal bust size!
The sizzling model from Chile knows just how to impress with her photo shoots images, which she regularly supplies her dedicated fans with
Daniella has already attracted more than 13 million subscribers – and counting.
And to entice even more, the lavishly equipped blonde beauty posted an extremely alluring picture right in the middle of election night.
The influencer sits half-naked on a couch and looks lasciviously into the camera, her huge breasts perfectly accentuating her curvaceous body. She looks elegant with her satin gloves and matching lingerie.
Within the first hour after she posted it, the photo already reached 60,000 likes and about 600 comments.
The replies were mostly in Spanish and they tended to rave about Daniella's beauty and her highly erotic charisma
Her fans can't wait to see what the Chilean sex bomb next has in store for them.
Cover photo: Instagram Screenshot @daniellachavezofficial