Julia Rose shows off her toned body, but Instagram doesn't like the naked truth
Los Angeles, California - Julia Rose's fans barely had 45 minutes to admire her latest sizzling-hot post on Instagram before it was taken down by the platform for breaking its terms of use.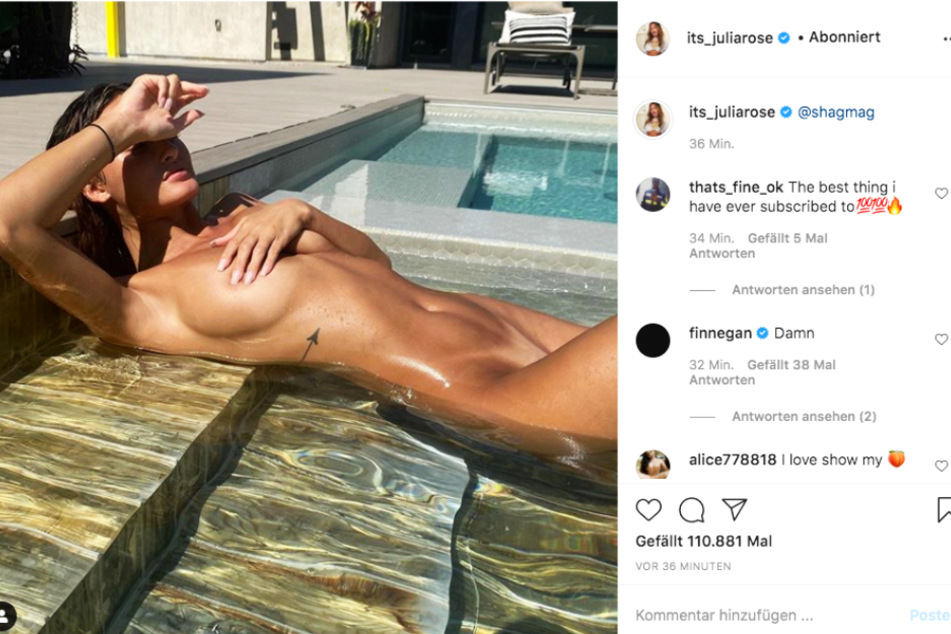 The 26-year-old model is known for her provocative posts on her Instagram account. Again and again, she has shown how much she enjoys pushing the rather strict boundaries of the website by getting a bit sexier every time.
In her latest post, she drops all pretenses – as well as all her clothes. Stretching in the sun, the former reality TV star relaxes in the pool and presents her slinky tan lines.
Though she's only wearing her birthday suit, Julia Rose still teases her fans by leaving the most important parts to the imagination. Her nipples are covered by her fingertips and her right thigh makes sure that her privates really do stay private. 
It's all a very seductive way to show a whole lot of skin, though it's actually nothing her fans haven't seen before.
It's also not the first time Instagram isn't amused. The picture barely lasted 45 minutes before it was taken down again, something that Julia Rose has had to get used to. Almost every one of her posts causes a stir, but her fans will be glad to hear she's not thinking about quitting anytime soon. 
Julia Rose presents her bare breasts to the camera
Julia Rose knows exactly how to turn heads
Just one day before angering Instagram again, Julia Rose was taking LA's Sunset Strip quite literally by flashing the camera. The yellow heart stickers covering her nipples were apparently enough to keep the photo online for her fans to admire in their own good time.
Whether it's baring her butt or posing in a revealing see-through bra, she always manages to heat up the atmosphere. 
Frequently crossing the line and getting policed by Instagram is actually good for the model. It means she's constantly talked about, which brings free publicity for her and her erotic online magazine, Shagmag.

Cover photo: Instagram/Screenshot/its_juliarose