New nose for Christmas: Man with deformity gets ultimate gift
Port Chester, New York – A plastic surgeon gave a man suffering from a rare facial deformity the gift of confidence through a pro bono surgery.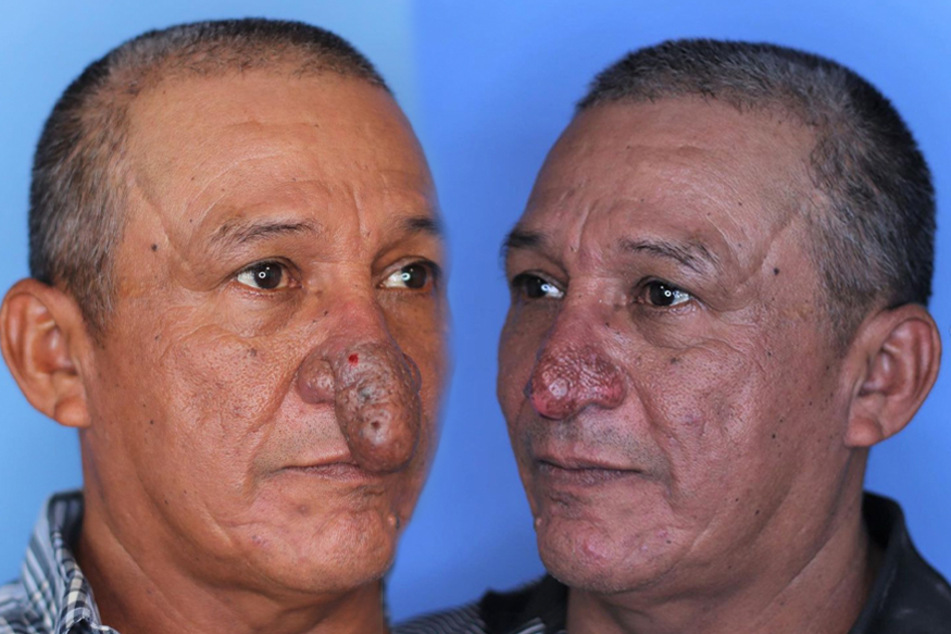 For years, Conrado Estrada (57) had been covering his face to hide his deformed and ever-expanding nose in efforts to avoid the stares and hateful comments.
"Children would ask their mothers what happened to me – and I would get around it by using a face mask all the time," Estrada said to the New York Post.
But thanks to the help of plastic surgeon Dr. Thomas Romo, the director of reconstructive facial plastic surgery at Lenox Hill Hospital in New York City, Estrada was able to get the Christmas gift of a lifetime.
One day, Estrada showed up at Romo's home amongst a group of painters, and the plastic surgeon couldn't help but pull him aside.
Romo offered an accurate description of Estrada's disfigured sniffer, which is caused by rhinophyma, saying it looked as if he had, "A penis on his nose."
People who suffer from this condition often have thickened, bumpy skin towards the tip of their nose due to enlarged oil glands. While the cause of the condition is unknown, serious cases such as Estrada's can be treated with surgery.
But Estrada's case was one of the more severe cases of rhinophyma, making it difficult for him to breathe, eat, and enjoy life overall.
When he was initially approached by Romo, the 57-year-old recounted that the doctor hugged him and said, "I'm going to help you.'"

Days after signing the paperwork for a pro bono surgery through Romo's Little Baby Face Foundation, Estrada was undergoing life-changing surgery.
Though Little Baby Face Foundation is typically for children with deformities in underserved communities, Romo knew not many doctors would be able to handle as severe of a case as Estrada's, which moved him to do the surgery for free.
Soon after the surgery, Romo noticed a shift in how Estrada carried himself.
"You'd think he won an Olympic gold medal," Romo said of Estrada's post-operation photos. "He's a smiley guy."
As for Estrada, he's enjoying his newfound confidence but hasn't forgotten who to thank for such a drastic life change.
"I believe God sent an angel to take care of me – and that's how I see Dr. Romo," Estrada said.
Cover photo: Collage: Screenshot/Instagram/drthomasromo