A TikTok of a groom aggressively smashing cake in his bride's face has people rolling
A TikTok video of a groom aggressively smashing wedding cake in his bride's face and sending her to the floor has completely broken the internet.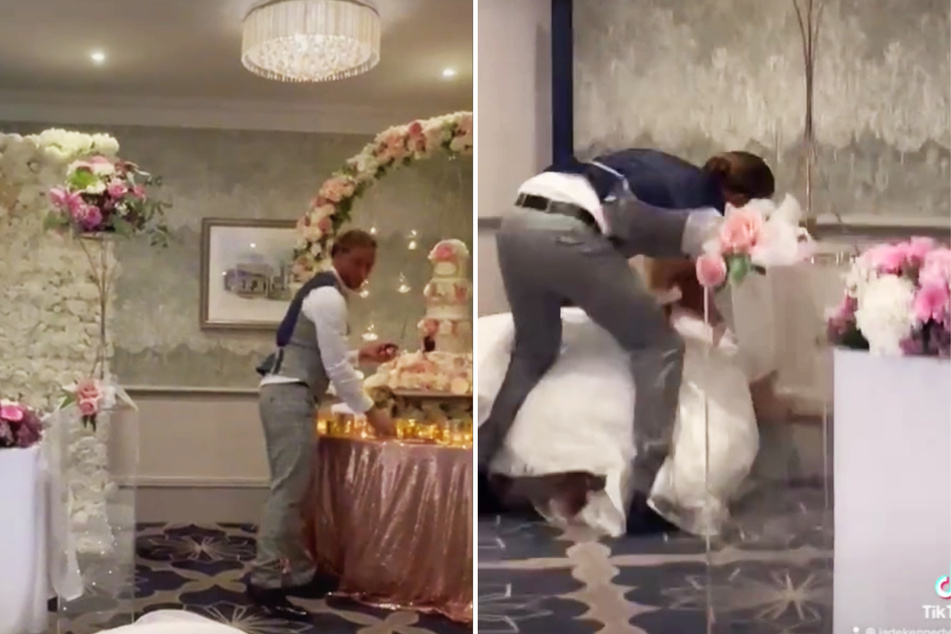 The clip begins with a wedding party that looks normal enough. The groom is seen walking over to an extravagantly large wedding cake, grabbing a handful for the traditional cake fight that some newlyweds partake in.
This groom seems to be out for blood, as he chases down his new wife to a corner of the room. She seems to plea for mercy as he begins smashing the treat in her face.
He did it so aggressively that his bride actually ended up on the ground.
As he helps her up, and the bride seems to laugh the whole thing off. Her lovely groom then storms away as one of her friends comes to her side to assist with the cake cleanup.
While the video captured a jarring scene, the bride definitely had a good sense of humor about the whole thing, sharing that she still loves "my a**hole of a husband" along with the hashtags #couplecomedy and #marriedlife.
"It's official we're Mr. and Mrs. price," she shared in the caption of the original clip, which now has comments disabled. "He got me back for doing it to him good and prop."
However, another TikToker reposted the clip, and people definitely spoke their minds in the comments section.
The internet reacts to the wild TikTok clip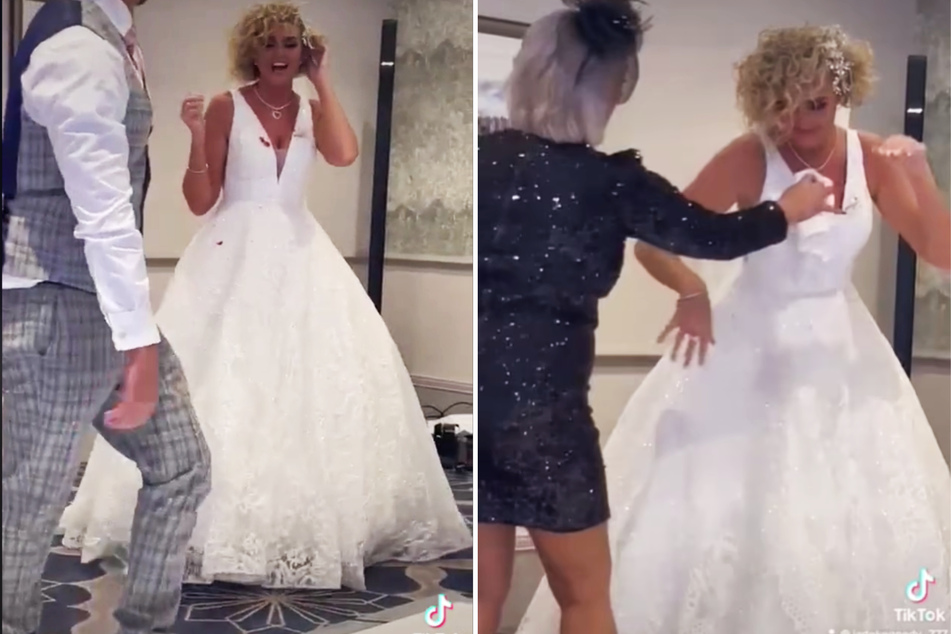 The reposted clip features on-screen text that reads: "I would divorce straight away!!!! Pr*ck!!!"
Many others chimed in to share their two cents, pointing out how aggressive the groom was and how embarrassed the bride must have been.
"[It is] a very special day for a woman," one user shared. "She gets her hair all pretty, makeup done flawlessly, looking like a princess...only to have it ruined like that."
One user wrote, "Girl if that was me, my dad and brothers would have floored him," while another added, "I would be filing for divorce ASAP."
According to the Daily Mail, when the wife was asked in another post if her new hubby apologized, she responded, "No he didn't I'm [his] wife he has no need to apologize over me and him having some fun on our wedding day! Mind ur own business!"
Cover photo: Collage: Screenshot / TikTok / @jadekennedy_777