TikTok user is in stitches over the impossible-looking jeans she ordered
Internet - This new jeans trend takes the meaning of cuffing season to a whole different level.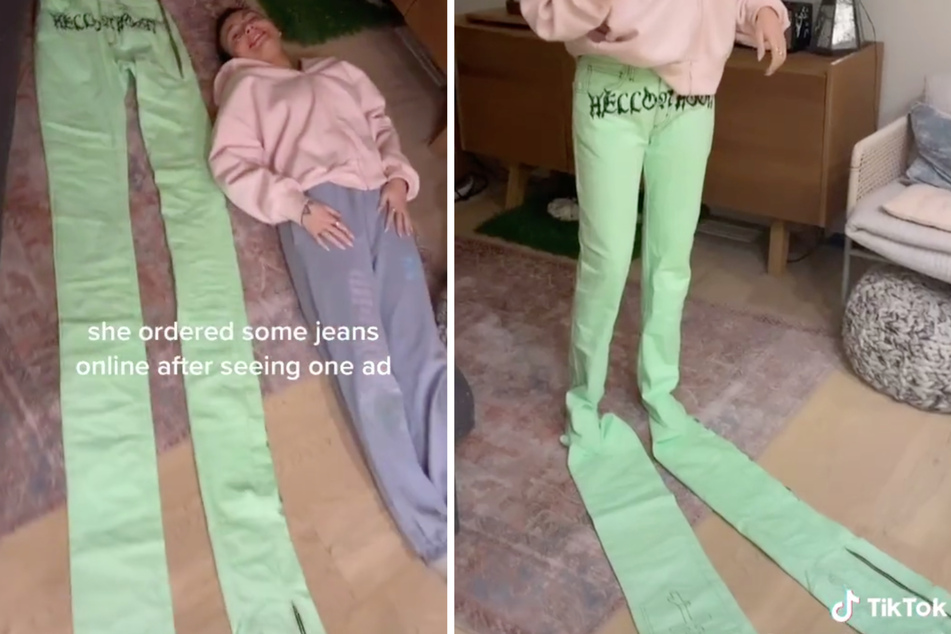 A hilarious TikTok video shows a young woman lying next to a pair of green jeans.
The reason why she can't stop laughing isn't obvious at first - until the camera zooms out and reveals the full picture: the pants are about twice as long as her!
But of course, you can't judge a book by its cover, so the TikToker decides to slip into the odd-looking pants.
However, with half of the fabric dragged across the floor, she looks like she is wearing absurdly long flippers.
But what may look like a mistake is actually intentional. The young woman ordered a trendy new fashion item known as stacked jeans. These pants leave a lot of excess fabric for people to "stack" them above the ankles.
"She ordered some jeans online after seeing one ad for them," wrote the friend who uploaded the video to TikTok.
The woman in the clip goes on to stack her jeans the way she's supposed to, and voilà, they don't look half as bad. "They're actually kinda cute," the original poster wrote.
TikTok users argue: should stacked jeans be THAT long?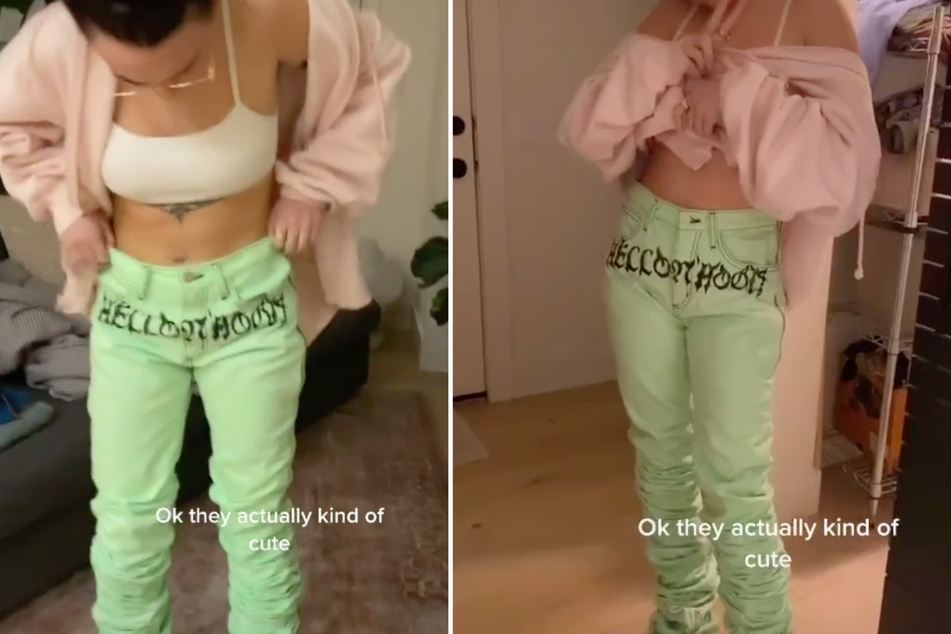 Since Tuesday, the clip has racked up more than 2.1 million views and over 370,000 likes, leaving many users in stitches over the hilarious-looking pants, and some reconsidering whether they should follow the trend.
"I didn't know stacked jeans came like that," one wrote.
Another doubted they were supposed to be that long, even though they looked good in the end.
Other users came up with all sorts of awkward scenarios for the jeans.
"Imagine you're hooking up with someone and they try to take them off," one joked. "Imagine trying to get changed in the locker room," another chimed in.
Unless you're a true denim enthusiast, it's fair to say these jeans are not the most practical choice for every-day life.
Cover photo: Bildmontage: TikTok/Screenshot/emareeeeeeeeeeeee