Twitter users compete with photos of the weirdest teaching postures
USA - Teaching isn't just difficult on an intellectual level, it can be really hard on your back. These teachers have to constantly bend and bow over their students' desks and Twitter is enjoying their bizarre contorsions.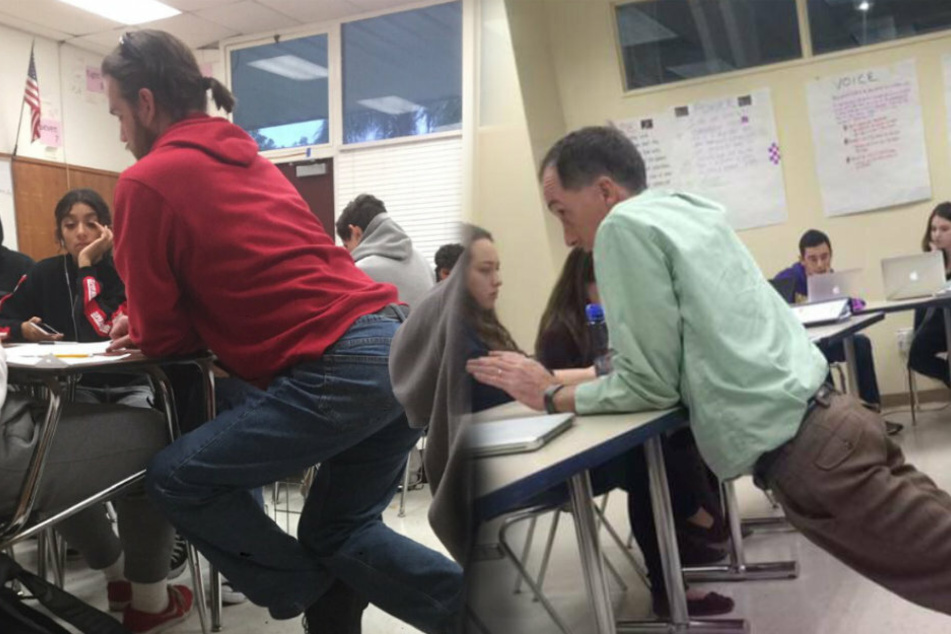 User karla_villegas tweeted a picture of her former geometry teacher finding a unique way of settling down next to a student's desk.
Propping himself up with his elbows on the surface, he somehow balances his right knee on his left heel, all while standing on tiptoes. Yoga enthusiasts would certainly be proud of that kind of balance and posture!
The students behind the desk probably didn't notice anything odd as they can only see the teacher's upper half. Those behind him had the full view though, which makes for a memorable snapshot. 
Memorable and viral, going by the reaction the internet. The initial tweet has  almost 380,000 likes. It also prompted other users to share their experiences with teachers who twist their way down to a students level.
An avalanche of discreetly taken snapshots followed, with each position outdoing the last in complexity. Particularly popular – and embarrassing – are positions that offer a glimpse of plumber's crack.
There seems to be a widespread problem with the average height of school desks.
Some teachers have to bow over acrobatically or take wide cowboy stances lean over. Others get tired of these contortions and just plop themselves down on the desk.
After all the Twitter contributions, it looks like the geometry teacher's twisted crouch wins out in popularity. While that kind of dedication to illustrating acute angles is admirable, one question remains unanswered: is that actually comfortable?
Cover photo: Twitter/Bildmontage/tkrav10&karla__villegas