Harvard's "invisible workers" and the fight for fairness at the world's richest university
Cambridge, Massachusetts - Doris Reina-Landaverde gets up at 5:00 in the morning every day to drive to her job at Harvard University, where she has been employed since 2005. She carpools with colleagues to save money on parking fees.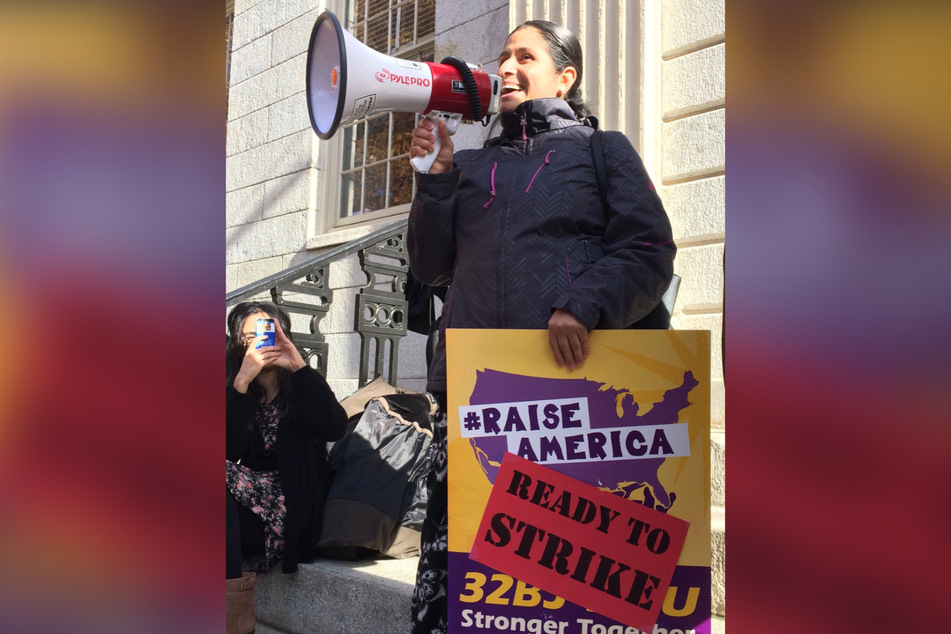 Once she arrives, her workday begins at 8:00. Doris is responsible for cleaning the common area of the university's new Science and Engineering Complex in Allston. She is so busy that she doesn't get much time to chat with her co-workers during the day.

The workload has only increased since the start of the coronavirus pandemic, with custodians' efforts key to ensuring the safety of students, faculty, and staff.
Nevertheless, Doris and fellow members of the 32BJ Service Employees International Union (SEIU) don't feel they have received the compensation and basic protections they deserve as essential workers.
The university didn't provide them with safety trainings or take social distancing into account when tasking the workers with cleaning duties, Doris said. Harvard even refused to provide masks for custodial workers until the university got bad press coverage.
"It's hard how as custodials always we have to fight to get protections," Doris told TAG24.

Origins of a powerful organizer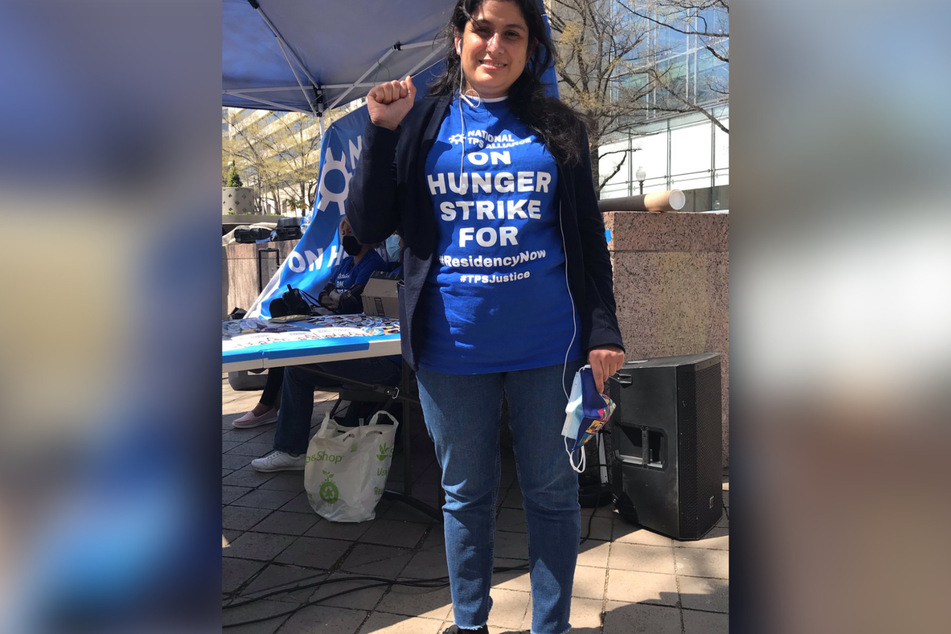 Though her path hasn't been easy, Doris has never been one to back down from a fight.
Her career as an organizer began after she was hired directly through Harvard in 2010. Personal experiences with discrimination on campus inspired her to campaign for important changes in the workplace.
"I am Latina, but I was becoming Muslim. My co-workers didn't understand, and I suffered bullying because of being Latina and Muslim. This made me start to feel like fighting for trainings for people to respect... you know, we need respect in our work," she explained.
"But anytime I raised my voice, the university tried to make me quiet," she said, adding that the administration pushed back against any requests for improvement which required spending money.
That's when Doris first got involved with her union. Having grown up on a farm in El Salvador, she had no prior knowledge or experience with labor organizing.
She took trainings through the union, and soon she was leading the fight during custodial workers' contract negotiations in 2016, organizing a rally overnight that turned out over 200 employees.
"This made me feel like, I can do this," she recalled with pride.
She was further moved to take action after Trump revoked the Temporary Protected Status (TPS) for many migrants in 2017. "When he ended TPS, this is the future for my family, my kids born here, the fear of being deported, and I said, I have to do something," Doris remembered.
She began on campus, helping to establish the Harvard TPS Coalition in 2018 to advocate for permanent residency.
She then started working with the Massachusetts TPS Committee and now serves as a National TPS Alliance executive committee member, traveling around the country to campaign for immigrants' rights.
Doris and her colleagues demand a fair contract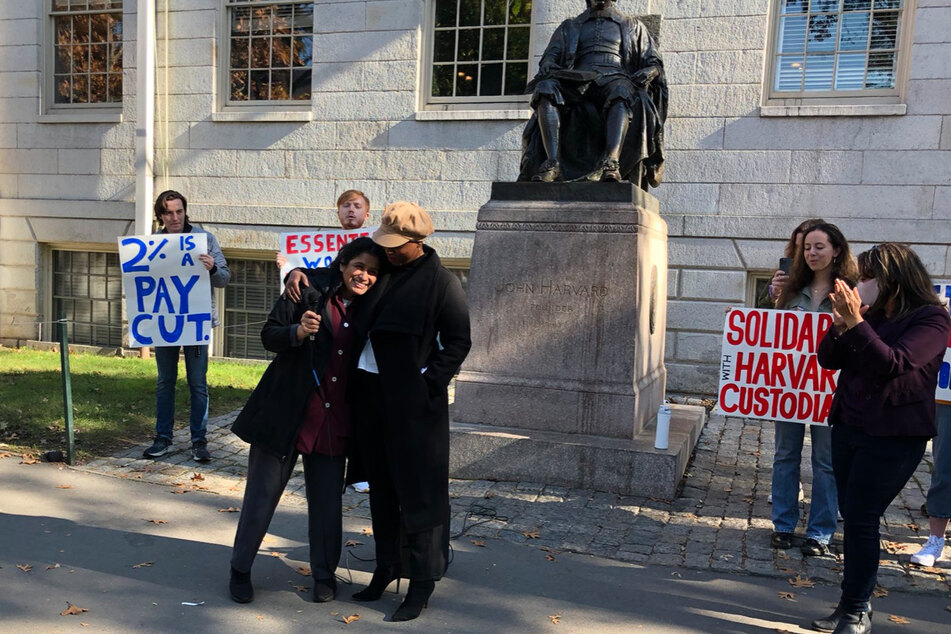 Doris is bringing her years of experience organizing on behalf of migrants, custodial workers, and racial and religious minorities to current contract negotiations with the university.
"People don't realize: the custodials, always we are the invisible workers," Doris said. "We do the cleaning. People don't care that we exist. They don't even say 'good morning,' don't even say anything."
But Doris and her co-workers are very much visible in their fight for better working conditions.
They are demanding 10% wage increases, Covid-19 protections, continued healthcare, full wages in case of pandemic closures, and extra compensation and recognition for workers who have to shovel snow and move heavy furniture.
Nevertheless, Harvard – the world's wealthiest university – came to the table offering only 2% wage increases and no other benefits.
"We feel like, you kill yourself here, and then when you get hurt, it's like they won't take care of you," Doris explained.
In response, she and her colleagues organized a rally on Tuesday at Harvard Yard. The crowd of over 200 demonstrators was even joined by Massachusetts Rep. Ayanna Pressley.
Doris is also planning a one-day hunger strike on Monday, the date SEIU members' current contract is set to expire.
"I want to do that because I feel like the university divides us. I want to send a message to my co-workers, like, this is the time we have to be together. We have to forget about issues. We have to come together."
"The biggest, biggest enemy in this moment is the university because we work for them, and my co-workers say, 'I live my whole life here in Harvard. [...] I have health problems, and they just want to throw me in the trash.'"
The path forward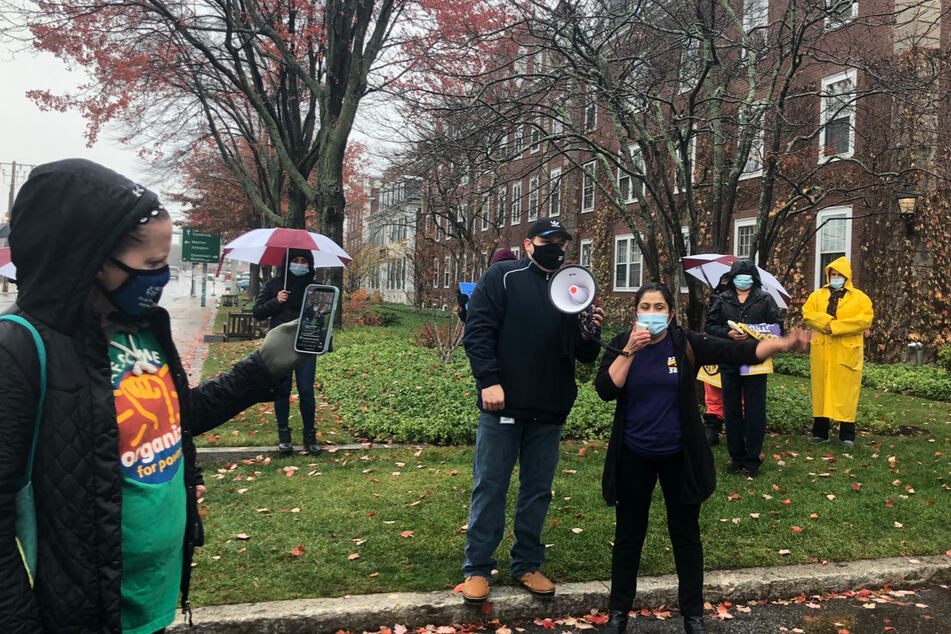 Ultimately, Doris' vision for a more just future involves people of many backgrounds banding together despite efforts by management and politicians to sow misunderstanding and division.
"I believe labor and immigration and any issue have to work together to win," she insisted.
"This country puts a name on different issues just to divide us, but all issues have connection," she continued.
"If we put everything on the table and say we are fighting for all of these and we go in the same way, I feel this is the only way we win."
Part of that struggle involves reimagining what it means to belong to a labor union.
"Sometimes when I talk to workers, they think the union is the organization, the name. [...] But the union is workers, united. We are the union."
"Workers are the union together."
Doris Reina-Landaverde urged people who want to help Harvard custodial workers to contact the university and demand the administration support a fair contract.
Cover photo: Screenshot/Twitter/32BJSEIU