Fire-breather who wants to become a dragon planning to tattoo his privates
Vancouver, Canada - A fire-breathing man has spent $20,000 to become a real-life dragon and beat the record for most body modifications in the world.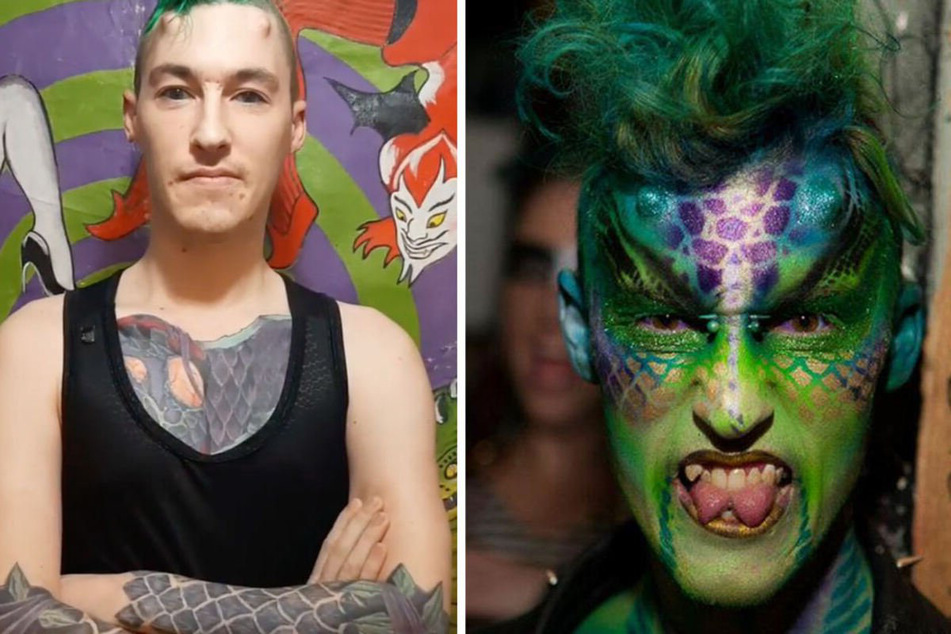 Joshua Burns is a fire-breathing performing who hopes to one day have the most modified body in the world, starting by transforming into a human dragon.

To make his dragon-themed body even more realistic, Burns had scales carved into his face and arms, and even got his eyeballs inked.
So far, Burns has spent $20,000 on body modifications and his only halfway there. He even had horns implanted in his forehead and his tongue split at the age of 19 after seeing it in one of his friends.
"I saw it and immediately thought, 'I want that' because reptiles have split tongues, too. I didn't see any downside to having it," Burns told the Daily Mail.
Not only does he want to have the most body modifications of anyone in the world, he's also gunning for the record for the most tattoos.

Burns plans to beat world records for body modifications
The next locations he wants to get inked are his penis and his gums, two places that sound like they will involve a horrendous amount of pain.

Though he's happy with the progress he's made with his body transformation so far, he has no plans to slow down: "Every time I get another tattoo or another modification, I feel more confident and happier – and it helps with my career."

Burns' dedication to changing his whole body doesn't seem to bother his girlfriend Tristan Risk, who is fully supportive of his transformation.
Cover photo: screenshot/instagram/burns_the_dragon