"Peeing" billboard makes a splash for women's health
London, UK – There's a new billboard in town, and it's making quite a splash.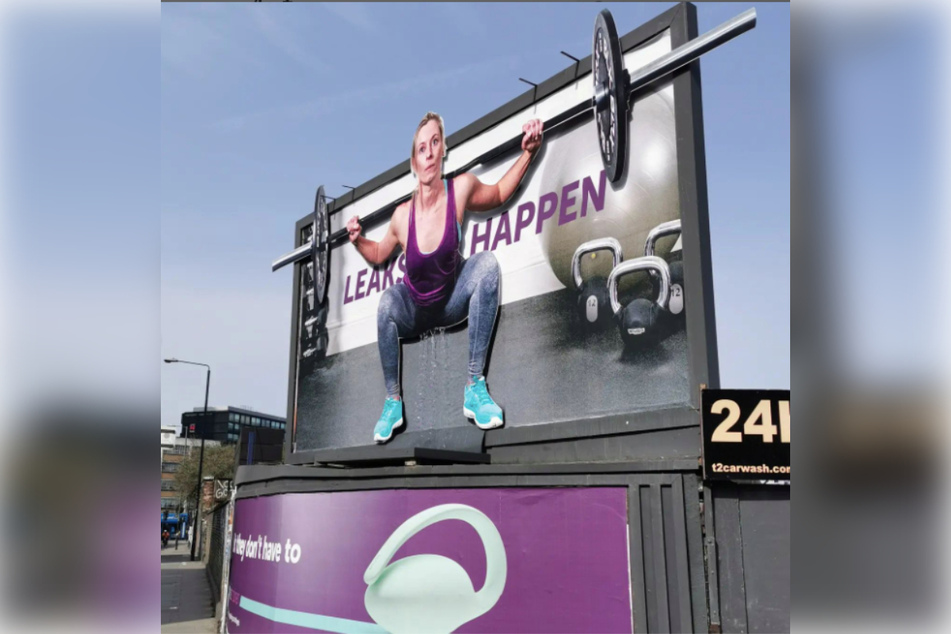 Is it raining, or is that just London's latest addition?
Women's health company Elvie has erected a billboard near Liverpool Street that shows a woman squatting, weightlifting, and looking as if she is "peeing" as actual water trickles down from the display.
"Leaks happen," the board reads, "But they don't have to."
The campaign promotes the Elvie pelvic floor trainer and sheds light on the subject of bladder leakage. The company says that 84% of women in the UK suffer from mild or minor loss of bladder control, yet only 7% seek medical help for the condition.
The bold statement comes two weeks after TikTok banned a video published on Elvie's account for showcasing "graphic content." The TikTok similarly showed a woman leaking urine while weightlifting and touted "#LeaksHappen" to start conversation about the stigma and often embarrassment surrounding bladder issues.
"How can we educate about pelvic floor health if we're too frightened to talk about leaks and too frightened to share our experiences?" Elvie explained in an Instagram post on Tuesday. "Or if social media censors us, labeling us too taboo, too graphic?"
Megan Burns, the woman featured on the billboard, said this was the reason she chose to step up and be open about her personal struggles. The 28-year-old mother of two said she started having urinary leaks when she went on her first run after giving birth.
"I was so nervous about being featured on a 10-foot-high billboard with wet leggings," she said, according to Yahoo News. "But we have to break the stigma around incontinence because it can hold women back from doing the things they love."
According to the UK's National Health Service, the unintentional passing of urine is a common problem affecting millions of people, and more often affects those who have given birth. Symptoms of bladder leakage can be controlled with pelvic floor exercises, bladder training, and lifestyle changes, like losing weight and cutting down on caffeine and alcohol.
Cover photo: Screenshot/Instagram/billboard_bill