Bride asks groom for permission to hug her ex one last time
Malaysia - A sight you certainly don't see every day: a young bride asks her groom for permission to say goodbye to her ex-boyfriend – while all of their wedding guests are watching.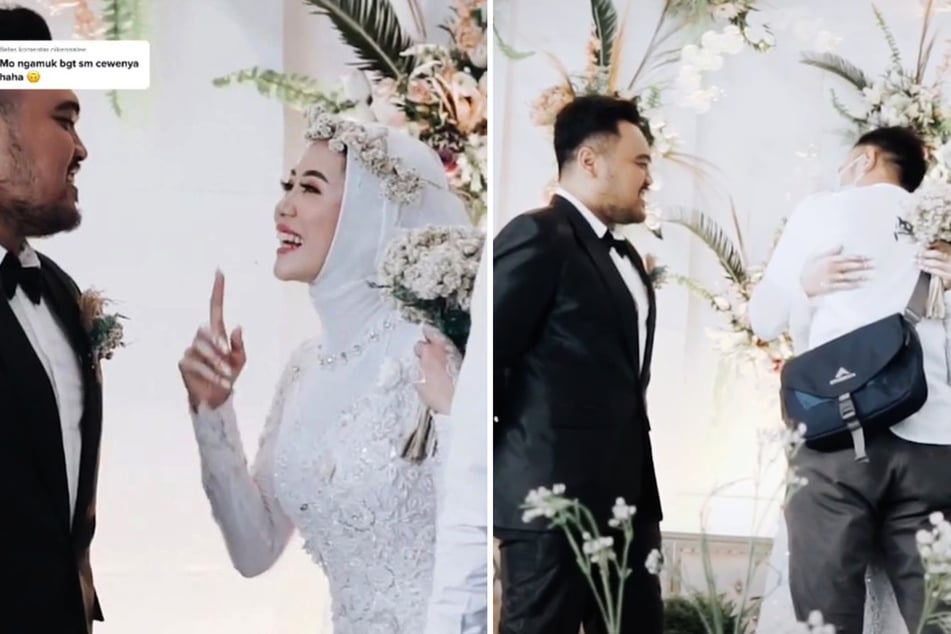 On Januaray 17, TikTok user mayangkumay shared a short video taken at her wedding reception in Malaysia.
In the clip, a young man walks up to congratulate the newly married couple.
The bride greets him with a bright smile before turning to her husband and asking for his permission to give the guest – who is none other than her former boyfriend – one last hug.
Instead of scowling, her groom just smiles and gives his consent, whereupon the young woman opens her arms and gently wraps them around her ex.
A short moment passes in which the two exchange a few more words before the man turns to the groom to shake his hand.
But instead of simply taking it, the newlywed husband pulls the unusual guest into a warm embrace.
Mature or mean? TikTok users are divided!
The clip, which has already been viewed more than 2.5 million times, sparked some controversy. As the comments piled up, TikTok users were not unanimous in their opinion: is something like this okay at a wedding?
Some worried there might have been residual feelings involved, and the groom might have felt hurt.
"I think she broke her man's heart right on the first day of marriage," one user wrote. "Your face can't lie bro, that hurt," said another.

Others, however, found the couple's maturity inspiring.

"You have such a healthy relationship," one user wrote, while another agreed: "It's nice to see everyone getting along."
Cover photo: Collage: TikTok/Screenshot/mayangkumay