Arizona dad lets six-year-old tattoo him, but has no regrets
Arizona - One proud dad from Arizona has made the surprising decision to allow his six-year-old daughter to tattoo his leg, calling her adorable skin-scribbles a "masterpiece."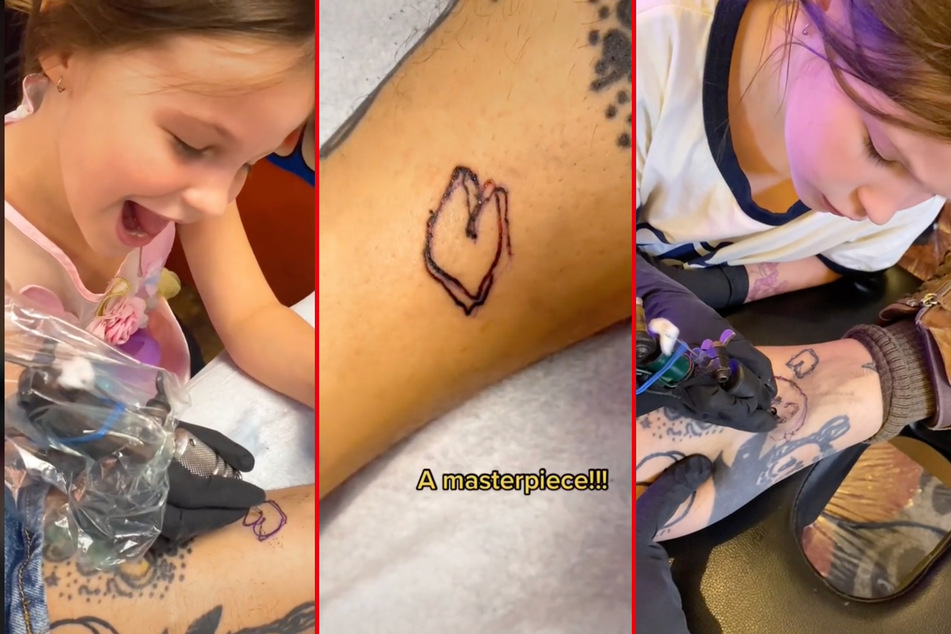 Tattoo enthusiast and Arizona dad Wesley Owens has a very close relationship with his daughter Adeline, who means the world to him.
In a move meant to improve the bond between them and leave him with a permanent reminder of his daughter, Owens decided to let his daughter tattoo his leg.
He then shared the experience with his more than 87,000 TikTok subscribers in a one-minute video that showed off his daughter's elite tattoo skills.
Six-year-old tattoos her dad's leg in inventive bonding exercise
Adeline tattooed a heart and a smiley face on her dad's leg, which Wesley Owens said "means the world to both of us."
In the video he posted to his TikTok account, Adeline can be seen with the needle, slowly tracing a love heart into her father's leg.
She goes for a number of passes, with her dad gently supporting her and saying, "You got it, Adeline, you've got it, you can do it."
At the end of the video, he shows off the finished tattoo with the caption: "A masterpiece!!!"
In a second video, in which she tattoos the smiley face, Owens ponders, "I wonder how many other 6-year-olds are tattooing their dad?"
"I love it when she tattoos me. Each one turns out absolutely perfect!"
This wasn't the only time Adeline has featured in one of Wesley Owen's TikToks. Another video shows her rock climbing and is captioned: "So proud of her every time she gets on a wall outdoors."
Cover photo: Collage: Screenshot/TikTok/@tat2highway