Inked mother amazingly gives herself a daring tattoo in a private area
Munich, Germany - A tattoo artist took a creative risk and decided to ink her own breast on camera for all to see – and she did it without a wince.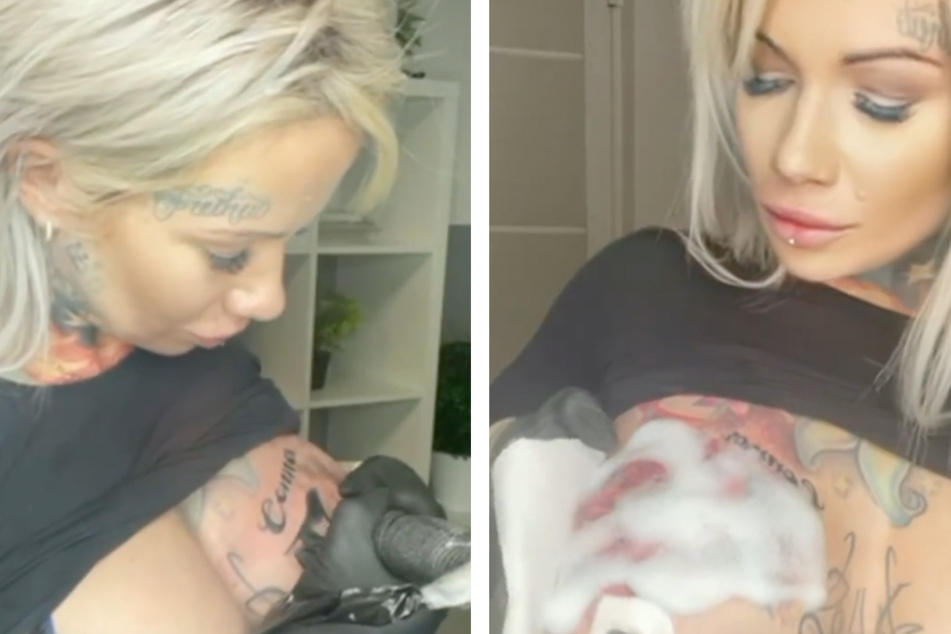 When your entire body is covered with ink, finding new places to get tatted when the itch strikes can be a challenge.
But tattoo artist Juliane Förster knew exactly where to go next: her breast.
With tattoos stemming from her forehead down to her legs, it's easy to see why she'd go for this particular area, considering everywhere else on her body is densely covered.
An epic tattoo experience wouldn't be epic at all if it wasn't caught on video. And as an artist herself, Förster knew the feat needed to be documented and uploaded to The 'Gram.
The mother teased the finished go-big-or-go-home tattoo in an Instagram post, first covering the new ink with soap to add suspense about the final product.
Once she slowly wiped it off, the massive red rose tattoo was uncovered in all of its breast-covering glory.
While tattooing yourself in any regard is impressive, there's no denying that it's vastly more difficult to give yourself an elaborate, well-shaded, and perfectly colored tattoo with an electric tattoo gun – like the one Förster used – as opposed to the stick-and-poke method.
The Instagram post was captioned, "What do you think? a little crazy or really cool?" and people were quick to share their utter admiration of her work, showering her with love.
One user commented, "Wow so beautiful" followed by seven red heart emojis.
Another answered her question directly, saying "Maybe a little bit of both, but u look amazing."
Given that she's dowsed in ink, this may not be the last time Förster takes to her own private parts for a creative outlet.
Cover photo: Collage: Screenshot / Instagram / _rosalie_official_