Drew Pyne answered the doubters in Notre Dame's first win of the season
Notre Dame, Indiana - After losing key player Tyler Buchner in a Week 2 loss that took the Irish out of national rankings, Notre Dame football got its first taste of glory last weekend – and it was the team's underdog, Drew Pyne, who led the way.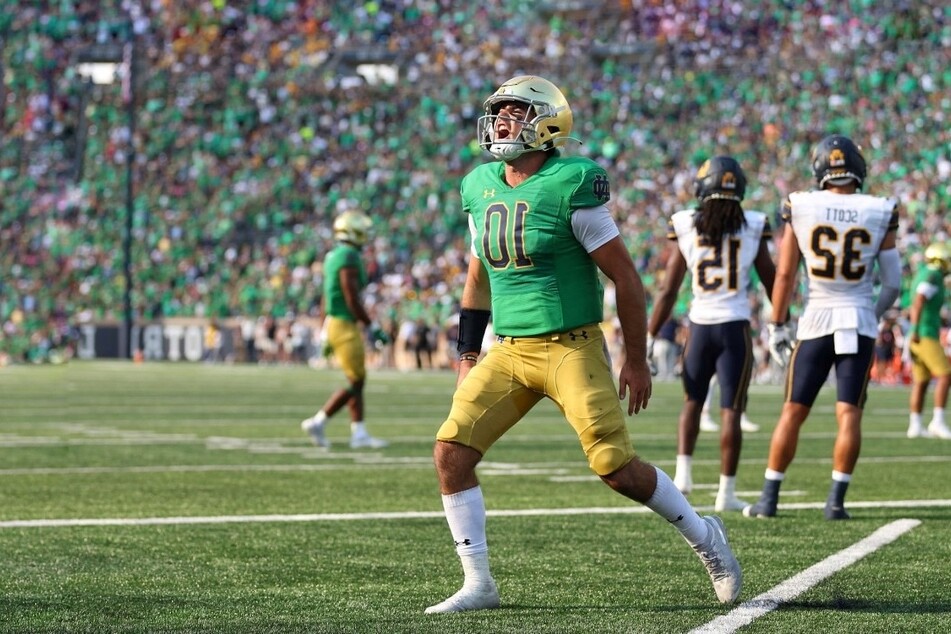 When head coach Marcus Freeman insisted Pyne was ready to become a starter, many doubted a player with only six career games' worth of experience could lead the team to success.
But that's exactly what the program veteran did on Saturday, as Notre Dame got its first victory of the season – and Freeman's first win as head coach – by beating California 24-17.
It wasn't all smooth sailing, though. Pyne had a rough start to the game as he led the Irish offense with incomplete passes, mishandled plays, and poor field awareness. The first year starter even fumbled a snap that led to the Bears striking for a touchdown to go up 7-0.
Part of Pyne's problems stemmed from offensive coordinator Tommy Rees, who made some questionable play-calling and decided the best way to motivate his player was screaming "Do your f***ing job" at him, which the match broadcast caught loud and clear.
Freeman, though, took an entirely different approach and it paid off.
"Go out and be Drew Pyne," Freeman reportedly Pyne.
It did the trick. Just as Notre Dame looked like it was heading towards its third consecutive loss of the season, its QB found his rhythm and delivered the best offensive quarters the Irish have seen this season.
The junior native from Connecticut passed for two touchdowns and 150 yards in his first career start for Notre Dame to turns it all around.
"He's a warrior man, he is a competitor," Freeman praised Pyne afterwards. "He's a great example for everybody in that locker room because you never know when your number is gonna be called and Drew Pyne has always prepared as a starter. To see him get his opportunity, I'm really happy for him."
Cover photo: Michael Reaves / GETTY IMAGES NORTH AMERICA / Getty Images via AFP