Ohio State football receives major boost from twin pledges Deontae and Devontae Armstrong
Columbus, Ohio - The cat is out of the bag and the Buckeyes' football team can now show off their newest elite commits: offensive linemen twins Deontae and Devontae Armstrong!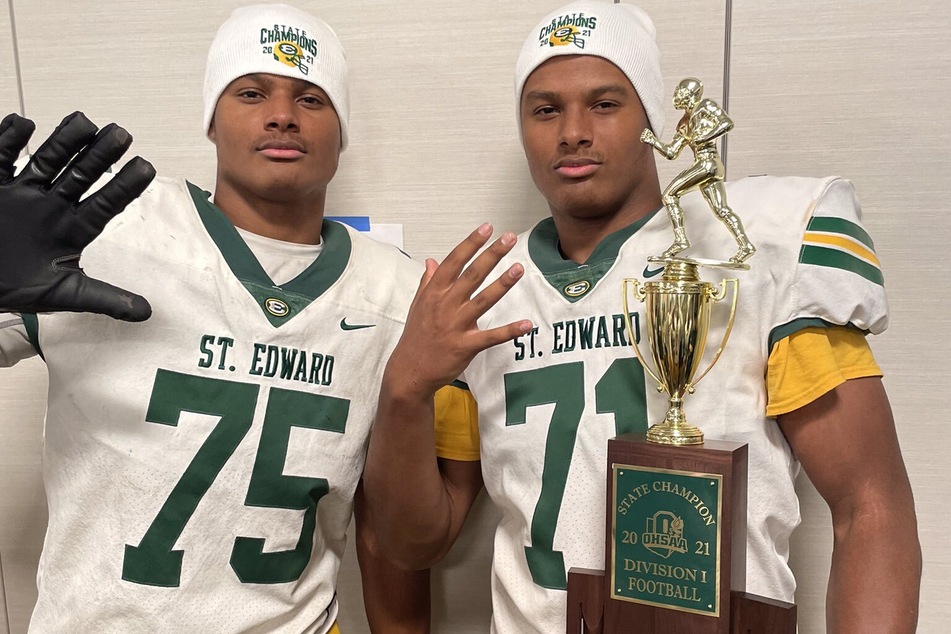 Ohio State's competitors will have double the trouble on the football field in 2024 thanks to the Armstrong brothers, who each committed to the program on Monday.
The two brothers and top offensive tackles in the country chose the Buckeyes over offers from reigning national champions Georgia, Rose Bowl champions Penn State, and Big Ten champions Michigan.
For 6-foot-6 Deontae, the Buckeyes were an easy decision because of the family environment the program provides.
"OSU was the pick for me because it feels like family every time I walk through the door. I know the whole coaching staff and I've met Coach Frye's family, and my parents love it there," Deontae told Buckeye Huddle.
He added: "The highlight of the visit this weekend was coming into the coaches' office with my parents, brother and trainer and committing to Ryan Day and OSU and seeing how happy he was and Coach Frye running into Coach Day's office to hug us. It was a special moment that I'll always remember."
For his twin brother Devontae, the reason behind his decision to call Ohio State his next football home was similar to Deontae's.
"My favorite moment of that day, and the whole recruiting process, was at the end of the visit in Coach Day's office after practice my brother and I told him we have seen enough and that we'd like to commit to Ohio State today. He jumped up with a big smile and hugged us and ran to get Coach Frye. It was just an overall surreal experience," Devontae said.
What will Ohio State football gain from the Armstrong brothers?
The twin Ohio natives and two-time state champions are nothing short of dominant on the field!
The four-star athletes are both ranked in the top 30 of offensive lineman in the country, while Deontae is ranked the ninth-best player in the state of Ohio and Devontae is ranked the 13th-best player by 247Sports.
With the addition of the Armstrong brothers, head coach Ryan Day's Buckeyes now have six commitments in the 2024 recruiting cycle including offensive linemen Ian Moore and Marc Nave, and five-star wide receiver Jeremiah Smith.
Cover photo: Screenshot / Twitter / DeonArmstrong30