NCAA Football: Oregon runs its way to a shocking win over Ohio State!
Columbus, Ohio - The University of Oregon Ducks earned themselves an amazing upset in college football as they surprised the third-ranked Ohio State Buckeyes in their own stadium, winning their second-straight game of the season.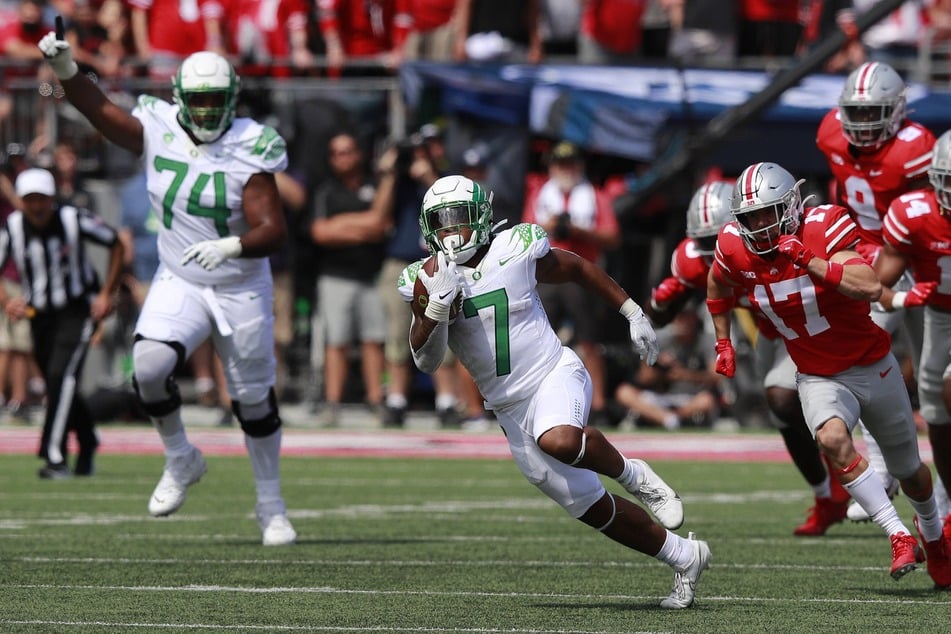 The Ducks outlasted the Buckeyes 35-28 on Saturday by following a game plan that nearly defeated Ohio State just a week ago.
Thanks to Oregon's running game, led by junior halfback C.J. Verdell (22), the Ducks took full advantage of the ineffective run defense fielded by Ohio State.
Verdell went off for 161 yards and two touchdowns from 20 carries worth of work. He also caught a 14-yard touchdown for good measure.
His teammate Travis Dye, another junior, had eight carries for 43 yards and ran for a touchdown of his own.
The twelfth-ranked Ducks definitely played like the better team, at one point putting up twice as much offense as their opponent as they headed into the final quarter up 28-14.
Ohio State tried to mount a fourth-quarter comeback but ended up trading touchdowns with Oregon until time ran out for the Buckeyes' first regular-season loss since 2018. Freshman quarterback C.J. Stroud did have a strong game otherwise, completing 35 of 54 pass attempts for 484 yards, three touchdowns, and one interception.
Ducks senior quarterback Anthony Brown also did his part in exposing the Buckeyes' defensive weaknesses by going 17 of 35 passing for 236 yards and two touchdowns, one of which was to freshman tight end Moliki Matavao for 14 yards pass.
Next Saturday, the Ducks look to make it three wins in a row as they play at home against the Stony Brook Seawolves while Ohio State plays host to the University of Tulsa Golden Hurricane.
Cover photo: IMAGO / UPI Photo