NCAA Football: The Razorbacks get the better of the Aggies to stay unbeaten this season
Arlington, Texas - The University of Arkansas Razorbacks got a big win over the higher-ranked Texas A&M Aggies to keep their perfect season alive.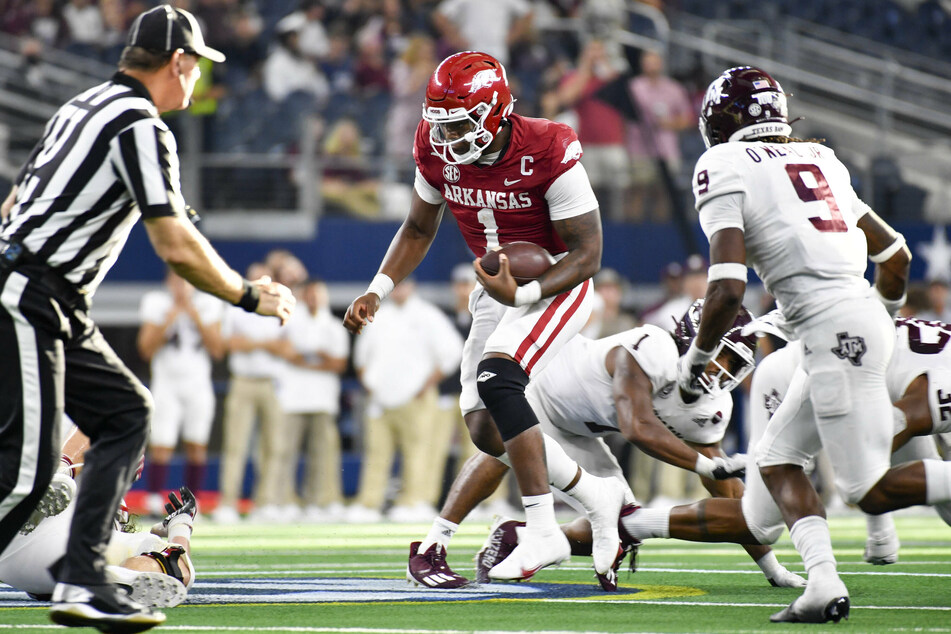 The 16th-ranked Razorbacks held off the Aggies 20-10 on Saturday to remain undefeated this season, finally ending a 10-year victory drought against Texas A&M in the process.
Arkansas sophomore quarterback KJ Jefferson (20) led his team through an injured knee to take care of the seventh-ranked Aggies by going 7-for-15, 212 yards, and two touchdowns for the win.
Jefferson was at the helm to help his team build a comfortable 17-3 lead going into the half before having to sit with a banged-up knee in the third quarter.
It was then when the Aggies finally scored what would be their only touchdown of the game thanks to A&M junior running back Isaiah Spiller's 67-yard run into the end zone.
He finished the game, carrying the football 12 times for 95 yards.
With the Aggies down by only seven, Jefferson was able to return to the field sooner than expected and lead the Razorbacks down the field halfway through the fourth quarter, for a field goal. It was enough to seal the win for Arkansas as the Aggies just ran out of time.
Through much of the game, Arkansas was able to hold off A&M by managing the clock with a healthy dose of rushing.
The Razorbacks gained nearly 200 yards on the ground while the Aggies could only tally up 121 yards by contrast.
With the loss, Texas A&M saw its 11-game NCAA regular-season winning streak snapped.
Next Saturday, the Razorbacks head to Georgia to take on the Bulldogs while the Aggies will face the Mississippi State Bulldogs.
Cover photo: IMAGO / ZUMA Wire