Oklahoma Sooners' Kendall Pettis flips over bullpen for jaw-dropping save
Blacksburg, Virginia - Oklahoma Sooners superstar Kendall Pettis tumbled over the bullpen to catch a flying ball off the Hokies in a now viral video.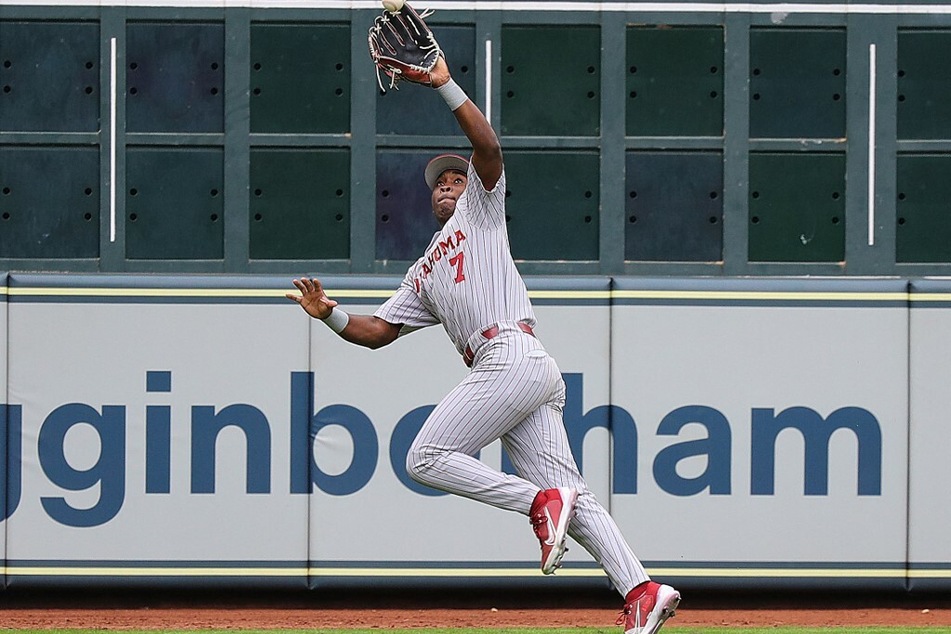 When it comes to athletes, there aren't many who can showcase elite level skills in different sports – simultaneously.
It's safe to say that after an impressive performance at the ballpark, top gymnasts like Simone Biles may need to make room for this "flipping catcher" college standout – who looks like he could easily pick up some gymnastics bar grips after Sunday's win.
Kendall Pettis of the Oklahoma Sooners put on a show-stopping performance against Virginia Tech Hokies, leading the Sooners to advance to their first College World Series appearance since 2010.
In the bottom of the fourth inning, Pettis was tracking a fly ball to the corner of the left outfield, where the fence meets the Hokies' bullpen. Chasing the ball with top speed, the redshirt sophomore made a catch for the out while tumbling into a front flip over the fence and landed in a handstand into the bullpen, as the entire stadium roared.
Building momentum off the jaw-dropping catch, Pettis' unbelievable day didn't stop there.
Just a few innings later, Pettis batted a home-run. Then, during the sixth inning, Pettis took away a hit from Hokies' Tanner Schobel, with another diving grab in left-center field.
The 11-2 victory over the Hokies sends the Sooners to face No. 5 Texas A&M in the first round of the College World Series.
Cover photo: Bob Levey / GETTY IMAGES NORTH AMERICA / Getty Images via AFP