Apple drops tech of the decade! The highlights of a launch event like no other
Cupertino, California - Apple's first release event of 2021 was slated to be a big deal and the occasion definitely didn't disappoint. iMacs were taken to a whole new level, a purple iPhone launched, and yes, AirTags are finally here!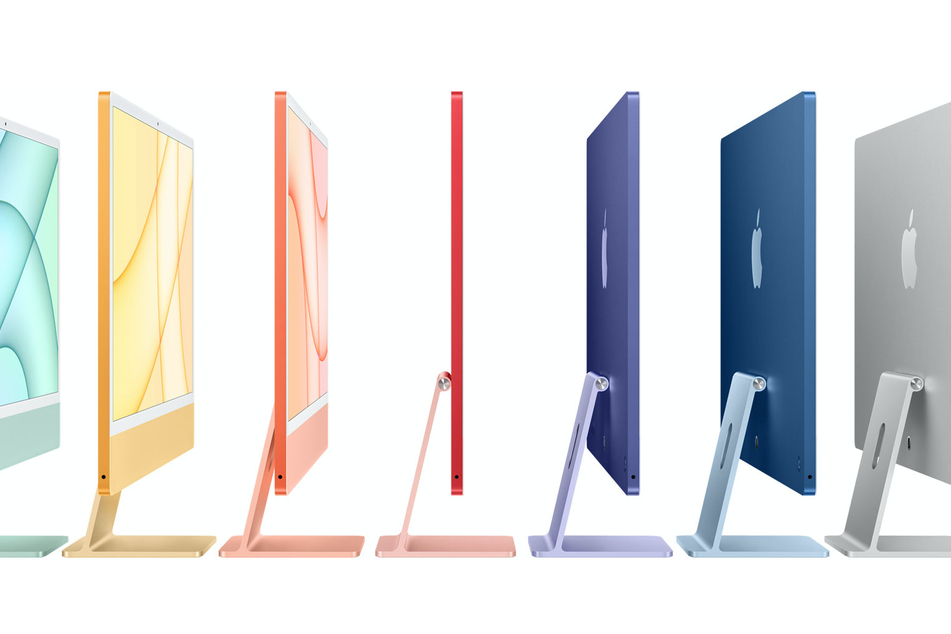 Apple hasn't seen such a colorful release since the iPod.
"We created colors that would bring a sense of joy to any space. Our vision: to make the computer disappear" said Mac Product Marketing head Colleen Novielli.
Apple CEO Tim Cook said, "This isn't just an upgrade, it's a breakthrough."
He wasn't wrong, as the "system on a chip architecture" that defines the new M1 standard has finally made it possible to have a powerful desktop as thin as an iPad. In fact, it's less than half the bulk of the previous iMac!
Starting at $1,299 for four colors, the 24-inch iMac comes in at just 11.5 millimeters thin. The new magic keyboard, trackpad, and mice are color coordinated, with Touch-ID finally built into the keyboard. Different fingerprints will immediately log in a new user. The three new keyboard variations even come with specific Apple emoji trigger keys.
And with a 4.5K Retina display with 6K display support, everyone will want one. The six speaker array makes for spacial audio, with force cancelling woofers for base response and vibration reduction.
Those working from home can rejoice: a three microphone grid will now eliminate nearly all background noise. The camera resolution has also been bumped to 1080p with a larger sensor for dim lighting.
And Apple prognosticators called it with the return of a MagSafe charging variant. This might be the first desktop with a woven power cable. The adaptor sports a built-in Ethernet port, so your data connection also flows through the same line.
The M1 makes for iMac speed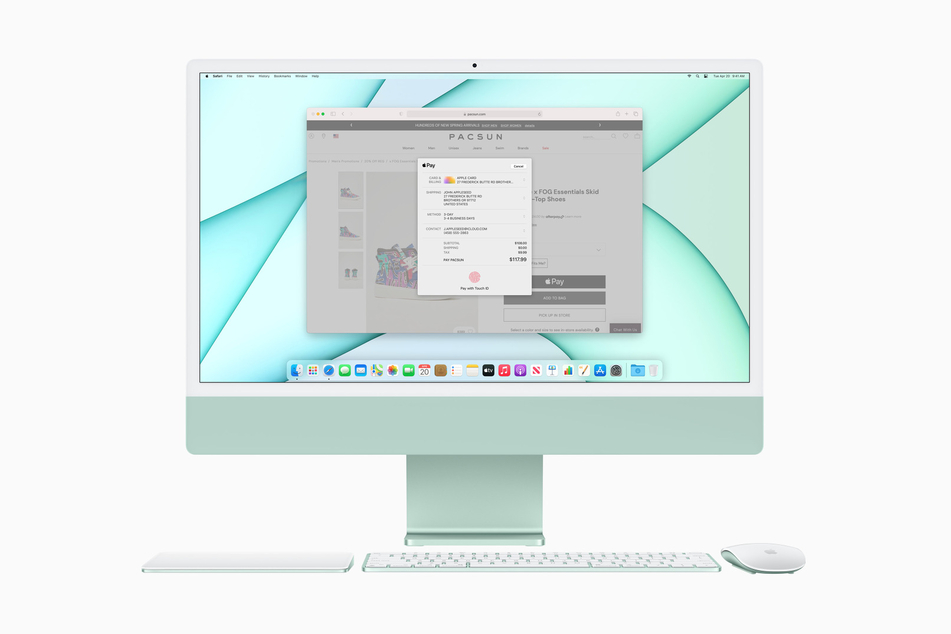 The advent of the M1 takes Apple into a new generation. Supposedly Safari will now be able to run hundreds of tabs.
Apple claimed at the event that there will be an 85% increase in speed compared to the 21-inch iMac in native apps such as iMovie and Lightroom with double the previous response time in PhotoShop and Affinity.
The seamless transition between your products is now complete, says Apple, as your iPhone apps, calls, and even copy and pasted text will flow directly to your iMac.
The new 24" iMacs are available for pre-order from April 30 and will ship the second half of May.
AirTags, and the revamped "Find My" Network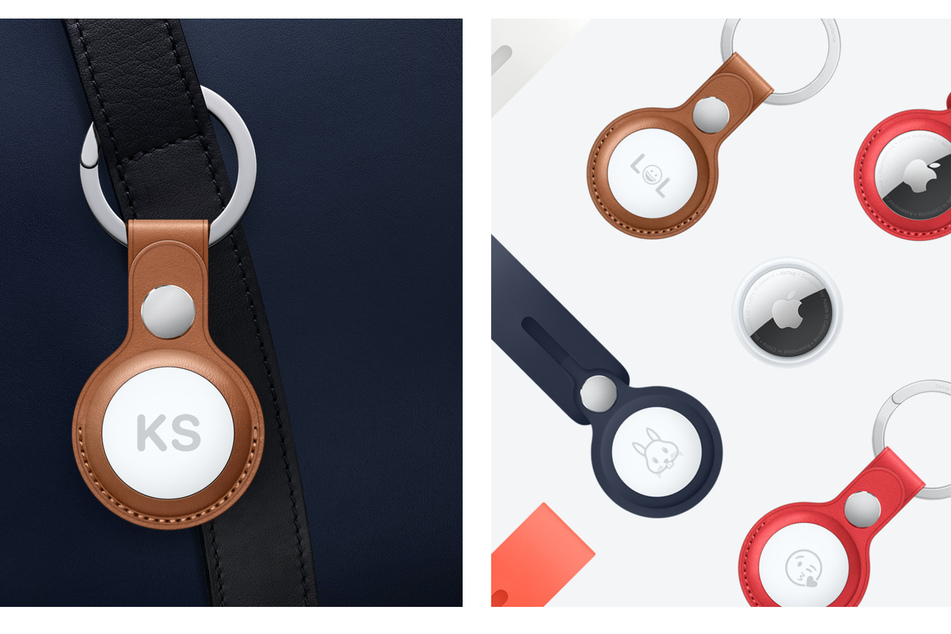 We've been expecting AirTags to drop since late 2019 and last minute leak of AirTags accessories already on sale at major retailers fully confirmed that suspicion.

In addition to announcing a collaboration with Hermes (yes, you read that right), the $29 AirTags can be laser engraved for customization.
But how will they work? As the biggest competition to Tile trackers, AirTags will ping off of Apple's overhauled "Find My" network, which boasts over a billion devices pinging off of each other worldwide. You can make the AirTag ring itself, and newer iPhones will be able to utilize their sensors to give you touch feedback and directions down to the foot to locate your lost keys.
As an aside, Apple did mention they were releasing some programming to recognize and prevent AirTags being used to track people against their wishes, which is a bigger security risk now that their "Find Me" network is so robust.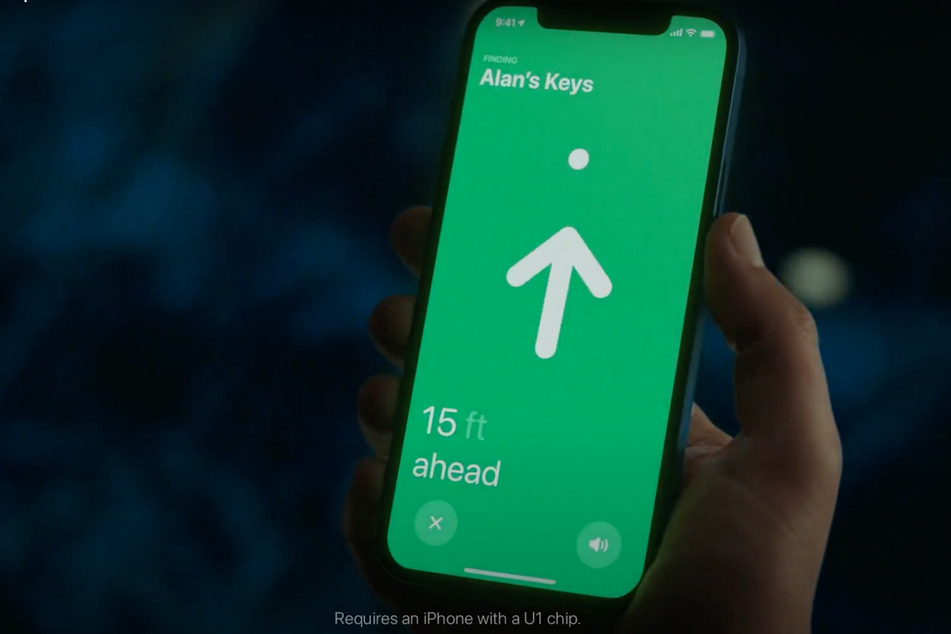 iPad Pros, Evolved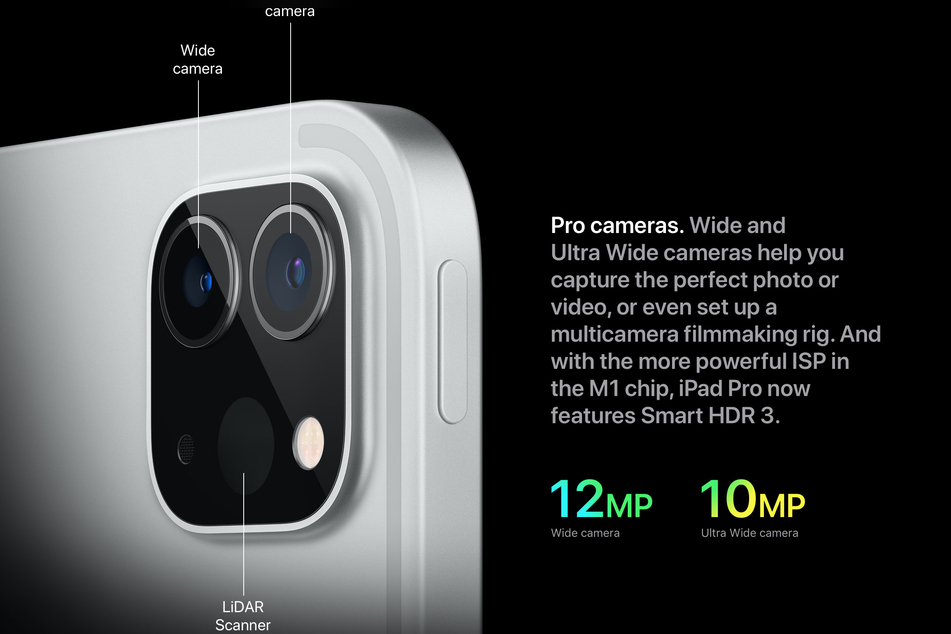 Perhaps just as stunning as the iMac release was when Apple casually dropped the fact that the latest iPad Pros were a whopping 1,500 times faster than their first generation ancestors.
Thanks to the Apple Neural Engine, machine learning is three times faster across all M1 products. The newest iPad Pro line needs all the help it can get, because they are sporting a hefty hardware package this season.
Processing aside, the 2021 iPad Pros are packing two terabytes of storage, which would have been completely unheard of just a few years ago. The upgrade from USBC to Thunderbolt means two times faster access to that massive storage.
It would have been a shock had they not included 5G, and those with access to the millimeter wave connection (the higher frequency version of 5G available on some networks) will see speeds of up to 4gigabits per second.
You are CenterStage with the iPad Pro
For content creators, the studio quality mics are a bare necessity, but the CenterStage feature with motion tracking, combined with an all new ultra wide 12MP camera will keep you in the center of the screen and can auto-zoom out and pan to fit people who join you.
The 11 inch version offers a Liquid Retina display at 4 million pixels, while the 12.9 inch astounds at 5.9 million pixels. Why would anyone go for the 11 inch when its counterpart sports a Pro Display XDR with 10,000 mini LEDs (for reference, think of OLED in a TV, without the risk of burn-in). The previous iPad Pro had just 72 LEDs.
The development team took that display to the next level by grouping those mini LED's (which are 120 times smaller than they were before) into 2,500 local dimming zones, and added thin films and diffusers for one of the most color and light accurate handheld products in the world.
At just 6.4 mm thin with an all day battery life, the 11-inch iPad Pro comes in at $799 this year and $1,099 for the 12.9 inch.
Apple TV turned was cool, just not THAT cool.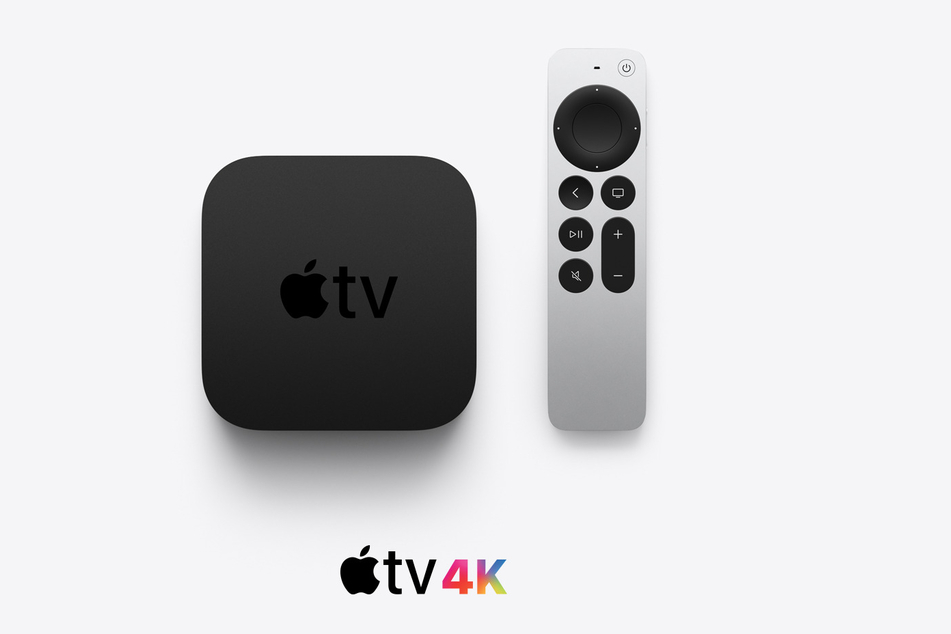 The drop of Apple TV 4K was less of a highlight and more of a side note in this event. More interesting than the resolution specs and promise that Apple TV could be a gaming console of sorts was the new Siri remote.
The remote is one piece with touch enabled click pad and an outer ring that functions as a jog control so you can easily search through a video.
Unfortunately, it looks like the new Siri remote doesn't come with "Find My" built in, which is odd because a large portion of the show centered on never losing small things again. Somehow users will have to attach an AirTag to it.
The event presenter did share that you can now use your iPhone's powerful sensors to calibrate the color on the TV you use with your Apple TV 4K.

The whole thing was a resounding success, even if there was no mention of iOS updates or AirPods. The only iPhone change was the addition of a lavender shade for the iPhone 12 range. Tim Cook also introduced Apple's new version of a credit score, which will combine a family's credit usage and supposedly make the Apple Card more equitable for users.
Cover photo: Apple.comScreenshot/Apple.com