Plane crashes into home and UPS truck in San Diego area, killing at least two people
Santee, California - Two people, including a UPS delivery driver, died when a small plane crashed into at least one home near Santana High School in Santee, San Diego county, early Monday afternoon, sparking fires in the residential area, authorities said.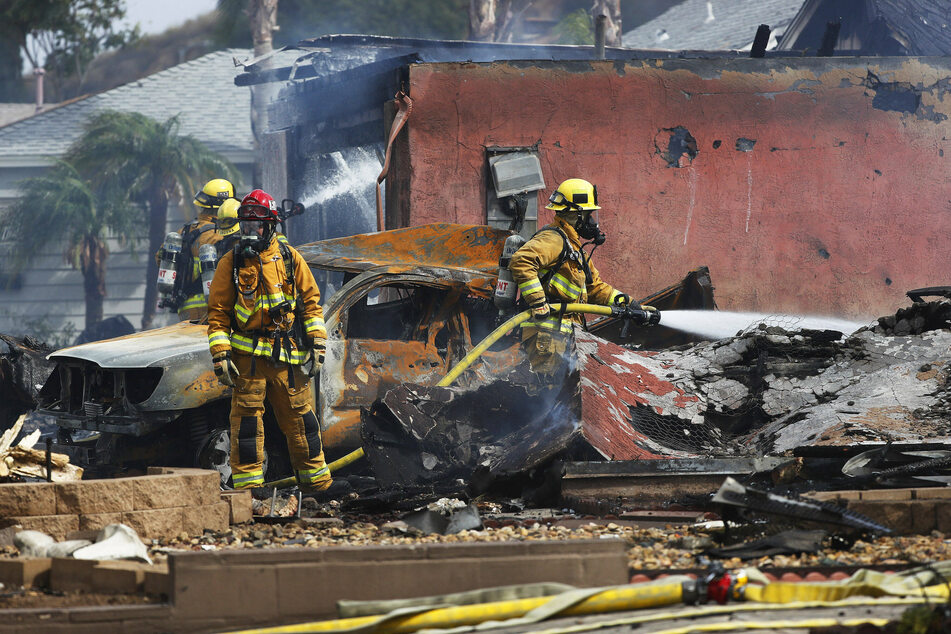 Santee Fire Chief John Garlow said a twin-engine plane crashed into at least one home and a box truck in a residential area at Greencastle and Jeremy streets, less than two-tenths of a mile east of the high school football field, on the eastern edge of the school.

Two people died, and two people who suffered burns were taken to a hospital, fire officials said.
The Cessna C340 crashed around 12:15 PM PST, according to the Federal Aviation Administration. As of about 2 PM, FAA officials said they did not know how many people were on board.
The plane was headed from Yuma, Arizona, to Montgomery-Gibbs Executive Field – commonly called Montgomery Field – in San Diego, Santee Deputy Fire Chief Justin Matsushita said.
The crash and ensuing fire destroyed two homes. Matsushita said parts from the plane were strewn across 10 houses.
No one in the homes died in the crash. Matsushita said authorities were sending support for the fire crews who responded.
"The scene was pretty graphic," he said.
UPS officials confirmed a delivery driver was killed. "We are heartbroken by the loss of our employee, and extend our deepest condolences to his family and friends."
The company also said it is cooperating with authorities in their investigation, and deferring questions to investigators.
Smoke, fire, and chaos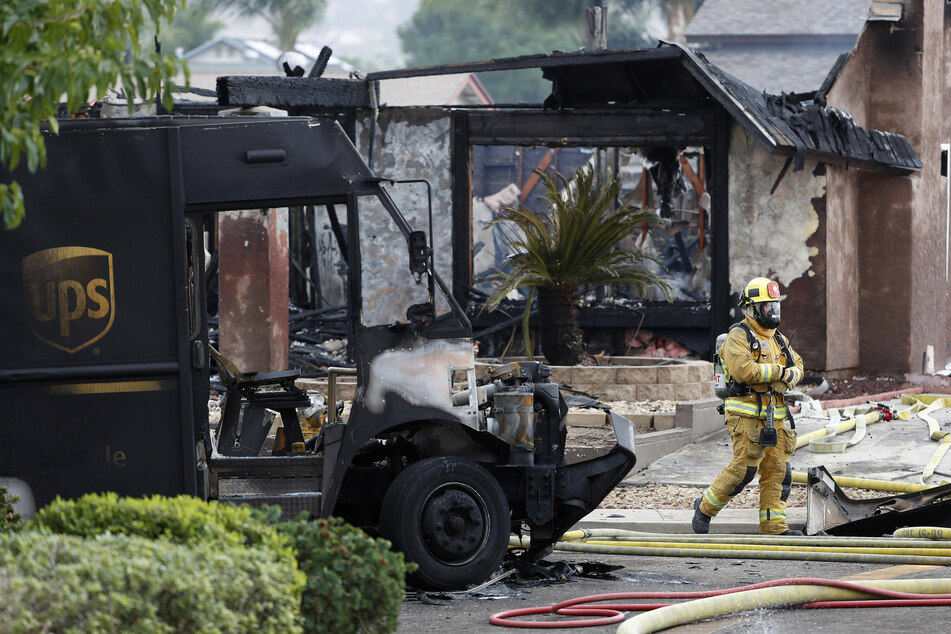 Several residents said they heard what sound like a low-flying plane and then felt a boom.
"The whole house shook," resident Amanda Nelson said.
People said they came outside, saw smoke, and ran to the burning home.
Nelson said she and area resident Allison Rea pulled a woman through a window on the side of the home.
Area resident Shawn Purvis said he heard a man screaming from the home. He and another neighbor broke down a backyard fence and rescued the man, carrying him to the street.
Neighbors said a couple in their 70s live in the destroyed house.
Shortly after the crash, footage from a KGTV helicopter showed two homes on fire, and what appeared to be a gutted UPS truck nearby.
Sheriff's Department officials asked the public to avoid the area. They also closed two streets: Jeremy Street and North Magnolia Avenue are both closed between Second Street and Mast Boulevard.
A temporary evacuation point for people affected by the plane crash has been set up at the Cameron Family YMCA on Riverwalk Drive, sheriff's officials said.
Santana High School officials tweeted that all students were "secure."
San Diego County Board of Supervisors Chairman Nathan Fletcher issued a statement about the crash, saying the Office of Emergency Services has been activated, is monitoring the situation, and is stands ready to provide any needed support to the city of Santee."
"A tragedy like this one can have a jarring effect on a community, and I want the people of Santee to know their county government is here to support them," Fletcher said.
The FAA and National Transportation Safety Board will investigate the crash. The Sheriff's Department asked that anyone with photos or video of the crash to call (858) 565-5200 so they can pass along the images.
Cover photo: IMAGO / ZUMA Wire