Dementia sufferer saved seconds before flames engulf his living room
Wheat Ridge, Colorado - A family narrowly escaped tragedy after a curtain caught fire on the 88th birthday of their grandfather, who has dementia and didn't realize what was happening. A security camera captured the dramatic incident.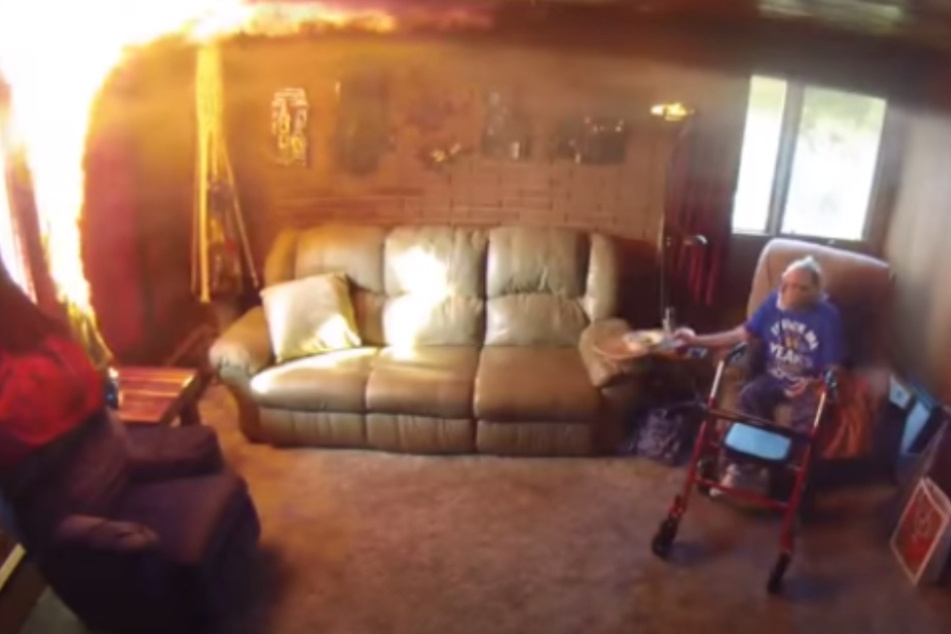 "Out of one's mind" is the literal translation of the Greek term dementia.
Anyone who has had to deal with the effects of this disease knows its terrible burdens. The family and friends of sufferers also have their lives significantly impacted.

The case of Peter Richardsville is a particularly striking example. The Colorado man's 88th birthday was supposed to be a celebration, but his condition soon took center stage. His entire family was had gathered to be with him on his special day, which almost turned into a catastrophe.
The recording shows Peter sitting in his chair and watching TV in the living room when suddenly one of the window curtains catches fire from a candle.
A bit of smoke quickly turns into a huge blaze, as the air blowing in throw the open window fans the flames.
Peter sees the fire, but does not react
As the fire begins to burn in earnest, Peter looks over casually. He doesn't seem to fully register what is happening and remains seated, occasionally even glancing back to the TV.
It's only when a family member comes into the room and notices the impending disaster that he reacts. He is then ushered out as his relatives call 911.
Peter's grandson Aaron Richardsville told KALB the experience was the most frightening of his life. "It just did not register for him. He did not realize the danger, and that is just the way that dementia works."
It turns out the lucky escape was only possible because a family member had come back to retrieve her forgotten purse. "We wouldn't have been able to get in here if it was 30 seconds later," Aaron continued.

Smoke detector did not work
Things could have been much worse, but Peter still lost most of his belongings. The entire house was burned almost to a crisp.
The smoke didn't help at all. Despite being set up close to the source of the fire, it didn't make a sound. Aaron suspects it was unplugged.
All things considered, Grandpa Peter had a lot of luck on his side.
Cover photo: Screenshot/YouTube ViralHog