Today's horoscope: Free daily horoscope for Monday, May 1, 2023
Balance, joy, and solidarity – this May 1, the daily horoscope can help you find what you're looking for with some practical cosmic advice. Paint the town red with the help of astrology!
Your free horoscope on Monday, May 1, 2023
Venus, Mercury, Neptune often exude a lust for life, but they can also inhibit your emotional world.

Finding balance is an art. Practice self-love and listen to your own feelings without ignoring the needs of others.
The start of a new week and a new month is a great opportunity for a reset. Approach work, relationships, and health with confidence – you've got what it takes to achieve your goals.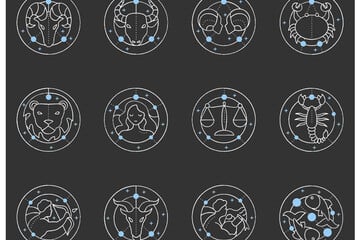 Whether you're an Aries, Taurus, Gemini, Cancer, Leo, Virgo, Libra, Scorpio, Sagittarius, Capricorn, Aquarius, or a Pisces, there's inspiration to be found by looking up at the stars.

Brighten up your present and future with the daily and monthly horoscopes!
Aries horoscope: March 21 - April 19
If you're in a relationship, there's pure harmony heading your way. Professional success will come by itself as long as you don't try to force things. Your assertiveness and positivity speak for themselves.
Taurus horoscope: April 20 - May 20
Get straight about exactly what kind of goals you want to achieve. Remember, Taurus, no one can make those decisions for you. If you're finding yourself walking down an unfamiliar path, it's not necessarily the worst thing.
Gemini horoscope: May 21 - June 20
If you continue to disregard your health, you'll only reap the consequences. Get some fitness advice from a professional, and stop letting perfect get in the way of the good.
Cancer horoscope: June 21 - July 22
Even if it doesn't look like it, there is something positive in your current struggles. That constant criticism is really starting to hurt your partner. Ease off, Cancer!
Leo horoscope: July 23 - August 22
Your immune system is a bit weak, get some more fresh air! After taking a painful defeat at work, it's time to dust yourself off and go again. Valuable conversations with trusted friends will build you up again.
Virgo horoscope: August 23 - September 22
You won't get far with that stubborn behavior. Learn how to compromise and you'll soon see new doors opening to you.
Libra horoscope: September 23 - October 22
Keep your body fighting fit. As long as you don't neglect your health, you'll have enough strength and endurance for anything life throws at you.
Scorpio horoscope: October 23 - November 21
You're going through a time of deep reflection, approaching your tasks even more carefully than usual. Stay on this path. You are finally no longer willing to put your own needs aside.
Sagittarius horoscope: November 22 - December 21
Financially, things remain tight, but you know exactly what to do. Don't hesitate in the face of a golden opportunity, Sagittarius. This is your big chance.

Capricorn horoscope: December 22 - January 19
You can experience that intimacy your relationship has been crying out for. Imagination knows no bounds, which makes everyday tasks a real drag sometimes.
Aquarius horoscope: January 20 - February 18
Give your body a boost by rejigging your diet. When things get tough at work, don't pull back. Stand up for yourself, Aquarius!
Pisces horoscope: February 19 - March 20
Your search for beauty and excitement is infectious for those around you. A romantic encounter in the air. If your relationship isn't on the right track, it's also because of your communication style. Show more diplomacy!
Cover photo: 123RF/Alex Chetvertnoi