Today's horoscope: Free horoscope for Saturday, April 30, 2022
Welcome the weekend with a smile on your face and a spring in your step! The daily horoscope can help you usher in the good times with a targeted dose of astrological inspiration, so read on and give your star sign the best possible chance to thrive.
Your free horoscope on Saturday, April 30, 2022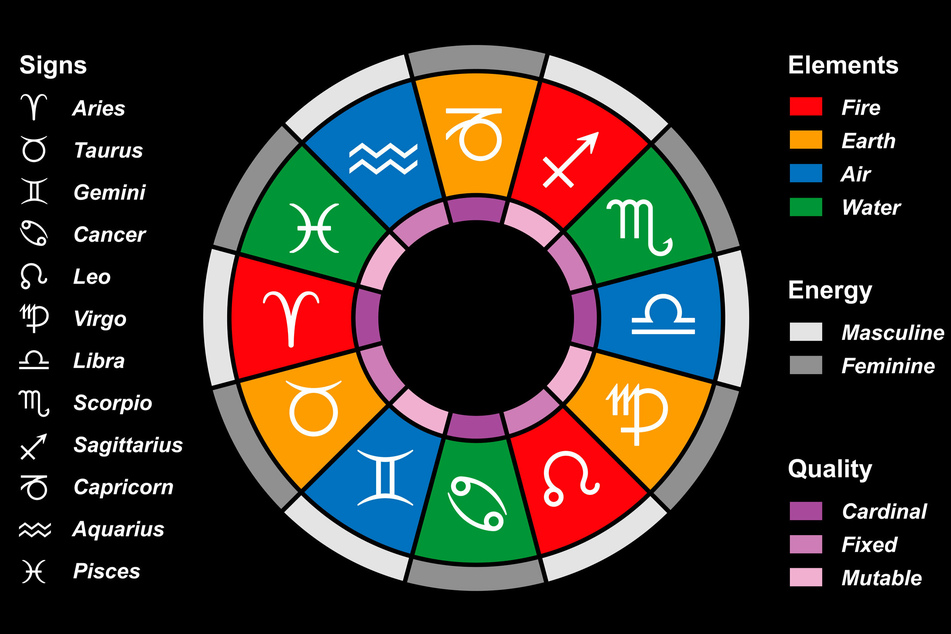 What might the future bring? Whether you're looking forward with anticipation or anxiety, everyone wants to know how to make the everyday circumstances work in their favor.
But while the stars and planets influence everything around us – from moods to choices – the power to change is always in your hands.
Pisces, Aries, Cancer, Taurus, Leo, Capricorn, Libra, Sagittarius, Virgo, Aquarius, Scorpio, Gemini: different star signs with different characteristics still have something in common. The cosmic energy ebbing and flowing throughout the day can be harnessed and channeled into practical purposes.
Let the daily horoscope show you how to shape fate's raw materials into a brighter future.
Grab a hold of life with both hands and make this Saturday one to remember!
Aries horoscope: March 21 - April 19
You've finally struck gold: a partner who shares your dreams and desires. You feel a strong need to merge into one and they feel the same way.
Taurus horoscope: April 20 - May 20
The love planets are shining down on you today. Be brave and don't stray from the course. You're on the right track!
Gemini horoscope: May 21 - June 20
Stay alert and take full advantage of your opportunities. Your good mood will revive your relationship and keep any problems from rearing their ugly heads.
Cancer horoscope: June 21 - July 22
Although you tend to be a bit jumpy and nervous in high-pressure situations, your intelligence and charm will shine through. Don't put off unfinished business any longer.
Leo horoscope: July 23 - August 22
Your complacency is causing a lot of trouble for the whole family. It's time to go all in on love. Say yes and stop hesitating, you'll notice a great burden being lifted from your shoulders.
Virgo horoscope: August 23 - September 22
You've managed to wiggle yourself into the heart of your ideal partner with your charismatic ways. Things are less positive in your family life, you keep pushing everyone to the limit with your aggression.
Libra horoscope: September 23 - October 22
It's a day for surprises, unusual experiences, and maybe even some spicy romantic adventures. Things are really happening, so you can look to the future with optimism – at least after you've finally worked through some long-standing issues.
Scorpio horoscope: October 23 - November 21
Even if your gut feeling often says tells you otherwise in the moment, you should always follow reason and stay controlled. You'll only get the healthy body you crave through dedicated care.
Sagittarius horoscope: November 22 - December 21
You're completely misunderstood. That mysterious, mercurial attitude makes others feel nervous and insecure around you, but this is your insurance policy and self-protection is important. Trust in your intuition.
Capricorn horoscope: December 22 - January 19
Look forward to some much-needed quality time with your partner. Any kind of mental activity and communication is heavily favored today, so make sure to talk as much as possible. You might end up making some useful contacts.
Aquarius horoscope: January 20 - February 18
You've got a hell of a road ahead of you at work, so use the weekend to build up your strengths. Stay calm, all this will pass. There's no smoke without fire, and you keep lighting romantic sparks everywhere you go. Make it clear on which side you stand in a dispute.
Pisces horoscope: February 19 - March 20
Don't try to manipulate your partner, that's the definition of a toxic relationship. You're stubbornly forging your own path forward, and that's good.
Cover photo: 123rf.com/peterhermesfurian